Fish
Simple and Delicious Poached Salmon Recipe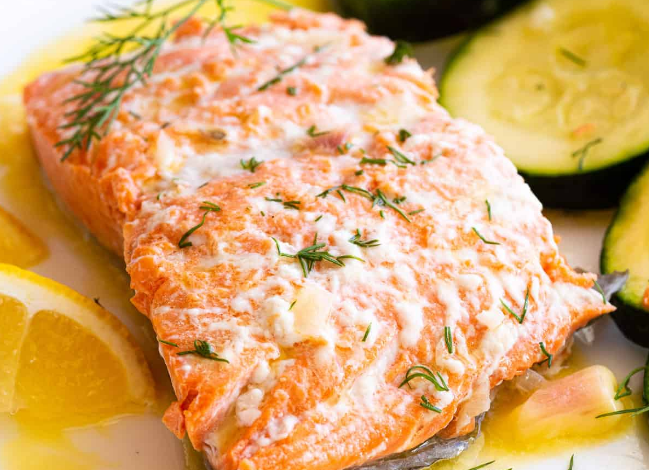 Poached salmon is a simple yet elegant way to prepare this delicious fish. The mild flavor of the salmon is complemented by the bright and fresh taste of lemon, garlic, and dill. This recipe is easy to prepare and is perfect for a special occasion or a quick weeknight dinner.
Ingredients:
| Ingredients | Quantity |
| --- | --- |
| Salmon fillets | 4 |
| Lemon | 1 |
| Garlic cloves | 2 |
| Fresh dill | 2 sprigs |
| Salt | to taste |
| Pepper | to taste |
| White wine | 1 cup |
| Water | 1 cup |
Instructions:
In a large skillet, combine the white wine, water, lemon slices, garlic, dill, salt, and pepper. Bring the mixture to a simmer over medium-high heat.
Once the liquid is simmering, carefully add the salmon fillets to the skillet. Make sure the fillets are fully submerged in the liquid.
Reduce the heat to medium-low and cover the skillet. Allow the salmon to poach for 8-10 minutes, or until it is cooked through. The salmon should be opaque and flaky.
Remove the skillet from the heat and use a slotted spoon to transfer the salmon to a plate. Discard the cooking liquid.
Serve the salmon warm, garnished with fresh dill, if desired.
This recipe is a perfect recipe for fish lovers, it's simple, easy to follow, and delicious. You can also add a side dish like rice, mashed potatoes, or salads to make it a complete meal. Serve it with a glass of white wine to enhance the flavors.
With this recipe, you'll learn how to poach salmon to perfection every time. The key to a successful poached salmon is to use good quality fish and not overcook it. Follow these instructions and you'll be able to make a restaurant-worthy poached salmon at home.