Crabs
Delicious and Flavorful Crab Linguine Recipe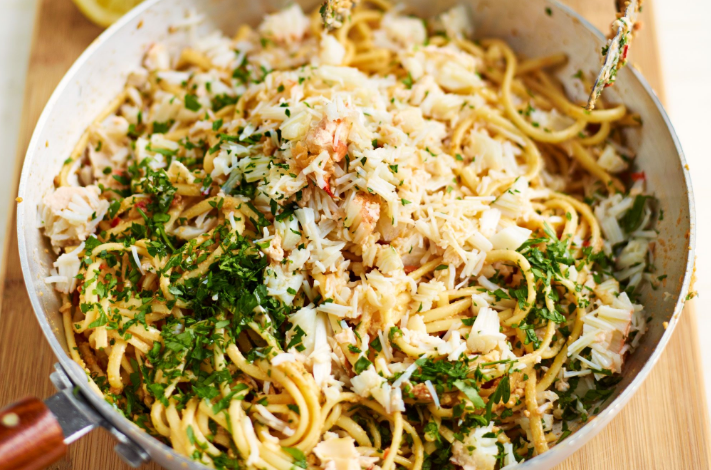 Crab Linguine is a classic Italian dish that combines the delicate flavor of crab meat with the smooth and creamy texture of linguine pasta. This dish is perfect for seafood lovers and is a great way to add a touch of sophistication to your dinner table. It's easy to make, and the simple ingredients can be easily found in your local grocery store. Here's the recipe for a delicious and satisfying Crab Linguine meal.
Ingredients:
| Ingredients | Quantity |
| --- | --- |
| Linguine | 1 pound |
| Crab Meat | 1 pound |
| Butter | 4 tablespoons |
| Garlic Cloves | 4 cloves |
| Shallots | 2 medium |
| White Wine | 1/2 cup |
| Heavy Cream | 1 cup |
| Grated Parmesan Cheese | 1/2 cup |
| Salt | to taste |
| Black Pepper | to taste |
| Parsley | 1/4 cup |
Instructions:
Cook the linguine according to package instructions until al dente. Reserve 1 cup of the pasta cooking water.
In a large saucepan, heat the olive oil over medium heat. Add the onion and bell peppers and cook until softened, about 5 minutes.
Add the garlic to the pan and cook for another minute.
Add the white wine to the pan and bring to a boil. Cook until the wine is reduced by half.
Stir in the heavy cream, lemon juice, and parsley. Cook until the sauce thickens, about 5 minutes.
Add the crab meat to the sauce and cook until heated through.
Drain the linguine and add it to the saucepan with the crab sauce. Toss to combine.
Add the parmesan cheese and butter to the pasta and stir until the cheese is melted and the butter is combined.
If the sauce is too thick, add a little of the reserved pasta water to thin it out.
Serve the crab linguine with additional parmesan cheese and freshly cracked black pepper.