Seafood
Crab and Artichoke Dip Recipe: A Perfect Party Appetizer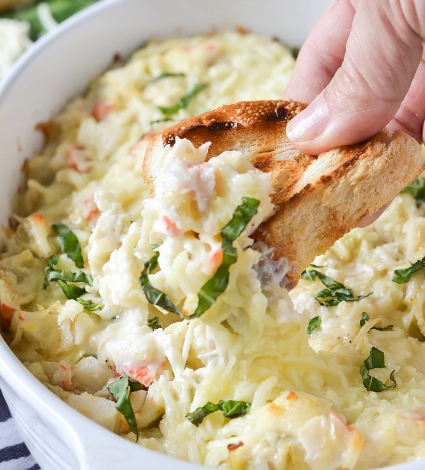 Crab and artichoke dip is a classic and delicious appetizer that is perfect for any occasion. Whether you are hosting a party, or simply looking for a tasty snack, this recipe will hit the spot. With a creamy mixture of crab meat, artichokes, and a blend of spices, this dish is sure to be a crowd-pleaser.
Ingredients:
8 ounces of cream cheese, softened
1/2 cup mayonnaise
1/2 cup sour cream
1/4 cup grated Parmesan cheese
1/4 teaspoon garlic powder
1/4 teaspoon onion powder
1/4 teaspoon dried basil
Salt and pepper to taste
6 ounces of canned crabmeat, drained and flaked
14 ounces canned artichokes, drained and chopped
1/4 cup breadcrumbs
1/4 cup grated Parmesan cheese for topping
Instructions:
Preheat oven to 375°F.
In a large bowl, beat cream cheese, mayonnaise, and sour cream until smooth.
Stir in Parmesan cheese, garlic powder, onion powder, dried basil, salt, and pepper.
Gently fold in the crabmeat and artichokes.
Transfer the mixture to a 9-inch baking dish.
Sprinkle breadcrumbs and 1/4 cup grated Parmesan cheese on top of the mixture.
Bake for 20 to 25 minutes, or until golden brown and bubbly.
Serve hot with crackers, bread, or vegetables.