Seafood
Crispy and Creamy Crab and Cream Cheese Wontons: A Perfect Appetizer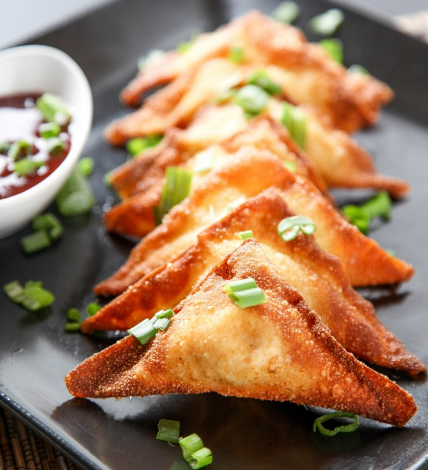 I am looking for a simple and satisfying appetizer to impress your guests. Try this Crab and Cream Cheese Wontons recipe. The creamy cream cheese and succulent crabmeat are perfectly wrapped in a crispy wonton wrapper, making each bite an explosion of flavors. It's a delicious and easy-to-make appetizer that is perfect for any occasion.
Ingredients
| Ingredient | Quantity |
| --- | --- |
| Wonton wrappers | 24 |
| Cream cheese softened | 4 ounces |
| Cooked crab meat | 1 pound |
| Green onions, thinly sliced | 2, medium-sized |
| Soy sauce | 1 tablespoon |
| Rice vinegar | 1 tablespoon |
| Sesame oil | 1 teaspoon |
| Salt | To taste |
| Pepper | To taste |
| Vegetable oil | For frying |
Instructions
In a medium bowl, combine cream cheese, crabmeat, green onions, soy sauce, rice vinegar, sesame oil, salt, and pepper.
Place a small spoonful of the crab and cream cheese mixture in the center of each wonton wrapper.
Wet the edges of the wonton wrapper with a little bit of water and fold it in half to form a triangle. Press the edges together to seal.
Heat the vegetable oil over medium heat until hot in a large saucepan. Fry the wontons in batches until golden brown, about 2-3 minutes.
Drain on paper towels and serve immediately with soy sauce for dipping.