Seafood
Crab and Corn Chowder: A Delicious Seafood Delight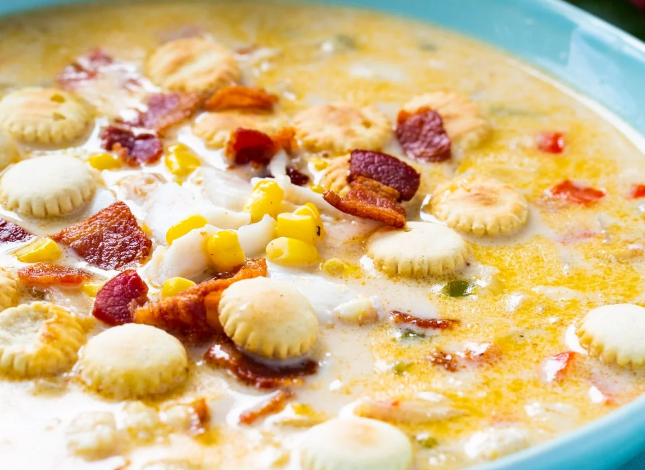 Crab and corn chowder is a classic seafood dish that is enjoyed by people all around the world. The combination of tender crab meat and sweet corn in a creamy broth is a perfect balance of flavors and textures. This recipe is easy to make and perfect for a comforting meal on a chilly day.
Ingredients:
| Ingredient | Quantity |
| --- | --- |
| Diced Onion | 1 |
| Diced Celery | 1 cup |
| Diced Carrots | 1 cup |
| Butter | 2 tablespoons |
| All-Purpose Flour | 2 tablespoons |
| Chicken Broth | 4 cups |
| Heavy Cream | 1 cup |
| Sweet Corn | 2 cups |
| Imitation Crab Meat | 1 lb |
| Old Bay Seasoning | 1 teaspoon |
| Salt and Pepper | To taste |
| Fresh Parsley | 1/4 cup (chopped) |
Tips for Selecting the Right Crab Meat:
For the best flavor, use fresh crab meat. If using canned crab meat, look for a brand with a good reputation and high-quality ingredients.
Make sure the crab meat is cooked, lump meat is the best choice for this recipe.
Preparation Steps:
In a large pot, melt the butter over medium heat. Add the onion and garlic and sauté until the onion is translucent about 5 minutes.
Add the flour to the pot and stir until well combined with the onions and garlic. Cook the mixture for 2-3 minutes, stirring constantly, to make a roux.
Gradually add the chicken broth, whisking constantly to prevent lumps from forming. Add the corn and bring the mixture to a simmer.
Let the mixture simmer for 5 minutes, then stir in the heavy cream and crab meat. Simmer for an additional 5 minutes or until the chowder is heated through.
Season the chowder with salt and pepper to taste. If the chowder is too thick, add a little more chicken broth to thin it out.
Best Ways to Serve the Chowder:
Serve the chowder hot, garnished with chopped fresh parsley, if desired.
Serve the chowder with crusty bread or crackers for dipping.