Meat
Party Pound Pot For Twelve – A Simple Party Meal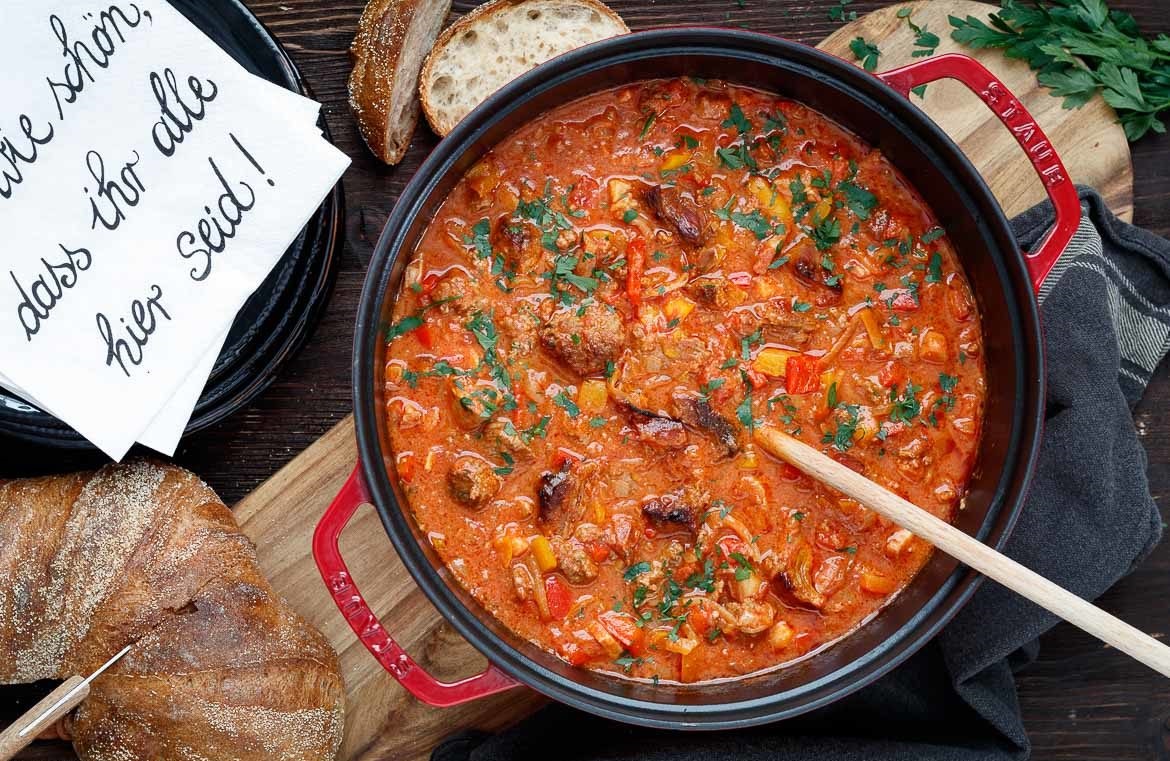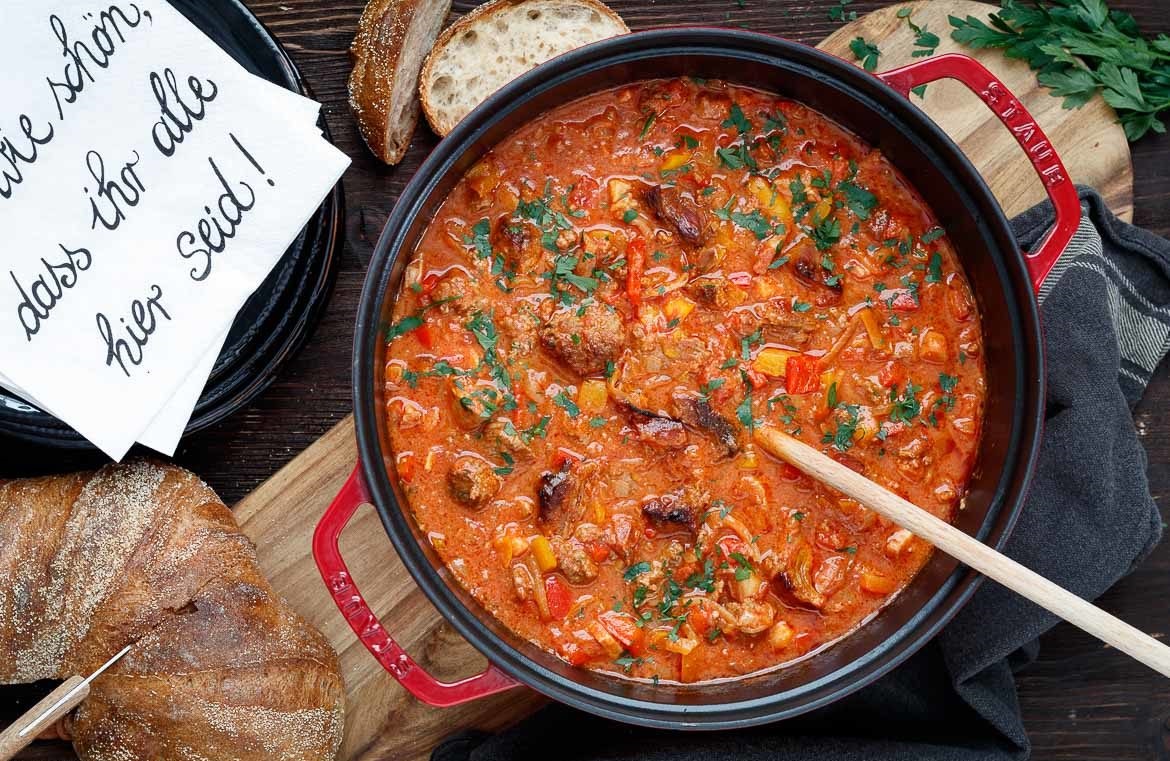 I grew up in a small village in the 70s and I remember, it was always celebrated somewhere. In the famous party cellars, which felt at every home and everywhere else. There were also garage festivals, neighborhood festivals and street parties. The people got together, celebrated hilariously and we children always in the middle.
During this time, the many party pot recipes have been created with the task to host and pamper many dear people in a simple way. Honestly, these dishes exert a great fascination on me, because just when you expect many guests is always the question in the room what you should cook without spending hours in the kitchen. Time is a scarce commodity for us all.
THE PARTY POUND STOP WAS ALREADY BORN IN THE 70'S
The party pound pot for twelve fell into my hands with my stepmom as I studied her recipe book again. She often prepared it in the 70s, as she says, but even today when many guests come. Funny, it's called pound pot, because the ingredients are added almost exclusively in 500g units. You can remember that well .
It is always celebrated, a simple party dinner for 12 people has to come!
In the 70s, it was also like to use instant sauces from the bottle as a flavor carrier, as well as in the pound pot. Fortunately, the instant sauces do not contain any flavor enhancers, preservatives, or artificial colors. I've decided on chilli sauce and shashlik sauce, but you can also take hunter's sauce or Mexican sauce, for example. There are countless varieties of ready-made sauces in the trade. Whatever you would like for a flavor in the party pound pot for twelve, just get in with it .
EASY PARTY TO BE UNCOMPLICATED
What else speaks for the party pound pot, you can cook it already the day before. Just the next day before the guests come warm up slowly and thus have even less stress. So must be a simple party dinner for 12 people . By the way, the party pound pot is great with side dishes such as rice or pasta. But also farmhouse baguette, crust bread or country bread are an uncomplicated way to make many guests happy.
---
Party Pound Pot For Twelve – A Simple Party Meal
PREPARATION 30 minutes PREPARATION 2 hours TOTAL TIME2 hours 30 minutes PORTIONS 12 people
---
INGREDIENTS
YOU NEED A BUTTER OR SMUGH POT WITH AT LEAST 9 LITERS OF CAPACITY
500 g beef goulash – like organic
500 g pork goulash – like organic
500 g minced meat, mixed – like organic
500 g smoked bacon, mixed – diced, like organic
500 g onions – cut into half rings
500 g paprika, red – diced
500 g paprika, yellow – diced
250 g cream
250 ml chilli sauce – eg from Knorr, Kühne
250 ml shish kale sauce – eg from Knorr, Kühne
800 g tin whole tomatoes, peeled
2 tablespoons vegetable oil, neutral – eg rapeseed oil or sunflower oil
Parsley, fresh – for garnish
Salt, pepper, chilli powder or cayenne pepper – to taste
---
MANUAL
1.First, you heat up your oven to 180 degrees air circulation .
2.Then you cut the bacon into small cubes.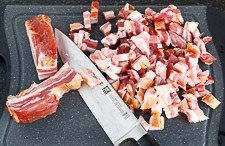 3.Then  you dice the peppers and cut the  onions  into fine half-rings.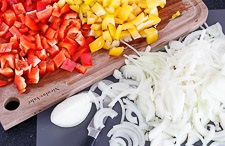 4.Now you let  the 2 tablespoons vegetable oil get hot in your  roaster / casserole and let the smoked bacon , the onions and the minced meat roast for 2-3 minutes  on a high level .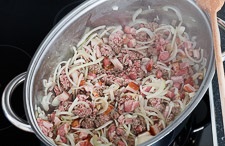 5.Meanwhile, in a large bowl, mix the can of peeled whole tomatoes (make them a little small), the chilli sauce , the 
shashlik sauce and the cream and taste everything with salt , pepper and chilli powder (or cayenne pepper).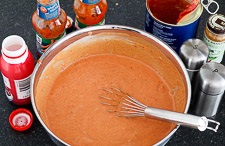 6.Now issue the stove and the beef -, pork goulash , the paprika and the sauce together stir .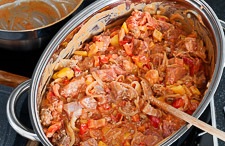 7.Then the  lid  on top and for 2 hours  on the second rail from the bottom in the preheated oven. About the  last half an hour  stir everything once and continue to sauté without a lid .
8.You can cook the pound pot the day before and your party guests warm up slowly. Serve with  rice , pasta ,  peasant baguette , crusty bread or country bread . I wish you a good appetite.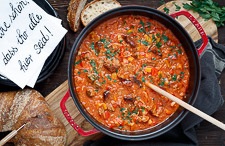 ---
WHAT DO YOU MEAN?
Did you try the recipe once? How do you find it? I am always happy about praise, friendly criticism or your tips and experiences. Let us stay in the exchange via the comment function below. I would be happy.