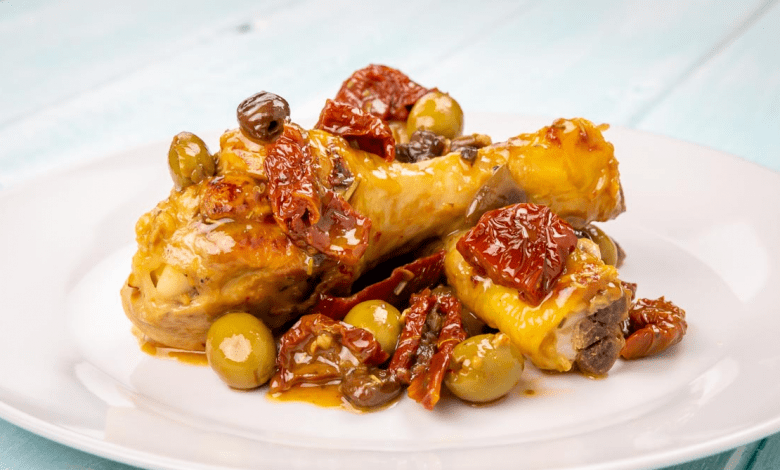 Looking for a delicious and healthy dinner option? Try this Mediterranean-style pan-fried chicken drumsticks recipe! This dish is packed with flavor and nutrients, making it a perfect choice for a wholesome meal.
Ingredients:
| Ingredients | Quantity |
| --- | --- |
| Chicken drumsticks | 8 pieces |
| Lemon | 1 |
| Garlic cloves | 4 |
| Fresh rosemary | 2 sprigs |
| Fresh thyme | 1 sprig |
| Salt | 1 tsp |
| Black pepper | 1 tsp |
| Olive oil | 2 tbsp |
| Cherry tomatoes | 1 cup |
| Kalamata olives | 1/2 cup |
| Feta cheese | 1/4 cup |
Instructions:
Begin by preparing the marinade for the chicken. In a mixing bowl, combine the juice of one lemon, four minced garlic cloves, two sprigs of fresh rosemary, one sprig of fresh thyme, one teaspoon of salt, one teaspoon of black pepper, and two tablespoons of olive oil.
Place the chicken drumsticks in the marinade, turning to coat them evenly. Cover the bowl with plastic wrap and marinate the chicken for at least 30 minutes.
Once the chicken is marinated, heat a large skillet over medium-high heat. Remove the chicken drumsticks from the marinade and add them to the skillet.
Cook the chicken for approximately 5-6 minutes on each side, or until golden brown and cooked through.
While the chicken is cooking, prepare the tomato and olive topping. Slice one cup of cherry tomatoes in half and add them to a mixing bowl along with 1/2 cup of Kalamata olives.
Once the chicken is cooked, remove it from the skillet and set it aside. Add the tomato and olive mixture to the same skillet and cook for 2-3 minutes, or until the tomatoes begin to soften.
To serve, place the chicken drumsticks on a plate and top with the tomato and olive mixture. Sprinkle crumbled feta cheese over the top of the dish.