Chicken
Chicken Strips With Lemon
Chicken strips with lemon (FAST AND TASTY)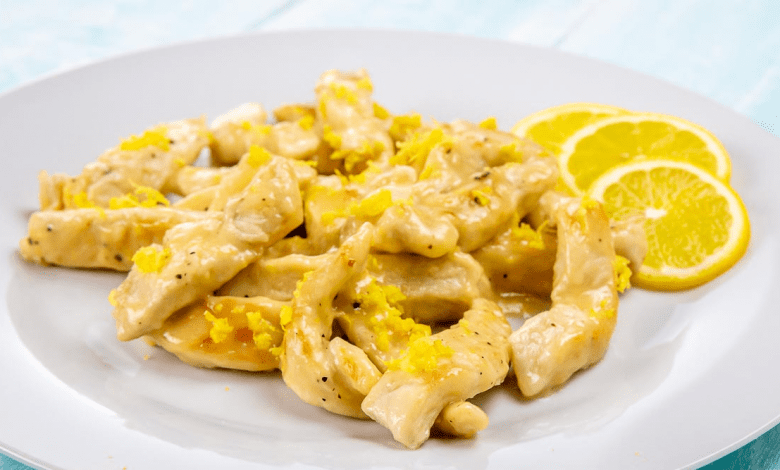 Are you looking for a quick and easy chicken recipe that's also delicious? Look no further than this Chicken Strips With Lemon recipe! With just a few simple ingredients and a short cooking time, this dish is perfect for a weeknight dinner or meal prep for the week ahead.
Ingredients:
| Ingredients | Amount |
| --- | --- |
| Boneless chicken breast | 1 lb |
| All-purpose flour | 1/4 cup |
| Salt | To taste |
| Black pepper | To taste |
| Olive oil | 2 tbsp |
| Garlic, minced | 2 cloves |
| Chicken broth | 1/2 cup |
| Lemon juice, freshly squeezed | 1/4 cup |
| Lemon zest | 1 tbsp |
| Capers drained and rinsed | 2 tbsp |
| Fresh parsley, chopped | 1/4 cup |
Instructions:
In a shallow bowl, combine the flour, salt, and black pepper.
Dredge the chicken strips in the flour mixture, shaking off any excess.
Heat the olive oil in a large skillet over medium-high heat.
Add the chicken strips and cook for about 3 minutes per side, or until golden brown and cooked through.
Remove the chicken from the skillet and set aside.
Add the minced garlic to the skillet and sauté for about 30 seconds, or until fragrant.
Add the chicken broth, lemon juice, lemon zest, and capers to the skillet.
Bring the mixture to a simmer and cook for about 5 minutes, or until the sauce has thickened slightly.
Return the chicken strips to the skillet and toss to coat in the lemon sauce.
Garnish with chopped fresh parsley and serve hot.
This Chicken Strips With Lemon recipe is sure to be a hit with your family and friends. It's a great way to add some flavor to plain chicken and can be served with a variety of sides, such as roasted vegetables or a simple salad. Plus, with the addition of fresh lemon juice and zest, it's a great way to add some bright, citrusy flavor to your meal.