Meat & Poultry
Chicken Strips With Lemon
Chicken strips with lemon (FAST AND TASTY)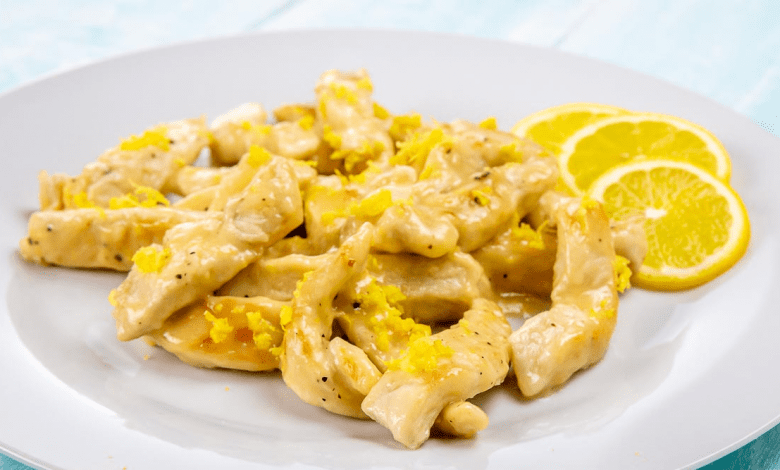 Chicken Strips With Lemon
Chicken strips with lemon are a quick and tasty second course of meat. The creamy and citrus sauce goes perfectly with the texture and flavor of the chicken breast that becomes truly delicious.
Presentation
I don't like cooking chicken breast slices in a pan. It is far too lean meat for my canons to enjoy it. However, my waistline is continuing to widen and, for this reason, I often find myself cooking low-calorie dishes. I also occasionally buy the infamous chicken slices (which I try to cook, however, in a delicious way).
How to make lemon chicken breast
Chicken strips with lemon (FAST AND TASTY)
Chicken strips with lemon are a light and tasty second course of meat. The citrusy taste of the lemon cream goes perfectly with the flavor of the chicken, thus obtaining an exquisite result.
Ingredients
350 

g 

sliced ​​chicken breast

2 

untreated 

lemons

1 

knob of 

butter

flour 

to taste

salt 

to taste

pepper 

to taste
Instructions
Grate the outside of the peel of two lemons and set aside. Then squeeze the lemons to extract the juice.

Cut the chicken breast slices into strips about 2 cm wide and flour them.

Melt a knob of butter in a non-stick pan and brown the chicken strips for a few minutes (turning them often so as not to burn the flour).

Add the lemon juice, a little water and cook for about ten minutes (with lid). Turn the meat occasionally and, if the sauce becomes too dry, add a few tablespoons of water.

When the sauce begins to thicken, add salt, pepper and grated lemon peel according to your personal taste.
Note
Don't overdo the lemon peel as it has a very strong flavor. Always taste the preparation before adding it so you won't run the risk of covering all the taste of the meat.