Prawns
Savory Prawn and Leek Risotto: A Perfectly Balanced Mea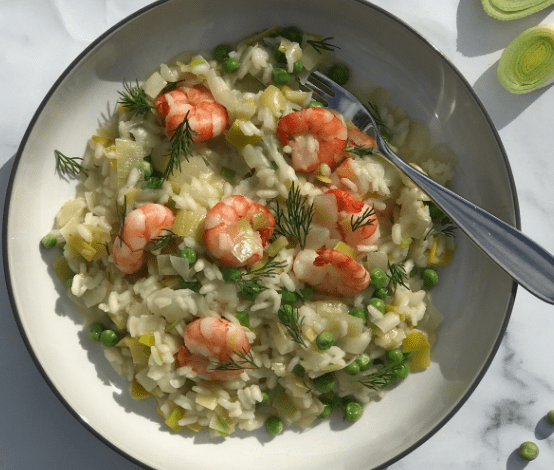 This Prawn and Leek Risotto recipe is a delicious and satisfying meal that is perfect for any occasion. The combination of tender prawns, leeks, and Arborio rice creates a perfectly balanced dish that is packed with flavor. The white wine and Parmesan cheese add a touch of elegance, while the parsley adds a fresh burst of flavor. This recipe is easy to make and can be on your table in under an hour. Enjoy this dish as a main course or as a side dish to any meal.
Ingredients:
| Ingredient | Quantity |
| --- | --- |
| Prawns | 1 pound |
| Olive oil | 2 tablespoons |
| Leeks | 2 |
| Onion | 1 |
| Garlic cloves | 3 |
| Arborio rice | 1 1/2 cups |
| White wine | 1/2 cup |
| Chicken or seafood broth | 4 cups |
| Parmesan cheese | 1/4 cup |
| Parsley | 2 tablespoons |
Instructions:
Heat olive oil in a large skillet over medium heat. Add the prawns and cook for 2-3 minutes per side, until pink and cooked through. Remove from skillet and set aside.
In the same skillet, add the leeks, onion, and garlic. Cook until softened, about 5 minutes.
Add the Arborio rice and stir to coat with the vegetables. Cook for 1-2 minutes, until the rice, is lightly toasted.
Pour in the white wine and stir until it is absorbed.
Slowly add the chicken or seafood broth, 1 cup at a time, stirring constantly and allowing the liquid to be absorbed before adding the next cup.
Once all of the broth has been added and the risotto is creamy, stir in the cooked prawns, Parmesan cheese, and parsley.
Serve hot and garnish with additional chopped parsley, if desired.