Seafood
Delicious Prawn and Asparagus Risotto: A Seafood Lover's Dream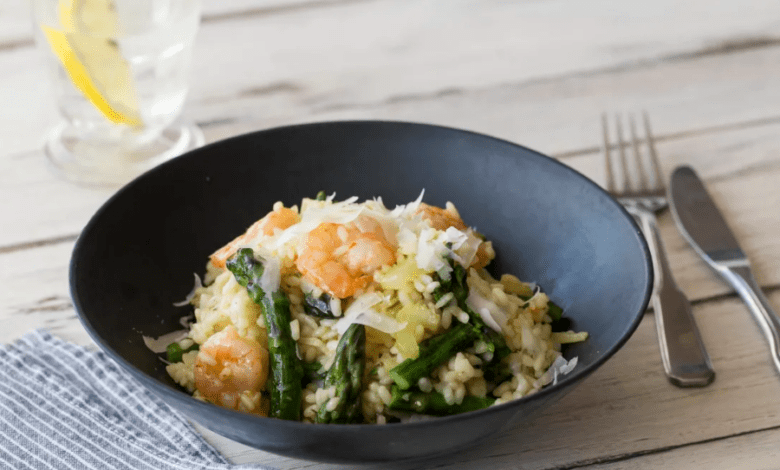 This Prawn and Asparagus Risotto is a delicious and easy recipe that will be sure to impress your friends and family. The combination of tender prawns and fresh asparagus with creamy risotto makes for a perfect seafood dish. Make sure to serve it hot for the best results. The recipe is perfect for a special occasion or as a weeknight dinner. This dish is sure to be a favorite among seafood lovers.
Ingredients:
| Ingredients | Quantity |
| --- | --- |
| Prawns | 1 pound |
| Asparagus | 1 bunch |
| Onion | 1 |
| Garlic | 3 cloves |
| Arborio Rice | 1 cup |
| Chicken or Seafood Broth | 2 cups |
| Dry White Wine | 1/2 cup |
| Grated Parmesan Cheese | 1/4 cup |
| Butter | 2 tablespoons |
| Olive Oil | 2 tablespoons |
| Salt and Pepper | to taste |
| Lemon Wedges | optional |
Instructions:
In a large skillet or sauté pan, heat olive oil over medium-high heat. Add the asparagus and cook until tender, about 5 minutes. Remove from the pan and set aside.
In the same pan, add butter and sauté onions and garlic until softened about 5 minutes.
Add the rice and stir to coat with the butter and onions. Cook for 2 minutes, or until the rice becomes translucent.
Pour in the white wine and stir until the wine is absorbed.
Slowly add the broth, one ladleful at a time, stirring constantly until each addition is absorbed before adding the next.
Once all the broth has been added, add the prawns and asparagus. Cook until the prawns are pink and the asparagus is tender.
Stir in grated Parmesan cheese and season with salt and pepper to taste.
Serve with lemon wedges if desired.