Prawns
Easy and Delicious Prawn Pad Thai Recipe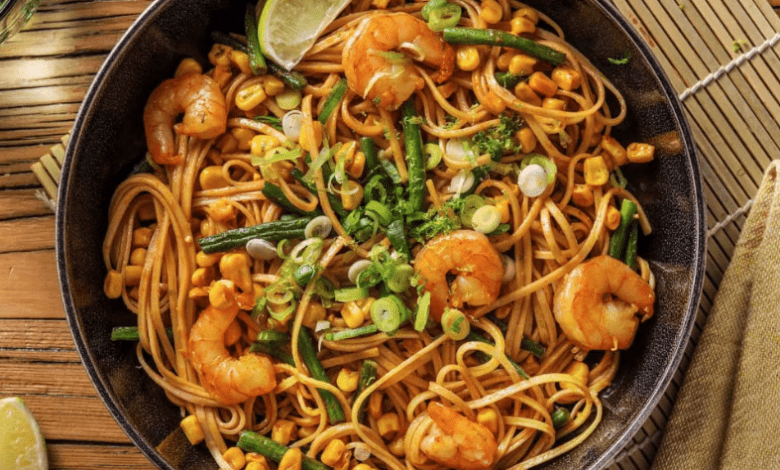 Pad Thai is a popular Thai dish made with rice noodles, vegetables, and protein, usually chicken, tofu, or shrimp. The dish is cooked with a flavorful sauce made from a combination of sweet, sour, and savory ingredients. This recipe for Prawn Pad Thai is easy to make, delicious, and perfect for a quick weeknight dinner.
Ingredients:
| Ingredient | Quantity |
| --- | --- |
| Rice noodles | 8 oz |
| Prawns | 1 lb |
| Garlic cloves | 4-6 |
| Peanut oil | 2 tbsp |
| Eggs | 2 |
| Bean sprouts | 1 cup |
| Green onions | 1/2 cup |
| Ground peanuts | 1/4 cup |
| Pad Thai sauce | 2-3 tbsp |
| Lime wedges and cilantro for garnish | |
Instructions:
Soak the rice noodles in warm water for 15-20 minutes or until they are soft. Drain and set aside.
Peel and mince the garlic cloves. Heat the peanut oil in a large pan or wok over high heat. Add the minced garlic and sauté for 1-2 minutes until fragrant.
Add the prawns and sauté for 2-3 minutes or until they turn pink. Remove them from the pan and set aside.
Crack the eggs into the pan and scramble them until they are cooked.
Add the softened rice noodles, bean sprouts, green onions, and Pad Thai sauce to the pan. Toss everything together until the noodles are evenly coated in the sauce.
Add the cooked prawns and ground peanuts to the pan, and toss again.
Serve hot and garnish with lime wedges and cilantro.
This dish is perfect for a quick weeknight dinner and can be easily customized to suit your taste preferences. You can add more or less Pad Thai sauce depending on your desired level of sweetness or spiciness. You can also add more vegetables such as bell peppers or carrots for added color and nutrition. Enjoy!