Seafood
Succulent Prawns in Garlic Butter: A Delicious and Easy Seafood Recipe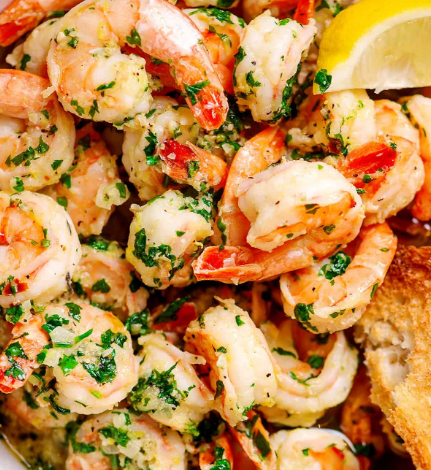 Prawns in garlic butter are a delicious and easy seafood recipe that's perfect for any occasion. The combination of juicy prawns and the rich, buttery sauce infused with garlic and lemon juice creates a mouthwatering dish that's sure to impress. This recipe is easy to follow and can be on the table in under 20 minutes.
Ingredients:
| Ingredient | Quantity |
| --- | --- |
| Prawns | 1 lb |
| Garlic cloves | 4-6 |
| Unsalted butter | 4 tbsp |
| Salt | 1 tsp |
| Black pepper | 1 tsp |
| Lemon juice | 1 tbsp |
| Parsley, chopped | 2 tbsp |
Instructions:
Heat a skillet over medium heat. Add butter to the skillet and let it melt.
Once the butter is melted, add minced garlic to the skillet and cook for 1-2 minutes or until fragrant.
Add the prawns to the skillet and season with salt and pepper. Cook for 2-3 minutes on each side or until the prawns are pink and cooked through.
Once the prawns are cooked, remove the skillet from heat and sprinkle with chopped parsley.
Serve the prawns with garlic butter on top and enjoy!
This Prawn and Garlic Butter recipe is a simple and delicious seafood dish that can be served as a main course or as an appetizer. The combination of the juicy prawns and the fragrant garlic butter creates a mouthwatering taste that will leave your taste buds wanting more. Serve it with a side of vegetables or rice to make a complete meal. This recipe is easy to make and can be a perfect dish to impress your guests.