Meat
Cheese Spaetzle Hack Pan With Leek And Roasted Onions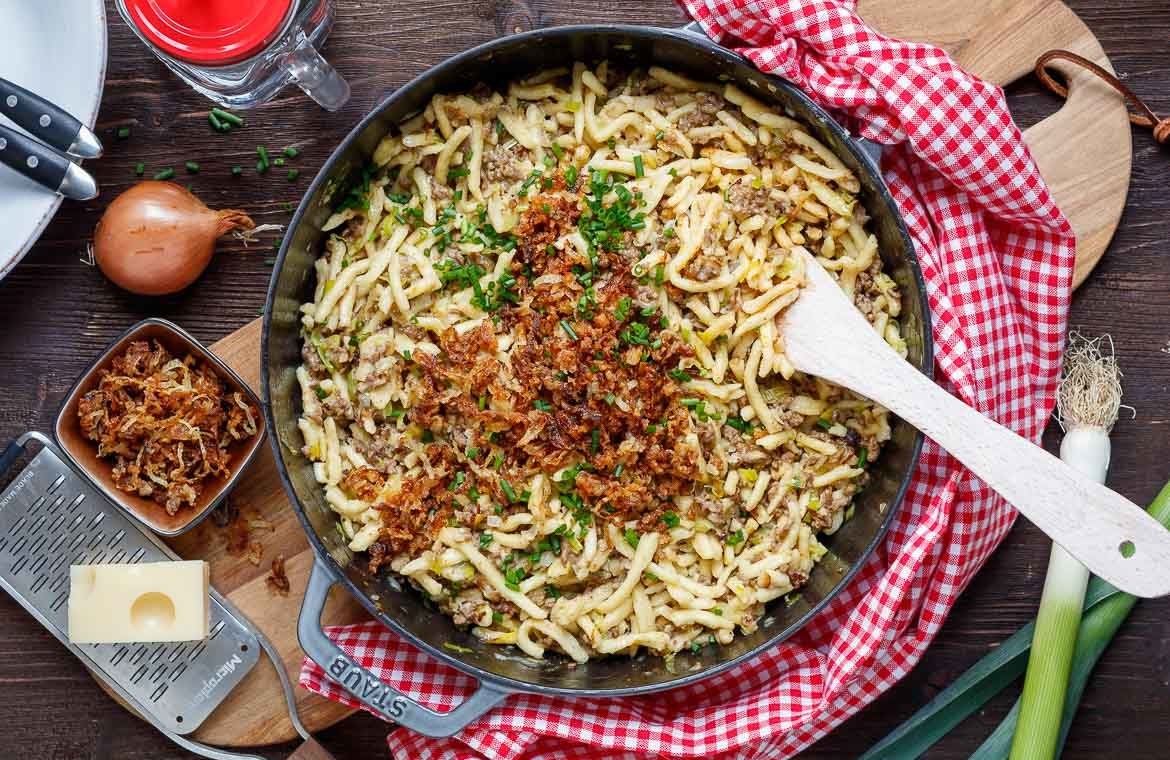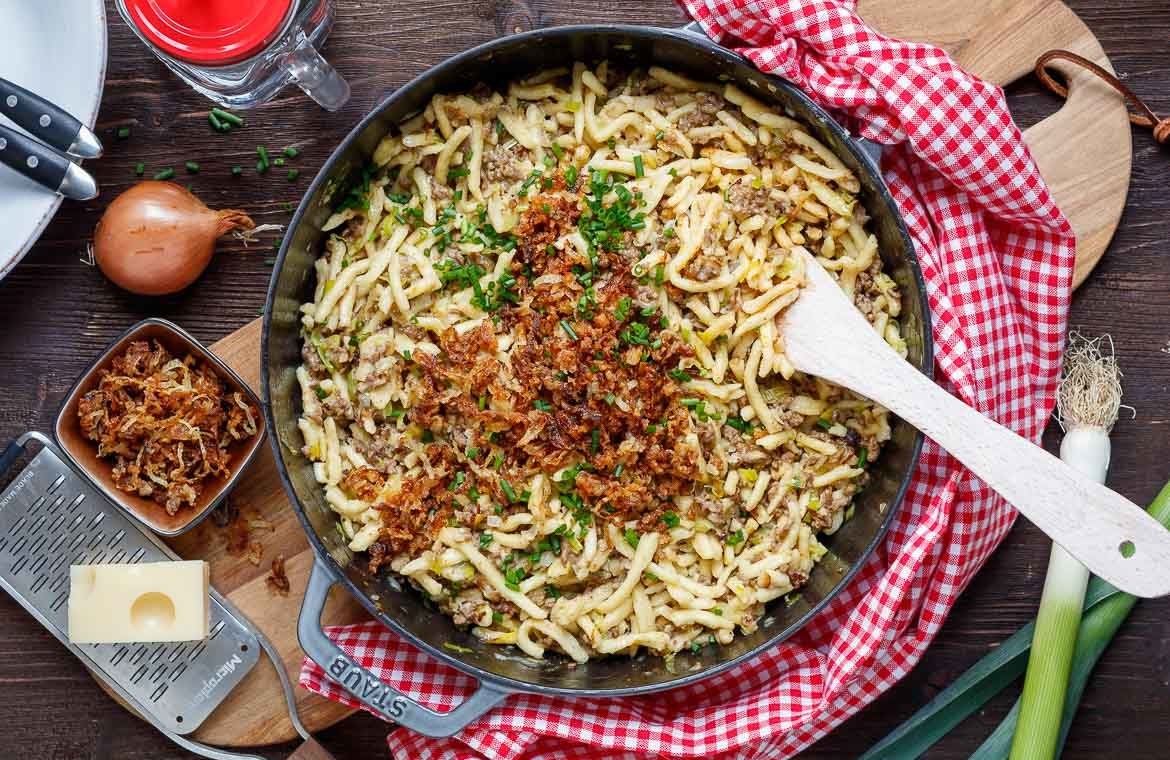 When I drive to my best friend, I usually do this over the Cologne motorway ring. Also a few days ago. My son and I wanted to visit her because she had a family addition. A little dog baby. I do not know why it was, but the traffic on this day was the absolute horror. Much more than usual. In addition trucks on all lanes, also on the other side, as far as the eye could see.
With a monkey tooth they overtook us left and right. One was in a hurry than the other. Although I am good at driving a car, I somehow felt queasy to be so overcome by these raging giants. The steering wheel firmly in both hands, I thought in the meantime, where all this is still going to lead. That with the truck, car and air traffic, the climate and in general the whole depletion of nature.
EVERYTHING OVERHANG WITH EVERYTHING
The concern for our environment is currently driving a lot, not just me and you think on a small scale what you can do. For food, for example, I have been using organic products for quite some time where it makes sense. Initially only with the ulterior motive that they are healthier. But now with the knowledge that organic products are produced sustainably, that is in harmony with nature. This conserves natural resources and, in turn, has many positive effects on our environment. For example, on the diversity and the preservation of animal and plant life because it  dispenses with chemical-synthetic agents . My partner ALDI SOUTH is also committed to sustainability and I can buy more and more organic products from him, which I find great and practical. 
CHEESE NOODLES HACK PAN WITH LEEKS AND ROASTED ONIONS – COOKED WITH ORGANIC
For me it does not mean that everything must be compulsively organic. This is not really feasible for me in everyday life. In addition, it is often more sensible to buy locally and seasonally, especially for fruit and vegetables, in my view, instead of organic from abroad. On the subject of "cooking with organic" my partner ALDI SOUTH asked me to develop a recipe and for that I created a Yummy dish suitable for everyday use, my cheese noodles with leeks and roasted onions. This is a meal for the whole family, using organic products that are always good to eat.
ROASTED ONIONS ARE EASILY ASSOCIATED WITH CHEESE NOODLES
The icing on the cake with my cheese noodles Hack pan are the homemade fried onions. I LOVE roasted onions ! Maybe that's because of my southern German origins. Even my mom and my grandma have served homemade roasted onions just where it fits. Roasted onions are always and everywhere used in the South German cuisine, taste fit to a great deal and are made much easier than you think.
Other fast food and fast family dishes are my quick chopping board with croutons and vegetables  as well as my quick  pointed cabbage-chopping pan with potato noodles , which you can also prepare with many organic products.
---
Cheese Spaetzle Hack Pan With Leek And Roasted Onions
PREPARATION 20 minutes PREPARATION 15 minutes TIME TOTAL 35 minutes PORTIONS4 people
---
INGREDIENTS
ALL INGREDIENTS ARE ALSO AVAILABLE AT ALDI SOUTH
FOR THE ROASTED ONIONS
2 onions, medium in size – cut into fine half-rings or rings
40 g wheat flour
1 tsp sugar
5 tbsp organic sunflower oil – for frying, alternatively rapeseed oil
FOR THE CHEESE NOODLES HACK PAN
350 g Bio Spaetzle – dried, in the bag
400 g organic minced meat, mixed – half beef, half pig
100-150 g of organic cream
150 g organic Emmentaler – freshly grated
2 rods leek – obliquely cut into thin rings
1 onion, medium in size – cut into cubes
2 tablespoons organic butter
1 tbsp organic sunflower oil – alternatively rapeseed oil
Salt, pepper – to taste
Chives, fresh – finely cut for serving
---
MANUAL
FOR THE ROASTED ONIONS
1.For the fried onions, you take the two onions and cut them into fine half-rings or rings depending on what you like better. Put them in a bowl and mix with 40g wheat flour .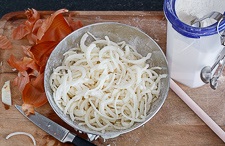 2.Then heat 5 tablespoons of sunflower oil in a pan and add the floured onions , sprinkle 1 teaspoon of sugar over it and fry on medium for about 10-15 minutes .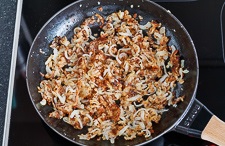 FOR THE CHEESE NOODLES HACK PAN
1.At the same time you prepare the spaetzle according to the packing instructions , let it drip off later and, if necessary, quench it briefly with cold water so that they do not "cook on" and stick together.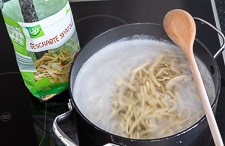 2.While peeling the onion and cut into fine cubes and clean the leek , wash and cut obliquely into fine rings .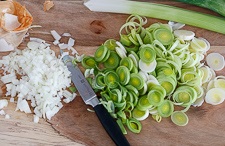 3.Immediately heat 1 tbsp butter and 1 tbsp sunflower oil in a large pan / flat roast. The ground beef , the leeks and the onions pour in, with a good pinch of salt season and for about 8-10 minutes fry over medium heat.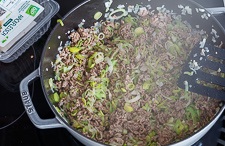 4.Then you lift the cooked cheese spaetzle with 1 tablespoon butter under the minced meat and vegetable mixture and let it briefly get hot.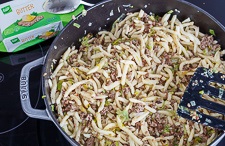 5.Then fold in the prepared, freshly grated Emmentaler and the cream . As long as the cheese has gone. Season again with salt and pepper , optionally with noble sweet paprika powder .
TIP: If you like the cheese spaetzle chopping pan a little more substantial, you can add 50g or more of grated Emmentaler and cream.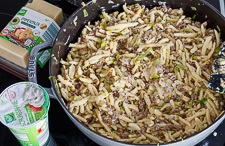 6.Arrange with chives and the roasted onions . I wish you a good appetite.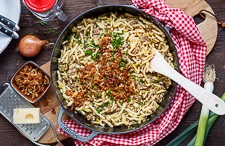 ---
WHAT DO YOU MEAN?
Did you try the recipe once? How do you find it? I am always happy about praise, friendly criticism or your tips and experiences. Let us stay in the exchange via the comment function below. I would be happy.