Seafood
Tropical Twist: A Delicious Prawn and Pineapple Skewer Recipe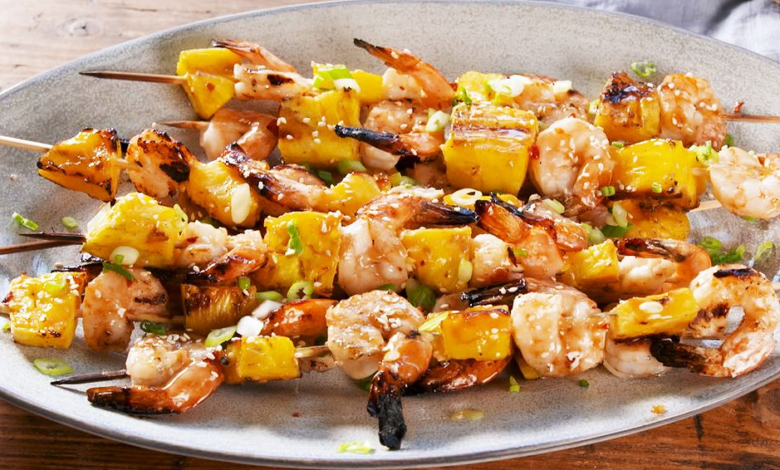 This Prawn and Pineapple Skewer recipe is a perfect dish for a summer barbecue, or for any time you want to add a tropical twist to your meal. The sweet and savory marinade complements the succulent prawns and juicy pineapple perfectly, and the skewers make for easy and convenient grilling. The ingredients table makes it easy to follow the recipe and ensures you have all the necessary ingredients on hand. Enjoy!
Ingredients:
| Ingredients | Quantity |
| --- | --- |
| Large Prawns | 1 lb |
| Pineapple | 1 |
| Olive Oil | 2 tbsp |
| Honey | 2 tbsp |
| Soy Sauce | 2 tbsp |
| Garlic | 2 cloves |
| Lime Juice | 1 tbsp |
| Salt | to taste |
| Pepper | to taste |
| Skewers | as needed |
Instructions:
In a large bowl, mix together the olive oil, honey, soy sauce, garlic, lime juice, salt, and pepper.
Add the prawns and pineapple to the marinade, making sure to coat evenly. Cover and marinate in the refrigerator for at least 30 minutes, or overnight for maximum flavor.
Preheat the grill to medium-high heat. Thread the prawns and pineapple onto skewers, alternating between the two.
Grill the skewers for 2-3 minutes per side, or until the prawns are cooked through and the pineapple is slightly charred.
Serve hot and enjoy your tropical twist on a classic skewer dish.