Meat
BIBIMBAP WITH VEGETABLES AND STRIPS OF BEEF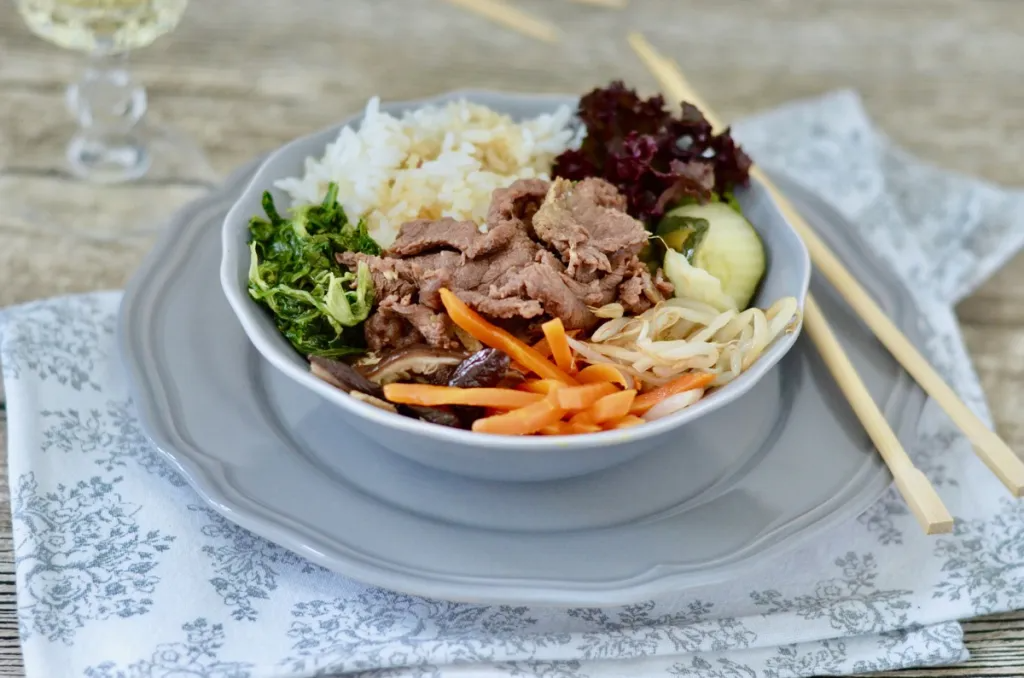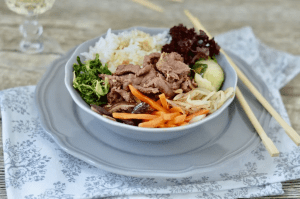 My dears, today I have my personal version of the Korean dish bibimbap, which consists of rice, beef, vegetables and egg. Bibimbap is not only delicious and healthy, but also a real power and therefore happy food. The carbohydrates in the rice give you strength, while the vitamins in the vegetables pamper your body and the taste makes your palate and soul happy. The preparation is a bit complex because all the ingredients have to be cooked individually, but it is very simple. Of course, it doesn't taste quite like it does in Korea, but the dish is still worth trying. Even if it's not part of the original recipe, I like to drizzle my bibimbap with some soy sauce at the end and eat it with sambal oelek.
As much as I'm a fan of cooking dishes in a classic way, I'm just as much a fan of adding a personal touch to a classic. It's not set in stone how to cook something – what do you think? I don't understand the discussion about what belongs in a dish or not. Sure, when it comes to whether it's an original recipe, then that's fine. But there are people who are simply of the opinion that nothing should be changed in a classic recipe. Normally, a raw egg yolk would go into the bibimbap. I don't like that, so I left it out. Alternatively, a fried or poached egg would do. But the egg taste bothers me, so my version doesn't have it at all. Is that why I can't share my Bibimbap recipe with you? Or never cook it like that again? nope! Because in the kitchen everyone can do what they want and what makes them happy and the same applies to me and my blog. With this in mind, be brave and create your very own variants of your favorite recipes.
For 2 people:
125 g basmati rice
200 g rump steak
1 carrot
100 g spinach
100 g soybean sprouts
50 g shiitake mushrooms
1/4 cucumber
2 cloves of garlic
4 leaves Lollo Rosso
2 tbsp. soy sauce
, some soy sauce to drizzle over
1 tsp honey
2 tbsp. gochujang (Korean spice paste)
1 tbsp. Sambal Oelek
2 tbsp. sesame oil
salt & pepper
Preparation:
Preheat the oven to 60 degrees (top and bottom heat). Cut the steaks into thin slices and marinate with the spice paste, soy sauce, honey and some sesame oil. Cook the rice in twice the amount of water until al dente. Meanwhile, peel and halve the garlic. Peel the carrot and cut into strips with the julienne cutter. Clean the mushrooms and also cut into strips. Wash and slice the cucumber. Wash and dry the spinach and cut the leaves in half. Sweat the carrots, spinach and mushrooms separately in a pan with a little oil and a quarter of garlic each. Season with salt and pepper and then keep warm.
Sprinkle the cucumber slices with a little salt. After about 5 minutes, squeeze out the water and briefly fry the cucumbers in a little oil. At the same time, briefly blanch the sprouts and Lollo Rosso in hot water. Now fry the steaks in a little oil and season with salt and pepper.
Now divide all the cooked ingredients into two bowls and serve with some soy sauce and sambal oelek.