Meat & Poultry
Chicken Strips With Peppers And Black Olives
Chicken strips with peppers and black olives (Easy main course with chicken)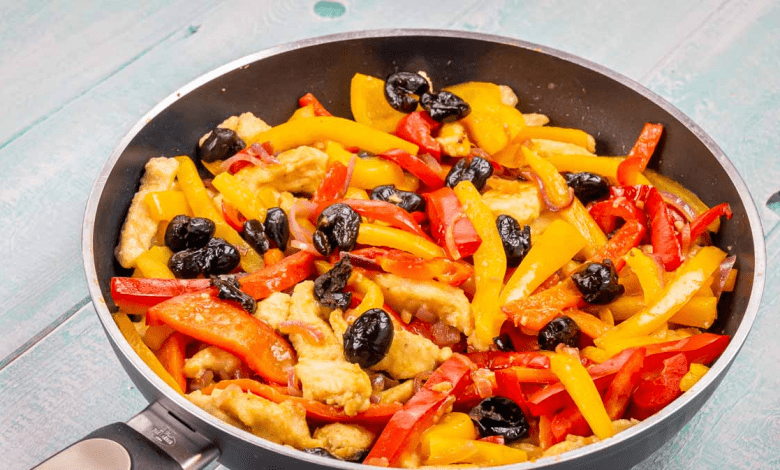 Chicken Strips With Peppers And Black Olives
Chicken strips with peppers and black olives are a quick meat dish that is very easy to prepare. A recipe with chicken that is different from the usual and really tasty.
Presentation
Chicken strips with peppers and black olives are a delicious second course prepared with slices of chicken breast. They are one of my dinner-saving dishes. When in fact not what to cook a chicken breast solves the meal most of the time. It is a very versatile ingredient that can be seasoned in the most varied ways and that can be cut and portioned in different ways. Think for example of this chicken with peppers I made some time ago. The ingredients are almost the same compared to this recipe (on that occasion I used the legs) but the dishes obtained are decidedly different. In any case, poultry meat goes very well with the flavors of Tropea onion, peppers, and black olives. (I prefer to use those baked in the oven and not pitted).
How to make chicken strips with peppers and black olives
Chicken strips with peppers and black olives
This a quick and easy recipe for a second with chicken.
Ingredients
450 

g 

chicken breast slices

1 

red pepper

1 

yellow pepper

1 

red onion

20-30 

black olives

1 

glass of white wine

extra virgin olive oil to taste

Salt to taste
Instructions
Cut the onion into slices and fry it over moderate heat in a pan

Cut the slices of chicken breast into strips and flour them.

Add the peppers and olives to the onions and cook with the lid on for 10-15 minutes.

Brown the chicken strips (in another pan) for 5 minutes.

Add a glass of wine to the pan with the strips. Let the alcoholic part evaporate. Cover the pan and cook for about 15 minutes. If the cream is too dry, add water as needed.

Transfer the peppers, onion, and olives to the pan with the chicken and mix.

Serve and serve.