Seafood
Mediterranean-Style Pan-Fried Sea Bream Fillets
Mediterranean-style pan-fried sea bream fillets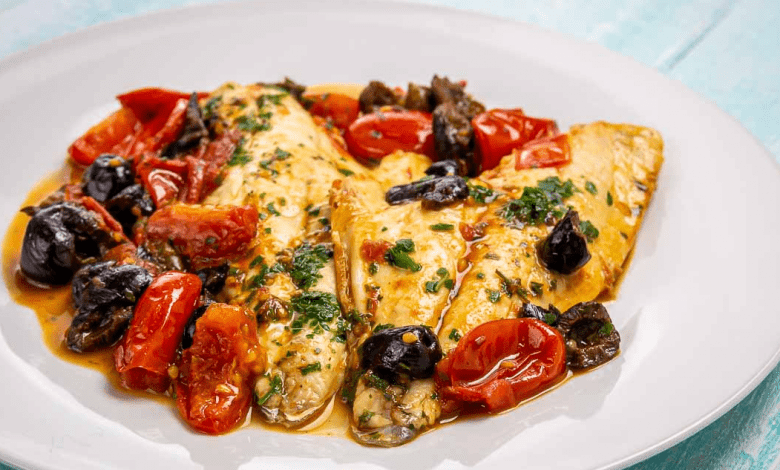 Mediterranean-Style Pan-Fried Sea Bream Fillets
Mediterranean-style pan-fried sea bream fillets are a quick and boneless second course of fish. A simple dish, perfect for those who only have a few minutes to prepare dinner.
Presentation
Sea bream is a very versatile fish that can be used to prepare many dishes. In this blog I cooked it in many different ways and I ranged from grilled to oven preparations ( with potatoes , with cherry tomatoes or in a zucchini crust ). However, I had not yet published anything that suggested how to make sea bream fillets in a pan . So I decided to make up for it with a fish recipe, without bones , quick to prepare but very tasty and delicious.
The ingredients are very common : just a bunch of datterino tomatoes, a handful of black olives, some capers, garlic and parsley (in addition to the sea bream fillets of course). In a few minutes you can sit at the table with an exquisite dish in front of you .
How to prepare the sea bream fillets in a pan
Mediterranean-style pan-fried sea bream fillets
A quick and boneless second course of fish. Ideal for those who need to put a healthy, delicious dish on the table, ready in a few minutes.
Ingredients
4 

sea bream fillets

10-15 

cherry tomatoes

15-20 

black olives

1 

clove of 

garlic

2 

tablespoons 

chopped parsley

10-15 

capers

extra virgin olive oil to 

taste

50 

ml 

white wine
Instructions
Cut a clove of garlic in half and fry it in a pan with a little extra virgin olive oil. Meanwhile, cut the datterino tomatoes in half (or quarters).

Add the cherry tomatoes and black olives to the sauté. Leave the cherry tomatoes to simmer for a few minutes over medium heat.

Deglaze with a little white wine and add the capers. Continue cooking until the alcohol has evaporated.

Add the sea bream fillets by placing them in the pan with the skin side up. After about 2 minutes of cooking, turn the fillets skin side down. Cook for another 5 minutes, paying close attention to the consistency of the fish. If, when moving the fillets with the spoon, they start to break, it means that they are ready.

A few moments before the end of cooking, add a few tablespoons of chopped parsley.

Serve and serve!