Crabs
Creamy and Delicious Crab and Parmesan Risotto: A Perfect Dinner Recipe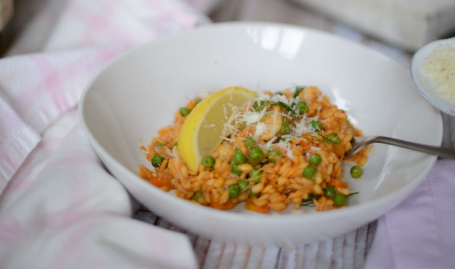 Looking for a delicious and satisfying dinner recipe that is perfect for the entire family? Try this Crab and Parmesan Risotto recipe. This creamy and cheesy risotto is filled with succulent crabmeat, making each bite a flavor explosion. It's an easy-to-make and hearty meal that is sure to become a family favorite.
Ingredients
| Ingredient | Quantity |
| --- | --- |
| Arborio rice | 1 1/2 cups |
| Chicken broth | 4 cups |
| White wine | 1 cup |
| Butter | 2 tablespoons |
| Onion, chopped | 1, medium-sized |
| Garlic, minced | 2 cloves |
| Cooked crab meat | 1 pound |
| Parmesan cheese, grated | 1 cup |
| Salt | To taste |
| Pepper | To taste |
Instructions
In a large saucepan, heat the chicken broth over low heat.
In a separate saucepan, heat the butter over medium heat. Add the onion and cook until soft, about 5 minutes. Add the garlic and cook for an additional minute.
Add the arborio rice to the saucepan with the onion and garlic and cook until the edges of the rice are translucent about 2-3 minutes.
Pour in the white wine and stir continuously until the wine has been absorbed.
Gradually add the heated chicken broth to the saucepan, stirring continuously and allowing each addition to be absorbed before adding more. Repeat until the rice is cooked and creamy.
Stir in the crabmeat, parmesan cheese, salt, and pepper. Serve immediately.