Lobster
Luscious Lobster Scampi: A Seafood Delight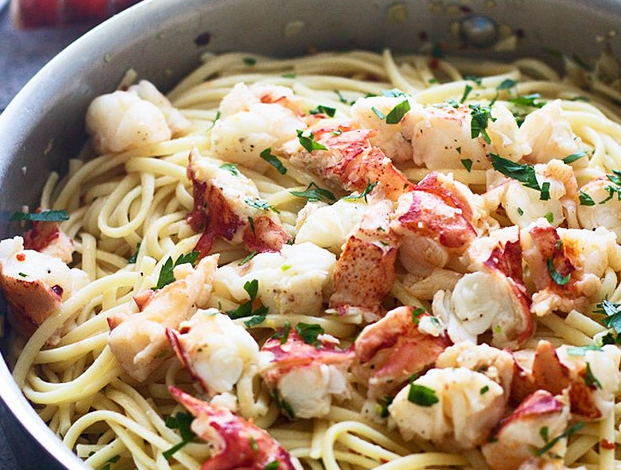 Lobster Scampi is a classic dish that combines succulent lobster meat with a rich, buttery garlic sauce. Perfect for special occasions, this dish is sure to impress your guests with its combination of flavors and elegant presentation. In this recipe, the lobster meat is sautéed in butter and white wine then tossed with juicy cherry tomatoes and a mixture of herbs for a burst of fresh flavor.
To make the perfect Lobster Scampi, you'll need the following ingredients:
Ingredients:
| Ingredients | Quantity |
| --- | --- |
| Lobster tails | 4 (7-8 oz each) |
| Butter | 4 tablespoons |
| Garlic | 4 cloves, minced |
| White wine | 1/2 cup |
| Lemon juice | 1 lemon, juiced |
| Parsley | 2 tablespoons, chopped |
| Salt | 1/2 teaspoon |
| Black pepper | 1/4 teaspoon |
| Angel hair pasta | 1 lb, cooked |
Instructions:
Heat the butter and olive oil in a large pan over medium heat.
Add the garlic and cook until fragrant, about 1 minute.
Add the white wine and chicken broth, stirring to combine.
Add the lobster meat and cook until it turns pink about 4 minutes.
Stir in the cherry tomatoes, parsley, basil, salt, and pepper. Cook for 2 minutes.
Serve with lemon wedges and enjoy!
This Lobster Scampi recipe is a quick and easy way to enjoy the delicious flavors of seafood. Serve with a crusty loaf of bread for a complete meal that is sure to satisfy. So, gather your ingredients and get ready to create this classic dish in your own kitchen.