Lobster
Lobster Deviled Eggs Recipe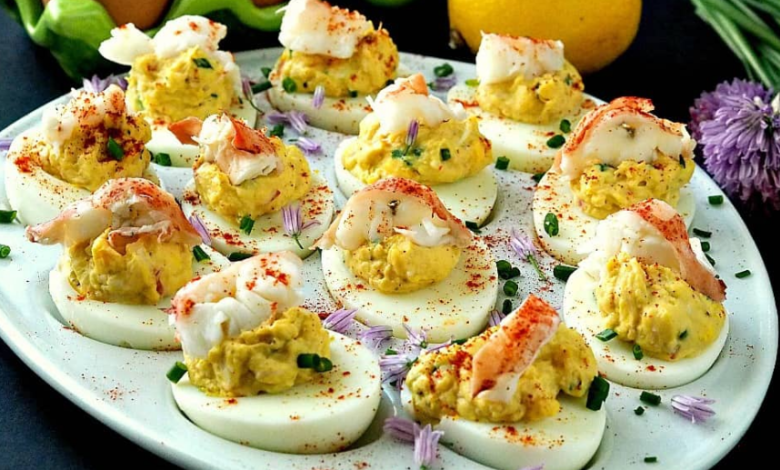 Looking for a new twist on the classic deviled egg recipe? Look no further than this lobster deviled eggs recipe! With juicy lobster meat and a touch of tangy mayonnaise, these deviled eggs will be the star of any party or gathering.
Ingredients:
| Ingredient | Quantity |
| --- | --- |
| Lobster Meat | 1 lb |
| Hard-Boiled Eggs | 6 |
| Mayonnaise | 1/2 cup |
| Dijon Mustard | 1 tbsp |
| Lemon Juice | 1 tbsp |
| Paprika | 1 tsp |
| Salt | 1 tsp |
| Pepper | 1/2 tsp |
| Fresh Parsley | 2 tbsp |
Instructions:
Cook and shell the lobster, chop the lobster meat into small pieces, and set aside.
Cut the hard-boiled eggs in half and scoop out the yolks into a separate bowl.
In the bowl with the egg yolks, add the mayonnaise, dijon mustard, lemon juice, paprika, salt, pepper, and chopped lobster meat. Mix well to combine.
Spoon the lobster mixture into the hollowed-out egg halves, filling them evenly.
Sprinkle paprika and chopped fresh parsley on top of the stuffed eggs.
Chill the deviled eggs in the refrigerator for at least 30 minutes before serving.
Savor the taste of succulent lobster and creamy deviled eggs in every bite with this delectable Lobster Deviled Eggs recipe! Perfect for special occasions, this dish is sure to impress your guests and leave them asking for more. Serve and enjoy!