Lobster
Luscious Lobster and Asparagus Risotto: A Seafood Delight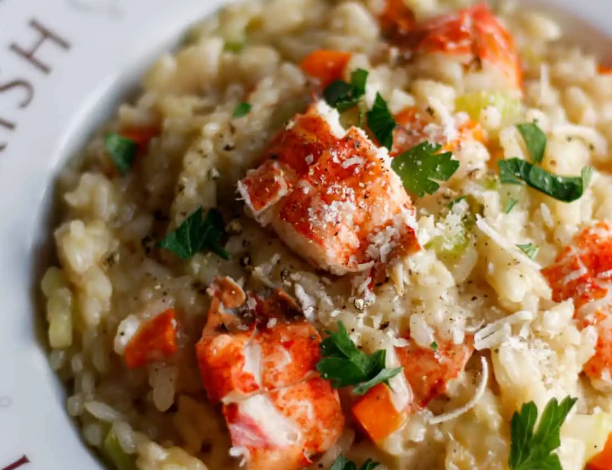 Enjoy your delicious and seafood-packed lobster and asparagus risotto! Whether you're looking for a fancy dinner party dish or simply want to treat yourself to something special, this recipe is sure to hit the spot. With its creamy texture, tender lobster, and vibrant asparagus, this risotto is a flavor explosion in every bite.
Ingredients:
| Ingredients | Quantity |
| --- | --- |
| Lobster Tail | 1 lb |
| Asparagus | 1 lb |
| Olive Oil | 2 tbsp |
| Shallots | 2, chopped |
| Garlic | 2 cloves, minced |
| Arborio Rice | 1 1/2 cups |
| White Wine | 1/2 cup |
| Chicken Broth | 4 cups |
| Grated Parmesan Cheese | 1/2 cup |
| Butter | 2 tbsp |
| Salt | 1 tsp |
| Black Pepper | 1 tsp |
Instructions:
In a large skillet, heat 1 tbsp of the olive oil over medium heat. Add the asparagus and cook for 5-7 minutes, or until tender and lightly browned. Remove from the skillet and set aside.
In the same skillet, heat the remaining 1 tbsp of olive oil over medium heat. Add the onion and garlic and cook for 2-3 minutes, or until softened.
Add the Arborio rice to the skillet and stir well to coat in the oil. Cook for 2-3 minutes, or until the rice is lightly toasted.
Pour in the white wine and stir well. Cook until the wine has been absorbed, then add 1 cup of the hot broth. Stir continuously until the broth has been absorbed.
Repeat the process of adding the broth, 1 cup at a time, until the rice is tender and the mixture is creamy. This should take approximately 20-25 minutes.
Stir in the lobster meat and asparagus, cooking for 2-3 minutes, or until heated through.
Stir in the Parmesan cheese and season with salt and pepper, to taste.
Serve hot, garnished with chopped parsley, if desired.