Pudding
Sweet and Creamy Strawberry Pudding Recipe for a Delicious Dessert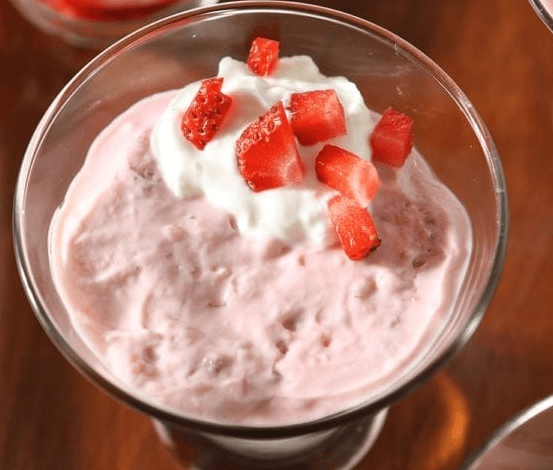 Strawberry pudding is a delightful dessert that is perfect for any occasion, whether it's a family gathering, a birthday party, or just a sweet treat after dinner. This creamy and delicious dessert is bursting with fresh strawberry flavor and is sure to satisfy your sweet tooth. In this article, we will share an easy and delicious strawberry pudding recipe that will become a new favorite in your household.
Ingredients:
| Ingredients | Quantity |
| --- | --- |
| Fresh strawberries | 2 cups, hulled and chopped |
| Granulated sugar | 1/4 cup |
| Cornstarch | 1/4 cup |
| Salt | 1/4 tsp |
| Milk | 2 cups |
| Heavy whipping cream | 1/2 cup |
| Vanilla extract | 1 tsp |
| Whipped cream and sliced strawberries | for topping (optional) |
Instructions:
In a medium saucepan, combine the chopped strawberries and granulated sugar over medium heat. Cook for about 5-7 minutes or until the strawberries have softened and released their juices.
In a small bowl, whisk together the cornstarch and salt with 1/4 cup of milk until smooth.
Add the remaining milk to the strawberry mixture and bring it to a boil.
Once boiling, reduce the heat to low and add the cornstarch mixture, stirring constantly for about 1-2 minutes or until the mixture thickens.
Remove the pan from the heat and stir in the heavy whipping cream and vanilla extract.
Pour the mixture into a large bowl or individual dishes.
Cover with plastic wrap and refrigerate for at least 2 hours or until the pudding is set.
When ready to serve, top with whipped cream and sliced strawberries for garnish.
Tips:
Use fresh strawberries for the best flavor and texture.
For a smoother pudding, puree the cooked strawberry mixture before adding the cornstarch mixture.
Be sure to whisk the cornstarch mixture thoroughly to avoid lumps in the pudding.
Use high-quality heavy whipping cream for a richer and creamier texture.
Chill the pudding in the refrigerator for at least 2 hours to ensure that it sets properly.