Cake
Simple Yogurt Cake With Rhubarb & Strawberries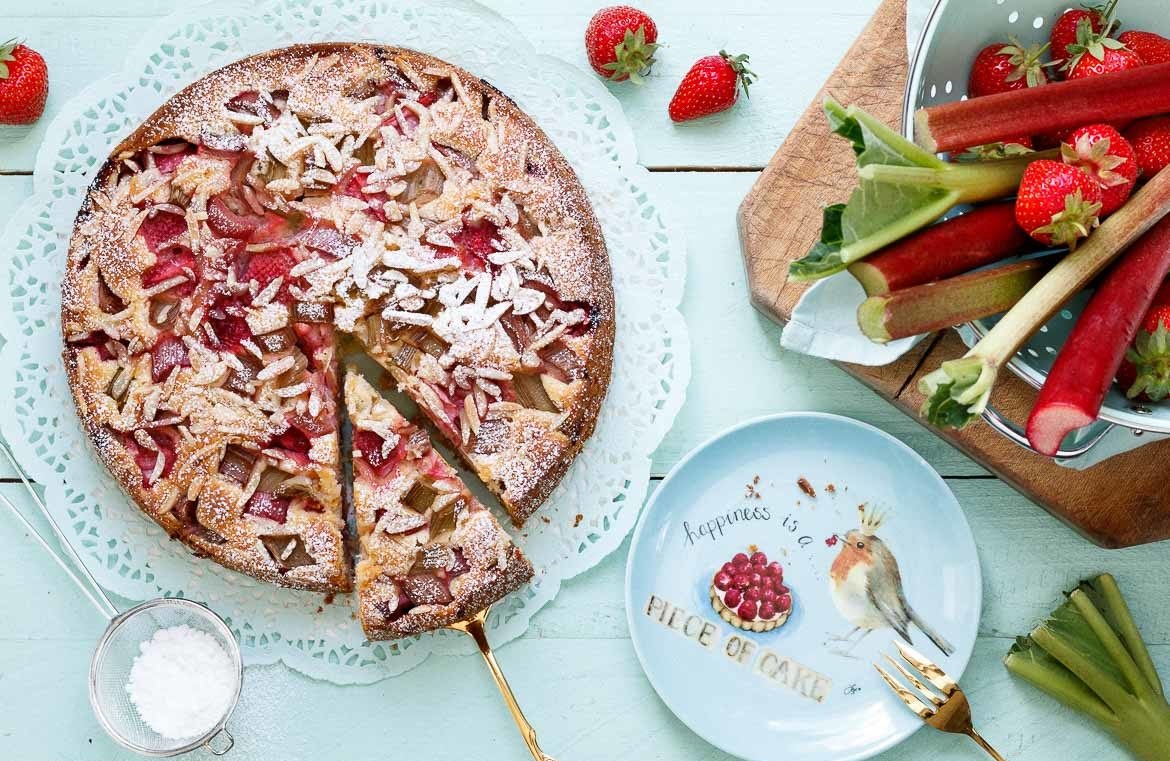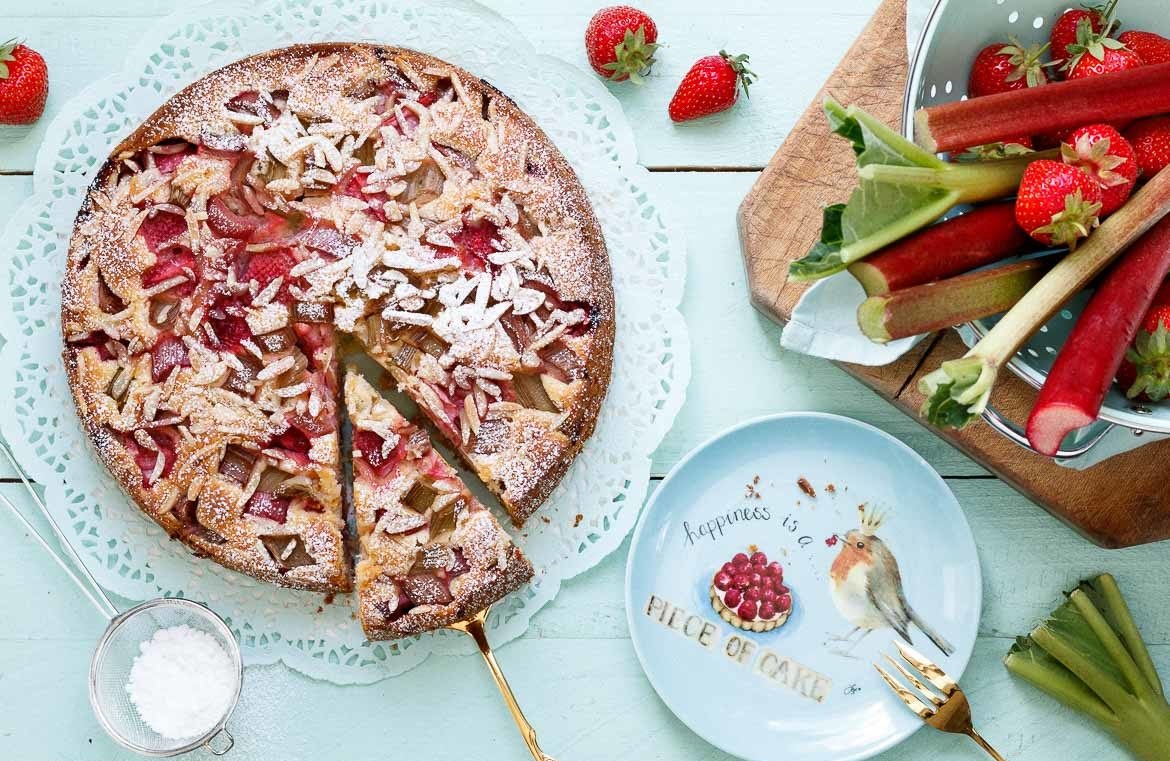 From our point of view, cake has simply a therapeutic effect on our human souls. I do not know why, but for me, a delicious piece of cake is so much more than just a sweet treat. He strokes my soul, lets me breathe and pause when I enjoy it, slow me down.
Cake makes people meet, planned or spontaneous. To sit down and talk about God and the world. Also just fast in everyday life according to the motto "Do you want to come over, I baked a cake?". I hardly know a person in whom this phrase does not evoke happiness.
A GREAT DUO – RHARK AND STRAWBERRIES
It is similar with the first native strawberries and rhubarb. Both alone make me happy at the sight. Every year I can not wait until they are finally back. I combined the fruits for the first time this year in a yogurt cake with rhubarb and strawberries.
The recipe is from a dear friend who discovered it in a magazine years ago and I could put myself in the pie every time, I think it's so delicious. The combination of rhubarb and strawberries I found directly exciting, where I initially found "hot strawberries" strange. Say to bake fresh strawberries in a cake. Of course, this works wonderfully and the taste is also great.
SIMPLE YOGURT CAKE WITH RHODDRIN AND STRAWBERRIES – THE FINISHING TO MY VARIANT
I have slightly changed the quantities with the yogurt cake with rhubarb and strawberries here and there, until I found it perfect in my taste. For example, the proportion of yogurt increases so that it becomes juicier. Not the mark of half a vanilla pod used but the same taken the whole. Because I usually do not use half things optimally because you usually do not know what to do with the other half. In addition, I have decided as a topping for almond chips but of course there are also planed almonds.
SO JUICY AND YUMMY – WITH LITTLE EFFORT A GREAT EFFECT
If you fancy a juicy sponge cake, then my simple yogurt cake with rhubarb and strawberries is a true bliss and an absolute delight in the strawberry and rhubarb season. You can achieve a great effect with him with little effort, promised!
---
Simple Yogurt Cake With Rhubarb And Strawberries
PREPARATION 10 minutes PREPARATION 50 minutes TIME TOTAL 1 hour
---
INGREDIENTS
YOU NEED A SPRING FORM WITH APPROX. 26 CM DIAMETER
3 eggs – size M
275 g flour – Type 405, alternatively spelled flour Type 630
300 g rhubarb – about 3 bars
150 g strawberries – washed, halved or quartered
175 g of sugar – + 1 tbsp for the strawberries
175 g butter – room temperature or very soft
150 g whole milk yoghurt – approx. 3.5 / 3.8% fat
8 g baking powder – = half packet
50 g almond sticks
1 pound of a whole vanilla pod – Alternatively 1 packet of Bourbon vanilla sugar
MANUAL
1.As a result , you heat up the oven to 175 degrees top / bottom heat .
2.Then you wash the strawberries and halve or quarter them (depending on size), wash the rhubarb , cut off the ends and cut into pieces about 1 cm wide . Put both fruits in a bowl and mix with about 1 tablespoon of sugar .
Note: I only wash my rhubarb and do not peel or peel off the fibers. If you peel it, it loses its beautiful, red color. So far, I have not had any negative experiences with the outer fibers or that they have disturbed.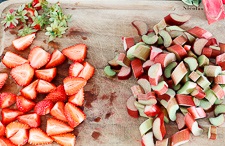 3.Now mix with the hand mixer or food processor the butter with the vanilla pulp and the 175g sugar forabout 3 minutes until the mixture is light creamy.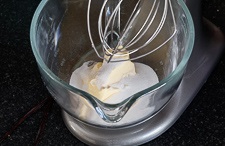 4.Afterwards you stir the eggs individually under. Each egg about 30 seconds , so that the dough later nice loose.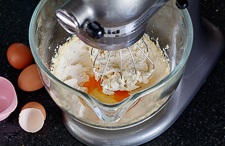 5.Now the flour with baking powder mix and with the yogurt under the mass stirring.
TIP: You really should not stir too long but only until the mass has reasonably bonded to the flour. The danger of too long stirring is that the desired "air and later looseness" of the dough is stirred out again, so to speak.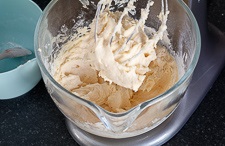 6.Now you fill the dough into your greased and floured Springform and smooth it out.
NOTE: Do not be surprised, the dough has a relatively firm consistency! You have to smooth it with a spatula into the mold.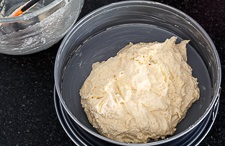 7.Then you put half of the fruit over the cake and press it about 1 cm deep into the dough.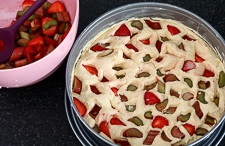 8.The remaining fruits are also distributed evenly on top of the cake , the almond sticks still sprinkle on it and put on the middle rail in the preheated oven for about 45-55 minutes .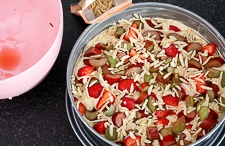 9.When the cake has cooled, you can sprinkle it with powdered sugar to serve . I wish you a good appetite.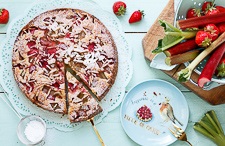 ---
WHAT DO YOU MEAN?
Did you try the recipe once? How do you find it? I am always happy about praise, friendly criticism or your tips and experiences. Let us stay in the exchange via the comment function below. I would be happy.