Cake
Lemon Cake With Yoghurt
Juicy lemon cake with yoghurt in the loaf pan is airy, juicy and lemony fresh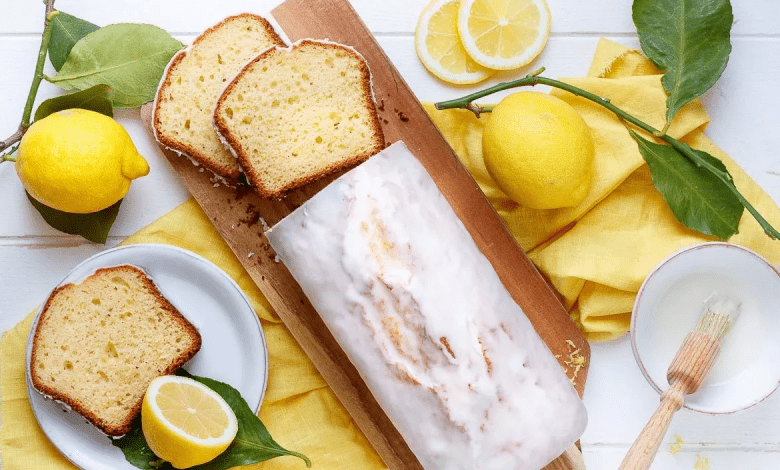 My juicy lemon cake with yoghurt in the loaf pan is airy, juicy and lemony fresh. The lemon cake recipe tastes like summer and the cake is easily baked with just a few ingredients.
I always like to bake the juicy lemon cake when there is a quick cake for the family, dear guests or a culinary souvenir, because somehow everyone loves the fresh taste of lemon. In the truest sense of the word, it is a refreshing change from my chocolate nut cake or   chocolate cake recipes.
What characterizes my lemon cake recipe?
There are an incredible number of cake recipes with lemons. My lemon cake recipe has these advantages:
my cake recipe is made easy , it is ideal for baking beginners and for baking with children.
The batter is prepared in just 15 minutes , and the oven does the rest.
my lemon sponge cake tastes juicy and fresh thanks to the use of yoghurt.
a whole lemon is used, because a lemon cake has to taste like a lemon ? .
a few more ingredients such as eggs, flour, sugar and oil are required, which you usually have in stock.
my lemon sponge cake is baked in the classic loaf tin, so the cake stays juicy longer.
I use vegetable oil in my lemon cake so I can get started right away. For a sponge cake and for a good result, butter should be waxy soft, this takes several hours.
the homemade lemon cake tastes much better and is just as easy as an industrial ready-mix.
My simple lemon cake recipe was first published on my food blog in April 2017 and has since been successfully baked, rated, commented on and provided with many suggestions by many readers. I have therefore expanded this article to include numerous tips and experiences and republished it. In addition, due to many requests, I made a variant with gram specifications instead of the original mug cake version. For all lovers of the mug cake variant, the information is nevertheless integrated in this article.
This is how easy it is for you to make my lemon cake
"Baking is chemistry" as the saying goes. The result depends in large part on the correct quantity and quality of the ingredients, and the correct sequence of using the ingredients. So that my lemon cake with yoghurt is easy for you, I have a few tips for you that you should know:
The right yogurt
It is best to use whole milk yoghurt with a fat content of 3.5% or more. It has the ideal consistency for the batter and makes my lemon cake recipe particularly juicy.
Egg tips
For my simple lemon cake, use five eggs (size M), ideally at room temperature , so that they combine well with the other ingredients. This means not chilled directly from the fridge, but preferably take it out several hours beforehand.
Add the room-temperature eggs one at a  time. This means mixing in each egg with the mixer or food processor for about 30 seconds. I just count to 30 ? . If the eggs are stirred in one at a time, the lemon cake batter will be nice and airy.
Flour tips
The classic household flour, wheat flour type 405, has great baking properties for a batter, it is fine and easy to work with. If you don't want to use wheat flour, you can also use spelled flour type 630 for my lemon cake recipe.
When using flour in my lemon cake with yoghurt, it is good to know that the flour should only be stirred in briefly, around 30 seconds . This applies to every sponge cake. The gluten protein in the flour is activated in conjunction with moist ingredients and prolonged stirring, forming a kind of protein network, which is great for bread and pizza dough, but not for a batter.
As a result, the batter becomes tough (to put it simply, because this network forms) and the finished cake batter does not become loose. Confectioners often only use a mixing spoon and not the machine for this step. This tends to tempt you to overmix the dough.
vegetable oil
My recipe is a lemon cake without butter. I don't use butter for my lemon cake because I think it's much more practical because I don't have to make sure that the butter becomes soft as wax.
If you use vegetable oil for baking, it should definitely be a neutral-tasting oil. Sunflower oil or a very good quality rapeseed oil is the first choice. If you want to use an oil that you don't know yet, please smell it before processing it and preferably try a few drops of it. I like to use high-quality rapeseed oil (affiliate link), also because of the valuable nutritional values ​​that you can buy in any well-stocked supermarket.
Butter as an alternative?
Nevertheless, if you prefer to use butter or margarine for the lemon cake instead of oil, maybe also because you have run out of oil, you can do so. You just have to change the baking process a bit: 160 ml of vegetable oil, as stated in the recipe, corresponds to 200 g of butter. Mix these together with the types of sugar, lemon zest and salt until creamy. First add the yoghurt together with the flour to the butter-sugar egg mixture.
Tips for a perfect lemon taste
You need a whole fresh lemon for the fresh lemon taste in my juicy lemon cake with yoghurt. In general, I always recommend using organic products for lemons, they are simply more aromatic.
lemon zest
I use one of my favorite kitchen utensils, the zester grater, to grate the lemon zest for the batter. It makes the abrasion fine and even. The lemon zest gives my lemon cake a particularly fresh and lemony component. You can find more information about why this grater simply belongs in every kitchen in my zester grater article .
lemon juice
Another flavor component is the lemon juice itself. After the baking time, take the baked lemon cake out of the oven in the loaf tin, poke it a few times with a wooden skewer and drizzle half of the lemon juice onto the still hot cake. It should still be in the loaf tin, because the juice also runs down the side and is then sucked up directly.
After sprinkling with lemon juice, it is best to let the baked lemon cake cool down in the loaf tin for about 10 minutes before you take it out.
The juice of the second lemon half is reserved for the icing, because my juicy lemon cake has to taste like lemon ? .
Tips for the perfect icing
Making a lemon flavored frosting is incredibly easy. The second half of the lemon juice from your lemon is mixed with plenty of powdered sugar and spread with a pastry brush. If the icing is too thick for you and you would like the icing thinner, you can add teaspoonfuls of water. If it's too thin for you, just stir in more powdered sugar.
I personally find it an advantage if the frosting is firmer and denser. Then it doesn't flow away so quickly and sticks better to the cake. Always use the frosting on the cooled lemon cake after you have taken it out of the cake pan.
Tips on how to get the lemon cake out of the loaf pan safely
In order for my juicy lemon cake to come out of the loaf tin easily, the following four tips should be observed from experience:
First, a loaf pan should have a very good non-stick coating (quality pays off over the years!).
Second, the baking pan must be greased very well with vegetable oil or butter before pouring in the prepared batter.
Third, dust the well-greased loaf tin with flour or semolina .
In addition, let the baked lemon cake cool down a bit in the loaf tin .
How does the chopstick test work?
The famous chopstick test tells you whether a cake is really baked after the specified baking time or whether it is still doughy on the inside. Ovens are just different and as they get older, they may no longer evenly develop the necessary heat in the stove.
It is best to use a long wooden skewer, also known as a shashlik or grill skewer (affiliate link). You pierce it in the middle or at the thickest point in the sponge cake and pull it out again. If the dough sticks to the stick or the stick is a bit damp, the moist lemon cake with yoghurt needs a few more minutes and goes back into the oven. I do this in 3 minute increments and sometimes leave the cake in the turned off oven for 3-5 minutes. If there is nothing on the stick, i.e. it stays dry when you pull it out, the cake is ready.
Baking with children: lemon cake as a mug cake
I originally published my simple lemon cake with yoghurt recipe as a mug cake, also known as a mug cake, on my blog. Mug cake means that the ingredients for the cake are measured with a mug instead of a scale. This tried-and-tested variant is ideal for baking with (small) children who are not yet familiar with numbers and grams. The children love to fill the cup with the ingredients and it is a great experience for them to bake themselves, of course with mum, dad, grandma or grandpa at their side. A finished cake is a great sense of achievement that makes you proud.
You only need a mug, glass or cup. This vessel becomes your measuring cup for the ingredients, which are then in the right proportion.
The thing with the (measuring) cup
It doesn't matter whether you use a washed-out yoghurt pot or any other mug, glass or cup for the mug cake variant. The shape doesn't matter either. The main thing is that 150 to a maximum of 200ml fit in and you use this container for the ingredients from the recipe that have to be weighed.
A full cup of this and a full cup of that and the kitchen scales can stay in the cupboard ? . Trust me!
The conversion of ingredients into cups – List of ingredients for cupcakes
Here you will find the list of ingredients for my mug cake variant from the recipe card:
1 cup whole milk yoghurt
5 eggs
1 cup of sugar
1 lemon – zest and juice (half for the glaze)
3 cups of flour
1 packet of bourbon vanilla sugar
1 packet of baking powder
2 cups powdered sugar
1 cup vegetable oil
1 pinch of salt
To measure your lemon cake ingredients, your mug, glass or cup is filled to the top edge with the respective ingredient. By gently tapping the filled mug on the worktop, you ensure that the ingredients in the mug are tightly filled.
The step-by-step recipe flow for the mug cake variant is the same as the lemon cake recipe card below.
A simple lemon cake for every occasion
My juicy lemon cake in the loaf pan is the ideal family cake, because it tastes good for both young and old. It is also very popular with my family because it has a nice fluffy dough and tastes like lemon.
The lemon cake recipe is the ideal cake for baking with children, because baking a cake couldn't be easier. Especially in the mug cake version or in the version with gram information.
It has already proven itself at many children's birthday parties, kindergarten and school parties, because it can be easily transported in a cake box and stays fresh for a long time.
How to store or freeze lemon cake?
Like any other sponge cake, the baked lemon cake can be stored under a glass bell or in a cake box (often also a transport box) for 2 to 3 days. Personally, I find that from the third day it slowly becomes dry, for my taste buds.
My lemon cake with yoghurt is a sponge cake and therefore the ideal cake candidate to be frozen. Ideally in a freezer bag or in a freezer-safe container. Basically, when freezing, there should be as little air as possible around the frozen food, including cakes. Of course, a bag is easier to squeeze out air than a can. You can freeze the cake in one piece or in slices. It is best to separate the slices with buttered bread or baking paper so that they can be removed more easily. As for defrosting, room temperature is the best way to defrost a cake.
If you are even more interested in simple cakes with batter, then please have a look at my juicy berry mug cake with yoghurt:
If you want to make batter as muffins in the classic way with berries, fruit or chocolate, I recommend my simple muffins basic recipe.
Juicy lemon cake with yoghurt
The simple sponge cake in the loaf pan has a nice, airy and moist dough and tastes refreshingly of lemon.
INGREDIENTS
YOU NEED A LOAF MOLD WITH APPROX. 30CM LENGTH
MANUAL
Preheat the oven to 180 degrees top and bottom heat and grease the loaf tin (approx. 30 cm long) with a little butter on a piece of baking paper or brush with oil and finally dust with flour .

You wash the 1 lemon with hot water and rub off the peel completely with the help of a zester grater . Halve the lemon without the peel and squeeze out one half .

Then you put 150 g yoghurt , 160 ml vegetable oil, 175 g sugar , 1 packet of bourbon vanilla sugar , the lemon zest and a pinch of salt in a mixing bowl and mix everything with the hand mixer or the food processor for about 2 minutes .

Now stir in 5 room-temperature eggs, one at a time ( each egg for about 30 seconds) so that volume develops in the mass and the dough gets air.

Then mix 350 g flour with 1 packet of baking powder in another mixing bowl .

Now add the flour mixture completely to the egg-oil-sugar mixture and stir it in until everything is reasonably mixed together , a maximum of 30 seconds , no longer! It doesn't matter if flour is still visible.

NOTE: If flour comes into contact with moisture and is stirred for too long, the gluten in the flour activates, forms a kind of protein network, the dough becomes tough and the cake is not fluffy.

Pour the batter into the well-greased loaf  pan and smooth it out. Bake in the preheated oven on the second rack from the bottom for approx. 45-50 minutes (test with a wooden skewer).

NOTE: You can find out exactly how a chopstick test works in this recipe post above.

When the cake is finished baking, poke a few holes in the hot cake with the wooden skewer and pour the lemon juice of half a lemon over it. Allow to evaporate in the loaf tin for about 10 minutes before taking it out of the tin.

NOTE: You can find tips on how to get the cake out of the loaf tin safely in my recipe post above.

When the lemon cake has cooled, squeeze out the second half of the lemon, add the 175 g of icing sugar all at once and mix both with a whisk to form a icing . You apply it to the cold cake with a pastry brush and/or pour it over it.

TIP: If you prefer a thin icing, simply stir less powdered sugar into the lemon juice than indicated.

I wish you a sweet appetite with my juicy lemon cake !