Baking
Plum Cake
Plum cake from the tin - quick & easy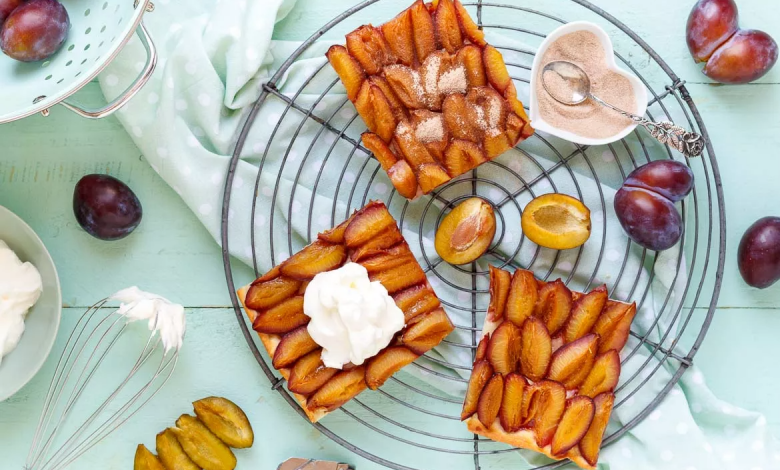 My quick plum cake is on the table in just 45 minutes. Because the quick quark-oil dough for the plum cake from the tin does not have to rest like yeast dough, but can be processed immediately. The uncomplicated and simple plum cake recipe for every day.
I generally don't bake elaborate cakes and tarts, because when I bake, it has to be simple, uncomplicated and practical. That's why my quick plum cake with quark-oil dough has always proven itself when it's supposed to be quick for guests or the family. So it's a plum cake recipe for every day and every occasion ? . The plum cake from the tin can be served in 45 minutes, because the quark-oil dough does not have to rest for a while like yeast dough, but can be processed immediately.
How I came up with the quick plum cake
My grandparents had a village bakery in southern Germany until the late 1980s and baked their plum cake – very traditional for the region – with yeast dough, of course. There were always two types of plum cake for the bakery sale – trays with crumble and those without, but with more cinnamon sugar.
Even if I can't get enough of the plum cake, I've never actually dared to bake the yeast dough version. Because yeast dough itself is too cumbersome for me from the outset. For me personally, it doesn't belong in the category of "jerky" cakes, which I generally appreciate in the kitchen and when baking anyway. It should be simple and uncomplicated. Ergo, it was a long time since I had a homemade plum cake on my late-summer coffee table, until one day a friend came around the corner with her plum family recipe.
She traditionally bakes the plum cake with quark-oil dough. I myself would never have thought of baking with any dough other than yeast dough, just because of my family tradition. But when I tried it, I was blown away. My men too! The three of us cleaned up a whole sheet of plum cake in two days.
What distinguishes my simple plum cake recipe?
After some serious plum cake research, I believe that no other cake has as many different preparation traditions as the plum cake. The dough alone becomes a question of faith! Yeast dough, short crust pastry, batter or quark-oil dough. Then the topping: with almonds? Streusel or rather cinnamon sugar or none? You can even read about pudding when it comes to the plum cake recipe. And finally, once the cake is baked, the really crucial question arises: with cream or without? In addition, the plum cake from the tin has a different name in almost every region. From plum cake, plum datchi or squeeze cake. Really fascinating what this cake has to offer….
This is what you can expect from my tried and tested plum recipe:
The plum cake from the tin with quark-oil dough is really very easy to make and for me it is a real alternative to the traditional variant with yeast dough in terms of taste and mouthfeel.
The plum cake quark-oil dough is quick to prepare , as I said, it does not need any yeast and therefore does not have to rest. You can serve the simple plum cake on the tray after just 45 minutes.
The dough base in the plum cake recipe is relatively thin. So you already know at the first bite who the flavorful main character in this duet is.
The plum cake can be modified as you wish : whether baked with spelled flour type 630 or sprinkled with chopped almonds or cinnamon sugar. And what I should never be without: A dollop of freshly whipped cream on top ? .
This is how you succeed in my plum cake with quark oil dough
If you would like more information and tips on how to make my plum cake from the tin, then read on here.
Otherwise, as with all my recipes below , you will find the plum cake recipe card to print out or save after the post.
The simple quark-oil dough for the base
You only need a few ingredients for the quark-oil dough as the basis for the plum cake from the tin. You will probably have a lot in your stash anyway, such as low-fat quark, whole milk, vegetable oil (sunflower oil or rapeseed oil), some sugar, flour (wheat flour type 405, alternatively spelled flour type 630 works great), baking powder and some salt. As always, you can find the exact ingredients in the recipe card below !
First you mix the low-fat quark, whole milk, vegetable oil and the sugar to a creamy mass. It doesn't matter whether you stir in a bowl with a hand mixer or in a food processor. Which device suits you best.
Why you should use lean quark
You should definitely use low-fat quark for my plum cake from the tin! Why? Quite simply: low-fat quark contains the least fat, less than 10% in the milk content. And is therefore significantly drier than quark with 20 or 40% fat in the milk content. This is essential for the quark-oil dough for the plum cake recipe. Because if you use quark that is too creamy here, your dough will be sticky – and you would have to increase the flour content or reduce the cooking fat.
When the white mass is well mixed, mix the baking powder and salt with the flour. You give this to the quark mass by the spoonful. Until a homogeneous, smooth dough has formed. For the best plum cake result, you should stir for at least two minutes.
Now take the dough out of the bowl and roll it out with a rolling pin on a floured board or a silicone pad. The dough should then be the size of your baking sheet. It is best to use a deep baking tray for my plum cake. If that doesn't work in one piece, you can also put the dough together and connect it very well in the tray. My deep baking tray has an outside dimension of about 46.5 cm by 37.5 cm and an inside dimension of about 39 cm by 31 cm.
Top the plum cake
Before you start kneading the dough for the quick plum cake without yeast, you should wash the plums with warm water in a sieve. Probably several courses with this amount for a plum cake tin. Then you put them on a cloth so that they can dry a bit.
You can find a lot more information about when the plums from local cultivation are in season, what you need to consider and how to store them in my plum season calendar:
Book compactly!
Documenting is also very easy and quick. Start in an upper corner and fill the plums onto the quark-oil dough like a roof tile.
It is best to place them steeply and closely together so that all the fruit fits on the plum cake tray. The more plums you line up in a compact , imbricated manner, the juicier your cake will be! If you don't cover it compactly enough, you won't get all the plums on the dough according to the list of ingredients.
Are the plums sour?
Taste the plums while topping to test how sweet they are. Depending on that, you can or should sprinkle more sugar on the plum topping.
Chopped almonds or flaked almonds also go very well with plum cake. Bake the almost finished quark oil dough plum cake for 30 minutes on the middle shelf in the preheated oven. See the recipe card at the end of the post for more details.
If the plum cake tin is still warm, you can sprinkle it with cinnamon sugar according to your taste. I personally prefer to eat it warm with a dollop of whipped cream ? .
For plum fans, I can also highly recommend my simple crumble cake and my plum clafoutis.
Plum cake from the tin – quick & easy
The quick alternative to yeast dough is baked in 45 minutes and the simple plum cake with quark and oil dough looks good on any coffee table.
INGREDIENTS
IT IS BEST TO USE A DEEP BAKING TRAY WITH APPROX. 46.5 x 37.5 CM OUTSIDE DIMENSIONS INTERNAL DIMENSIONS APPROX. 39*31CM
MANUAL
First you heat up the oven to 180 degrees top / bottom heat .

Then mix the low-fat quark with 70 ml whole milk , 70 ml vegetable oil and 20 g sugar with a hand mixer  or food processor.

Mix the  flour,  a pinch  of salt and the  baking powder and mix with the quark mixture until you have a homogeneous, smooth dough (knead for at least 2 minutes!).

Roll out the dough on a silicone pad the size of your baking tray , line the baking tray with baking paper and place the dough on it .

Then you wash the plums  with warm water and cut them lengthways with a sharp paring knife, pit them and cover the quark-oil dough steeply, compactly or like a roof tile and thus dense .

NOTE: It is important that you really steep & compact the plums to get a juicy plum cake.

Sprinkle with a little sugar  or chopped almonds as you like and place in the middle of the preheated oven  for about 30 minutes .

TIP: If the plums are particularly sour, I definitely recommend using some sugar.

If you like, you can serve the finished plum cake from the tin with cinnamon sugar and cream .

I wish you a lot of joy with my plum cake recipe and a good appetite .