Dessert
Vanilla Crescent Cream Dessert
Vanilla crescent cream dessert so easy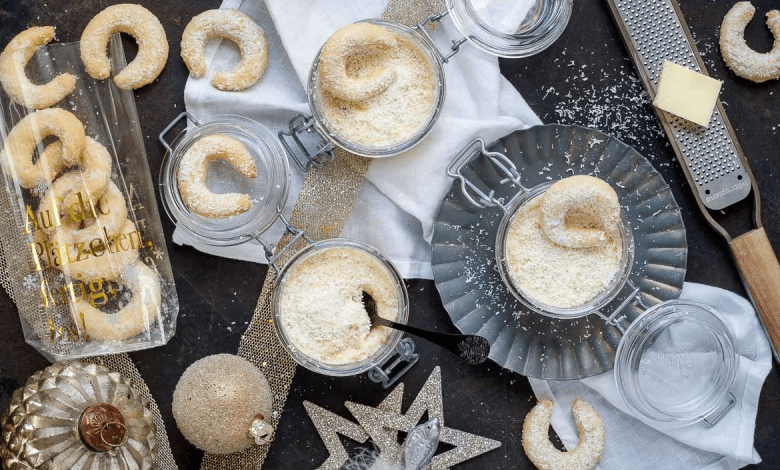 For everyone who loves croissants like I do and would like to conjure up a quick and uncomplicated dessert from the vanilla croissant supply for the festive season. The vanilla crescent cream dessert is perfect for Christmas or the Advent season.
It has a bit of a "groundhog salute". At least it's not like we're fighting over it. Let's just say there's a tense mood when we talk about it. I usually give in to the seller and end up with what feels like a Christmas tree monster in our small living room that even blocks our view of the TV ? . What don't you do for a merry Christmas?
Fortunately, I have the sole right to decide on the Christmas menu question and, for once, I don't have to make any compromises. This year I had it in my head to work on a vanilla crescent cream because I've been tempted by it for a long time. On the one hand, of course, because vanilla crescents are our favourite cookies, and on the other hand because I never run out of them until Christmas, because I always bake them new.
You only need a few ingredients for a vanilla crescent cream dessert
Ergo, the most important basic ingredient for a great vanilla crescent cream dessert at Christmas time is already in the house. With that, it's done in no time. So that the vanilla croissant doesn't get quite so thick, I stir it with a cream yoghurt or cream yoghurt that has 10% fat in the milk content. The high-fat content of 10% can be found in Greek yoghurt.
If you use Greek yoghurt, you should try it beforehand to see if you like the acidity in it. For my taste, there are Greek yoghurt varieties with different acidities. I mention this because the acidity of the yoghurt is later reflected in the overall taste of the vanilla crescent cream and is not overshadowed by anything else. I made this experience in my recipe tinkering. But there are also so-called mild cream yoghurt varieties that have 10% fat.
White chocolate goes well with it
I add white chocolate to the vanilla crescent cream dessert. I've loved white chocolate since childhood and it's my undisputed number 1 chocolate. It also complements the taste of the cream really well and is the icing on the cake.
A vanilla crescent cream dessert is so easy
For all those who love croissants like me and want to conjure up a quick dessert from the vanilla croissants on festive days. A simple dessert for the Advent and Christmas seasons.
INGREDIENTS
YOU NEED 4 DESSERTS GLASSES WITH A CAPACITY OF 150-200 ML
180 

g 

vanilla

 crescents – 

beaten into crumbs

4 

pieces of 

vanilla

 crescents – 

additionally for the topping if you like

150 

g 

cream yoghurt/cream yoghurt with 10% fat

 – 

alternatively Greek yoghurt/Greek-style yoghurt, but it should taste mild

100 

grams 

of cream

50 

g 

white chocolate

 – 

plus finely grated chocolate as a topping if you like

15 

g 

butter (approx. 1 tbsp.)

1 

vanilla pod (the core of it)

 – 

alternatively 1-2 tsp vanilla extract or 2 bourbon vanilla sugar

1 

tbsp. 

powdered sugar
Into the 150 g cream yoghurt/cream yoghurt, you stir the pulp 1 vanilla pod and 1 tbsp icing sugar with the whisk.

IMPORTANT NOTE: Please try the selected yoghurt beforehand to see if you like the acidity it has. The acid is found later in the overall taste.

Whip the 100 g  of cream with a hand mixer or food processor until stiff and fold into the yoghurt. Park the creamy yoghurt mixture in the fridge first.

TIP: If you like, you can add 1/2 sachet cream stabilizer (= 4g) to the cream, and then the cream will be particularly stiff.

Put the 180 g vanilla croissants in a freezer bag, close it and use a rolling pin to pound the croissants into fine crumbs.
Then put 15 g butter (approx. 1 tbsp.) together with 50 g white chocolate (broken into pieces) in a saucepan and let both melt on the stove at the lowest setting while stirring constantly.
TIP: If you want to do without the butter, you can also melt the chocolate in a water bath. You can only do this in a pot if you add fat, otherwise, the chocolate will burn.
Add the vanilla crescent crumbs directly to the melted chocolate mass and mix both together.
Now fold the vanilla crescent-chocolate mixture into the yoghurt-cream mixture .

Divide among four dessert glasses and refrigerate until ready to serve.

Serve garnished with finely grated white chocolate and/or a vanilla crescent, if you like. I wish you a sweet appetite.