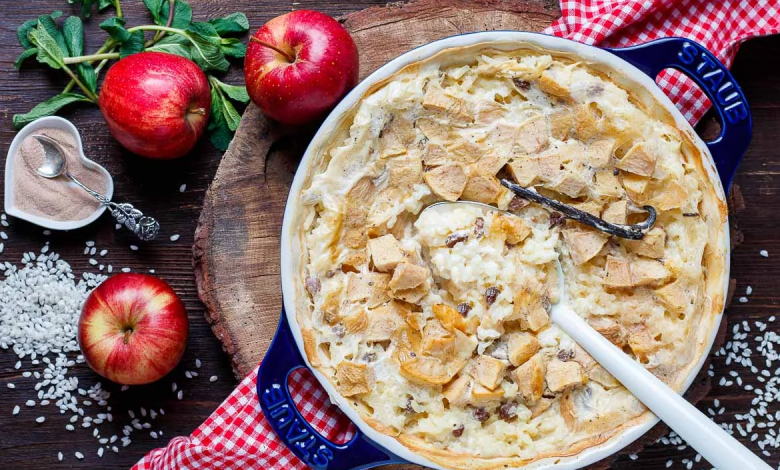 The simple rice pudding in the oven – in my rice pudding casserole without pre-cooking. The preparation takes less than 10 minutes, then everything goes into the casserole dish and that's it – the oven does the rest very easily.
Sometimes you really want to know. Me anyway. Something is driving me and I can't stop dealing with a topic or a task. Like a calf biter that won't let go. I stuck with this recipe this time. My vision: A rice pudding casserole without pre-cooking, i.e. the rice pudding has to be pre-cooked. Just like the oven risotto. Simply put everything in the casserole dish and off to the oven.
It sounds easy, but unfortunately, it wasn't that easy. It took a lot of trial and error to find exactly the ideal oven heat/setting and cooking time for the apple pudding. Milk tends to boil over, can burn, and even turn black. In addition, it was also important to me to determine the ideal quantities and proportions of ingredients so that a smooth and creamy rice pudding is produced that tastes delicious.
Rice pudding casserole with apple or pear – with or without raisins, just as you like
Everyone has their own ideas about the taste of rice pudding, or the variant from the saucepan. This variant from the oven is nice and sweet but not too sweet and has a light vanilla aroma. However, you can of course vary the amount of sugar. In contrast to the saucepan variant, healthy fruit can also be put in directly.
You can find more information about apples, when they are in season with us and when they are available from local cultivation, as well as everything about correct storage, preparation, and what else needs to be considered in my apple season calendar:
If you prefer to use pear instead of apple, nothing stands in the way. Of course, you can experiment with all other types of fruit, but I don't have any experience with that. The raisins are also optional. I know some people don't like eating them at all and always pull them out. You can omit them, but you have to know that they add a nice flavor to the rice pudding with apples.
The casserole that doesn't ask for anything from you for a long time
The sweet rice casserole with fruit is one of those kinds of meals that are ready in a hurry but take a long time to prepare. Everything is mixed in the casserole and the rice pudding is also added without pre-cooking, i.e. raw. The casserole allows you to forget about it for a long time in order to devote yourself to other tasks. It takes about 1 hour and 15 minutes to cook in the oven. It is very important that you put a cover on your casserole dish so that the milk does not darken and burn. This can be, for example, a glass lid or aluminum foil, or something else. But a cover is a must!
Spinks allowed – but don't be surprised!
If you are curious and/or "don't trust the roast" carefully check how the casserole is developing: don't be surprised! Only in the last 15 minutes or so does the cooking process pick up and milk and rice pudding become one. Before that everything is still quite liquid. However, when the timer rings, it's done. The most that can happen is that there is still some milk on the floor. Then you have the choice between stirring well or leaving the casserole to rest in the switched-off oven so that the milk continues to soak into the rice.
The latter gives the milk rice casserole with an apple a nice casserole look. The stirred variant makes it appear like a rice pudding out of a pot.
Rice pudding with apple without pre-cooking
The simple sweet rice casserole without any pre-cooking. Prepared in just 10 minutes, everything in the casserole dish – the oven does the rest very easily.
PREPARATION
1 
hour 
15 
minutes
TOTAL TIME
1 
hour 
25 
minutes
INGREDIENTS
YOU NEED A RECTANGULAR BAKING DISH WITH APPROX. 25 X 21 CM OR ROUND WITH A 26-28 CM DIAMETER
900 

ml 

whole milk

300 

g 

apples

 – 

no matter the variety

200 

g 

rice pudding

 – 

short grain rice

100 

grams 

of cream

30 

grams 

of sugar

2 

packets of 

bourbon vanilla sugar

 – 

or 1 vanilla bean

1 

pinch of 

salt

40 

g 

raisins

 – 

Optional
First, you heat up the oven to 180° circulating air – that's my recommendation (alternative: top/bottom heat 200°. The cooking time can then be a little longer because of the heat distribution).

Then you peel the 300 g apples, quarter and core them, and cut them into approx. 2 cm cubes.

In an ovenproof casserole dish (does not have to be greased), put the apple pieces, 30 g sugar, 2 sachets of vanilla sugar (or the pulp of a vanilla pod, add the scraped pod), 1 pinch of salt, and optionally 40 g raisins.
Now add 200 g UNCOOKED/RAW rice pudding, 900 ml whole milk, and 100 g cream and mix well. Very importantly, finally, put a suitable cover on the dish, e.g. a large glass lid, aluminum foil, or something else that encloses your casserole dish tightly, and bake on the middle shelf in the preheated oven for 1 hour and 15 minutes. A cover is very important, otherwise, the milk will burn, turn black and possibly even spill over.
VERY IMPORTANT NOTES: So that the milk does not spill over when it is heating up, it is very important that the casserole dish is not filled to the top (at least 1-2 cm distance). The milk has to be able to expand, i.e. get hot and simmer, and for that, it needs enough space. So when in doubt, choose a larger size. It is also VERY important that your cover closes tightly to prevent overflowing. If you use aluminum foil, you should press it down at the edges.
Should you be curious and check the casserole from time to time. Not surprised! Only in the last 10-15 minutes does the cooking process pick up and milk and rice pudding become one mass. The time before that, everything is liquid for quite a long time and you think it won't work out in life.
After the time has elapsed, you can stir the rice pudding well or leave it to rest in the switched-off oven for 10 minutes so that any milk that is still on the bottom is absorbed.
To serve, top the casserole with cinnamon sugar if you like. I wish you a good appetite.