Diet & Proteins
Cauliflower Fried Rice Recipe: A Delicious and Healthy Alternative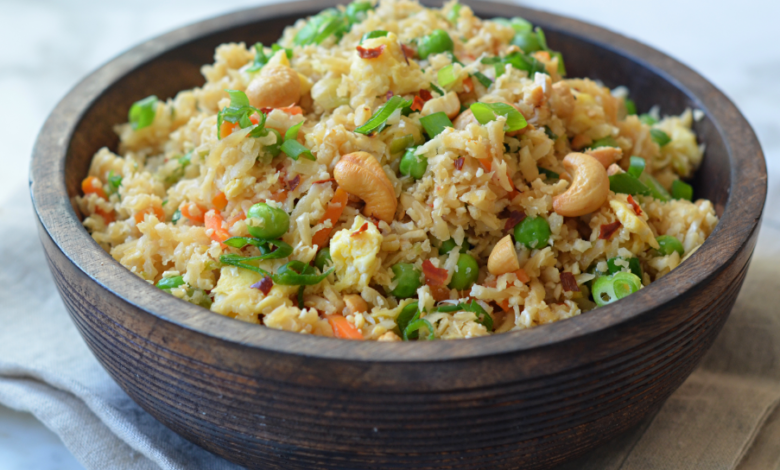 Fried rice is a popular dish that is enjoyed by many people around the world. However, if you're following a low-carb or Paleo diet, traditional fried rice can be off-limits due to its high carbohydrate content. Luckily, there is a delicious and healthy alternative – cauliflower fried rice! In this article, we will share with you an easy-to-follow recipe for cauliflower fried rice that is low-carb, Paleo-friendly, and packed with flavor.
Ingredients:
| Ingredient | Quantity |
| --- | --- |
| Cauliflower, riced | 1 head |
| Coconut oil | 2 tbsp |
| Onion, chopped | 1 |
| Garlic cloves, minced | 2 |
| Ginger, grated | 1 tsp |
| Carrots, diced | 2 |
| Peas | 1 cup |
| Scallions, chopped | 3 |
| Eggs, beaten | 2 |
| Coconut aminos or soy sauce | 2 tbsp |
| Salt and pepper | To taste |
Instructions:
Cut the cauliflower into small florets and place them in a food processor. Pulse until the cauliflower is broken down into small, rice-sized pieces.
Heat the coconut oil in a large skillet over medium-high heat.
Add the chopped onion, minced garlic, and grated ginger to the skillet and sauté for 2-3 minutes, until the onion is translucent.
Add the diced carrots and peas to the skillet and sauté for another 2-3 minutes, until the vegetables are tender.
Push the vegetables to one side of the skillet and add the beaten eggs to the other side. Scramble the eggs until they are cooked through, then mix them with the vegetables.
Add the cauliflower rice to the skillet and stir to combine with the vegetables and eggs.
Add the coconut aminos or soy sauce to the skillet and stir to coat the cauliflower fried rice.
Season with salt and pepper to taste.
Cook for an additional 2-3 minutes, stirring frequently until the cauliflower is tender and the flavors are well combined.
Garnish with chopped scallions and serve hot.