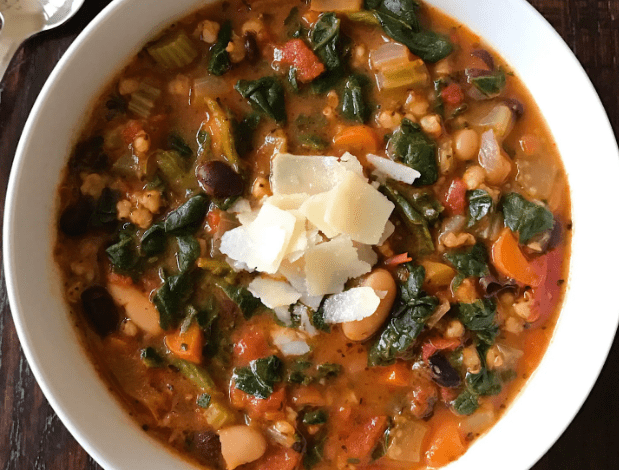 There's nothing quite like a warm bowl of soup on a cold day, and this bean and vegetable soup is the perfect recipe to warm you up from the inside out. It's packed with protein, fiber, and essential nutrients from the beans and vegetables, making it a healthy and satisfying meal. Plus, it's easy to make and can be customized to your taste preferences. In this article, we'll share a recipe for bean and vegetable soup that's sure to become a winter staple in your kitchen. Ingredients:
| Quantity | Ingredients |
| --- | --- |
| 1 tablespoon | Olive oil |
| 1 medium | Onion, chopped |
| 3 cloves | Garlic, minced |
| 2 medium | Carrots, diced |
| 2 medium | Celery stalks, diced |
| 1 can | Diced tomatoes (14.5 oz) |
| 4 cups | Vegetable broth |
| 2 cans | Cannellini beans, drained and rinsed (15 oz each) |
| 1/2 teaspoon | Dried thyme |
| 1/2 teaspoon | Dried oregano |
| 1/2 teaspoon | Paprika |
| Salt and pepper, to taste |   |
| Fresh parsley, chopped (optional) |   |
Instructions:
Heat the olive oil in a large pot over medium heat.
Add the chopped onion to the pot and sauté for 2-3 minutes, or until the onion is translucent.
Add the minced garlic, diced carrots, and diced celery to the pot and continue to sauté for another 5-7 minutes, or until the vegetables are tender.
Add the can of diced tomatoes, and vegetable broth, and drained and rinsed cannellini beans to the pot.
Stir in the dried thyme, dried oregano, paprika, salt, and pepper.
Bring the soup to a boil, then reduce the heat and let it simmer for 15-20 minutes, or until the flavors have melded together and the vegetables are very tender.
Serve the bean and vegetable soup hot, garnished with chopped fresh parsley if desired.
This bean and vegetable soup recipe is a great way to enjoy a hearty and healthy meal. Beans are an excellent source of protein and fiber, which can help keep you feeling full and satisfied for longer. They're also a good source of important nutrients like iron, folate, and potassium. The vegetables in this soup add some extra nutrition and flavor. Carrots are a good source of vitamin A, while celery is a good source of vitamin K and other important nutrients. Tomatoes are a good source of vitamin C and other antioxidants, which can help support your immune system. The seasonings in this recipe add some extra flavor and depth to the soup. Dried thyme and oregano add some herbaceous notes, while paprika adds some smokiness and complexity.