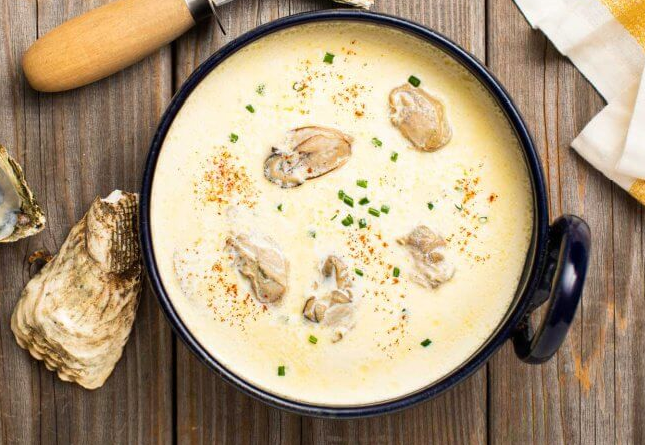 Are you a seafood lover? If yes, then you must try this creamy and delicious oyster stew recipe that will tantalize your taste buds. This recipe is perfect for those chilly nights when you crave something warm and comforting. The best part is that it only takes a few ingredients and minimal effort to whip up this mouth-watering stew. So, let's get started with the recipe.
Ingredients:
| Ingredients | Quantity |
| --- | --- |
| Butter | 4 tablespoons |
| Shallots, chopped | 2 |
| Garlic, minced | 3 cloves |
| All-purpose flour | 3 tablespoons |
| Chicken broth | 2 cups |
| Heavy cream | 1 cup |
| Worcestershire sauce | 2 teaspoons |
| Tabasco sauce | 1/2 teaspoon |
| Salt and pepper | to taste |
| Oysters, shucked | 24 |
| Fresh parsley, chopped | 1/4 cup |
Instructions:
Melt butter in a large pot over medium heat. Add chopped shallots and minced garlic, and sauté for 2-3 minutes until the shallots become translucent.
Add all-purpose flour and stir continuously until it forms a smooth paste.
Gradually add chicken broth and heavy cream, stirring constantly to avoid lumps.
Add Worcestershire sauce, Tabasco sauce, salt, and pepper to taste.
Bring the mixture to a boil, then reduce the heat and let it simmer for 10-12 minutes.
Add the shucked oysters and cook for another 3-5 minutes until the oysters are cooked through.
Serve the stew hot, garnished with fresh parsley.
This oyster stew is the perfect comfort food for seafood lovers. The creamy texture and rich flavor of this stew will leave you wanting more. It's a great way to warm up during chilly nights and satisfy your seafood cravings. So, give this recipe a try and enjoy a delicious bowl of oyster stew!