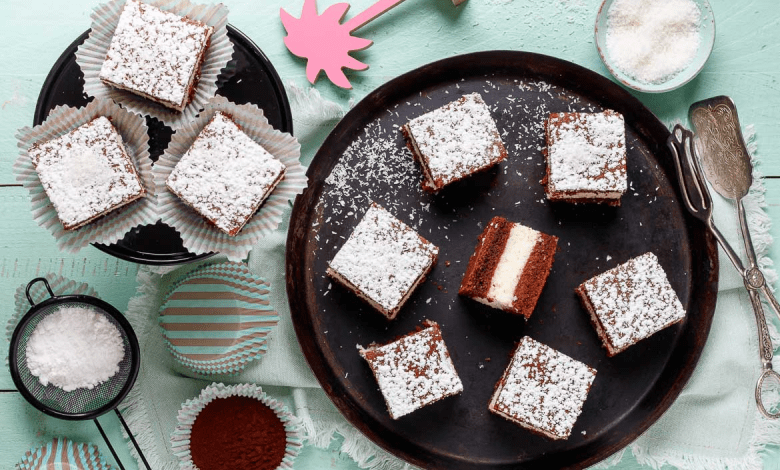 The slices with cocoa in pretty squares are wonderfully juicy and are also great as a cake dessert. The coconut semolina slices taste a bit like the Bounty chocolate bar. The cake squares stay fresh for 2-3 days in the fridge and can also be frozen. They are the hit on every cake buffet.
It was one of those calls that gets my food blogger's heart racing. It came from my dear sister-in-law, Natalie. She was blown away and could hardly contain her enthusiasm when she talked about THE CAKE. She mumbled some Croatian terms that I didn't understand and that this was probably the tastiest cake recipe she'd gotten her hands on in a long time.
Now you have to know that my family-in-law tends to exaggerate ? , but of course, I became more than pricked. In any case, she was given the recipe by her cousin from Croatia and it is probably a very typical cake there. We both got ambitious, Natalie translated the recipe and the two of us continued to tinker with it in numerous baking attempts and spiced it up. Until the ingredient ratios were perfect for our taste and consistency. This is how this variant of the coconut semolina slices was created.
Very easy to make but requires a lot of bowls
The coconut semolina slices taste a bit like the Bounty chocolate bar, which I love very much. That's why I was immediately hooked on the recipe. You have to know that a lot of milk gets into it, which is basically not so bad ? . The preparation of a layer cake is very simple, but you need a lot of bowls for it. So if you decide to bake it, I recommend an empty dishwasher in which you can put everything. Or you find someone for washing dishes ? .
You can also bake cakes in a casserole dish
The optimal baking pan size for the coconut semolina cake is about 25 x 30 cm. In Croatia, normal casserole dishes are usually used for baking, which is also used for hearty dishes. That's why the cakes there often have square/rectangular shapes or are cut into small slices. So you don't necessarily have to look for a suitable cake pan, you can also browse through your casserole dishes and use them (e.g. those made of ceramic, stoneware, or glass).
A few more tips for the coconut semolina slices
Depending on the size of your casserole dish/baking dish, the height of your coconut semolina slices will change – possibly also the baking time for the first layer by maybe 5 minutes up or down. If you get a pan that is too small, you may have some coconut semolina mass left over, because the second layer of dough also needs its space in the baking pan. For my part, by the way, I, unfortunately, didn't bake the base for long enough the first time (it has to be baked through) and the semolina mixture literally sank into it. But it still tasted delicious ? .
Coconut semolina slices – juicy delicious
This a real family cake recipe for all coconut and semolina fans. The slices with delicious cocoa are presented in pretty squares and are wonderfully juicy and are also ideal as a cake dessert.
INGREDIENTS
YOU NEED A BAKING FORM, SPRINGFORM FORM, OR CASSERUM DISH WITH AT LEAST 25 X 30 CM INTERNAL DIMENSIONS
FOR THE COCONUT SEALUM FILLING – ALSO START WITH IT BECAUSE THE MASS SHOULD COOL DOWN SLIGHTLY
 

whole milk

200 

g 

coconut flakes

150 

grams 

of sugar

100 

g 

fine soft wheat semolina

2 

packets 

of vanilla sugar
FOR THE COCOA PAST
3 

eggs

 – 

size M

200 

g 

wheat flour

 – 

type 405

200 

ml 

whole milk

100 

ml 

vegetable

 oil – 

rapeseed oil or sunflower oil

100 

grams 

of sugar

25 

g 

baking cocoa

1 

packet of 

baking powder

1 

packet 

of vanilla sugar
MANUAL
FOR THE COCONUT SEALUM FILLING
First, heat 1 liter of milk in a saucepan while mixing 150 g sugar, 100 g soft wheat semolina, and 2 sachets of vanilla sugar in a bowl.

Gradually stir the sugar-semolina mixture into the hot milk with a whisk, bring to a boil briefly, simmer for about 1 minute and then remove from the stovetop.

Now stir in the 200 g coconut flakes and set the mixture aside.
FOR THE COCOA PAST
Preheat the oven to 180°C (recommended). Line the bottom of your mold with baking paper (you will definitely have to cut it to size, alternatively grease it) and grease the edge very lightly (really only lightly, otherwise the dough will not be able to move up the edge so well when baking and will bulge more in the middle).

TIP: You can use a normal casserole dish (ceramic, stoneware, glass) for the cake (the Croatian relatives do the same) it doesn't have to be a designated baking dish. The main thing is that the form has minimum dimensions of approx. 25 x 30 cm, otherwise you will have coconut mass later on.

Now separate the 3 eggs and beat the egg white together with 100 g sugar and 1 sachet vanilla sugar for about 2-3 minutes until fluffy.

Then add the 3 egg yolks completely and stir for about 1/2 minute or until foamy.

Now briefly stir in 100 ml vegetable oil and 200 ml whole milk.

Mix 200 g flour, 1 sachet of baking powder, and 25 g baking cocoa.

Gradually stir the flour-cocoa mixture into the beaten egg-sugar-oil mixture and mix.

It is best to divide the very liquid dough into two halves by dividing it into two containers of the same size (each with a capacity of approx. 500 ml).

Pour half of the very runny batter into your cake tin and spread by tilting the tin back and forth. Bake in the preheated oven on the 2nd shelf from the bottom for 10 minutes.

IMPORTANT NOTE: After the 10-minute baking time, the base should be firm when you press it with your fingers so that the coconut semolina mixture can be spread on it. If the base isn't set yet, just put it back in the oven for another 1-2 minutes.
COMBINATION OF COCONUT SEALUM FILLING AND COCOA PASTRY
Now spread the coconut semolina filling on the pre-baked half of the dough and smooth it out.

Now the second half of the dough comes on top and the cake goes back into the oven on the second rack from the bottom for 20-25 minutes. Please do the chopstick test.

After baking, cover the cake with a tea towel/cotton towel and let it cool down completely so that it can be cut more easily later. By the way, the cloth ensures that the moisture keeps it nice and juicy.

Before serving, sprinkle with powdered sugar and cut into approx. 5×5 cm squares. Put in paper muffin cups if you like. The cake squares stay fresh for 2-3 days in the fridge and can also be frozen.