Pasta
Creamy Fettuccine Alfredo Recipe: An Easy and Delicious Pasta Dish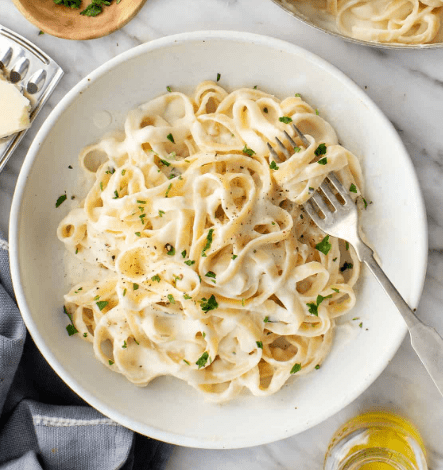 Fettuccine Alfredo is a classic Italian pasta dish that's creamy, flavorful, and easy to make. It's a popular choice for a quick and satisfying meal, and it's also a great dish to serve to guests. In this article, we'll share an easy-to-follow Fettuccine Alfredo recipe that's sure to become a family favorite.
Ingredients:
| Ingredient | Quantity |
| --- | --- |
| Fettuccine pasta | 1 pound |
| Butter | ½ cup |
| Heavy cream | 1 ½ cups |
| Garlic | 4 cloves |
| Parmesan cheese | 1 cup |
| Salt | To taste |
| Black pepper | To taste |
Instructions:
Cook the fettuccine pasta according to the package instructions. Drain the pasta and set it aside.
In a large saucepan, melt the butter over medium heat. Add the minced garlic and cook for 1-2 minutes, stirring frequently, until fragrant.
Pour the heavy cream into the saucepan and whisk it together with the melted butter and garlic until smooth. Bring the mixture to a simmer.
Reduce the heat to low and stir in the grated Parmesan cheese. Continue stirring until the cheese has melted and the sauce is thick and creamy.
Season the sauce with salt and black pepper to taste.
Add the cooked fettuccine pasta to the saucepan and toss it together with the Alfredo sauce until the pasta is fully coated.
Serve hot, garnished with additional Parmesan cheese and chopped parsley.
Fettuccine Alfredo is a classic pasta dish that has been enjoyed for generations. It originated in Italy in the early 20th century, and its popularity quickly spread to the United States. The dish is known for its creamy sauce, made with butter, heavy cream, and Parmesan cheese.