Pasta
Spicy Penne Arrabbiata Recipe: A Flavorful and Easy Pasta Dish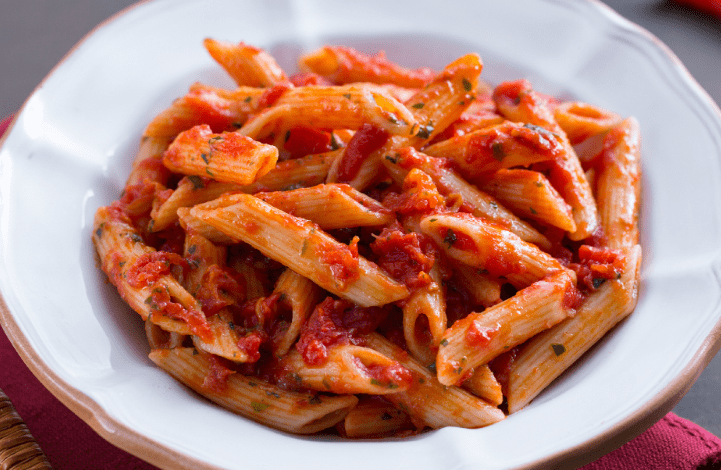 Penne Arrabbiata is a classic Italian pasta dish that's spicy, flavorful, and easy to make. It's a popular choice for those who love a little heat in their meals, and it's a great way to switch up your usual pasta routine. In this article, we'll share an easy-to-follow Penne Arrabbiata recipe that's sure to become a new favorite.
Ingredients:
| Ingredient | Quantity |
| --- | --- |
| Penne pasta | 1 pound |
| Olive oil | 3 tablespoons |
| Garlic | 3 cloves |
| Crushed red pepper flakes | 1 teaspoon |
| San Marzano tomatoes (crushed) | 1 can (28 ounces) |
| Salt | To taste |
| Fresh parsley | For garnish |
Instructions:
Cook the penne pasta according to package instructions. Drain and set aside.
In a large saucepan, heat the olive oil over medium heat. Add the minced garlic and red pepper flakes, and sauté until the garlic is fragrant, about 1-2 minutes.
Add the crushed San Marzano tomatoes to the pan and stir well. Allow the sauce to come to a simmer, then reduce the heat to low and let it simmer for about 20 minutes, stirring occasionally.
Season the sauce with salt to taste.
Add the cooked penne pasta to the saucepan and toss it together with the Arrabbiata sauce until the pasta is fully coated.
Serve hot, garnished with fresh parsley.
Penne Arrabbiata is a dish that originates from Rome, Italy. "Arrabbiata" translates to "angry" in Italian, which refers to the spicy kick of the dish. The sauce is made with San Marzano tomatoes, garlic, and red pepper flakes, which gives it a fiery flavor.