Cookies
Delicious and Crunchy Almond Biscotti Recipe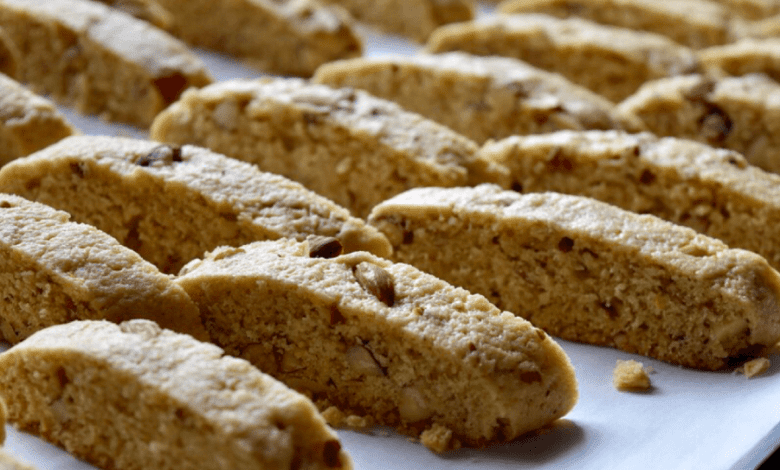 Almond biscotti is a classic Italian cookie that's perfect for dipping into coffee or tea. These crunchy cookies are easy to make and can be stored for weeks, making them a great option for homemade gifts or a sweet treat to enjoy throughout the day. Follow this recipe for delicious and crunchy almond biscotti.
Ingredients:
| Ingredients | Amount |
| --- | --- |
| All-purpose flour | 2 cups |
| Granulated sugar | 1 cup |
| Baking powder | 1 tsp |
| Salt | 1/4 tsp |
| Large eggs | 3 |
| Vanilla extract | 1 tsp |
| Almond extract | 1/2 tsp |
| Slivered almonds | 1 cup |
Instructions:
Preheat your oven to 350°F (175°C). Line a baking sheet with parchment paper.
In a medium-sized bowl, whisk together the flour, sugar, baking powder, and salt.
In a separate large bowl, beat the eggs, vanilla extract, and almond extract together until well combined.
Gradually stir in the dry ingredients until a thick dough forms.
Mix in the slivered almonds until they are evenly distributed throughout the dough.
Divide the dough in half and shape each half into a flat log, about 12 inches long and 2 inches wide.
Place the logs onto the prepared baking sheet, spacing them about 3 inches apart.
Bake for 25-30 minutes, or until the logs are lightly golden and firm to the touch.
Remove the logs from the oven and allow them to cool on the baking sheet for 10 minutes.
Use a serrated knife to cut the logs into slices, about 1/2 inch thick.
Arrange the slices onto the baking sheet, cut side down, and bake for an additional 10-15 minutes, or until they are lightly golden and crispy.
Allow the biscotti to cool completely on a wire rack before serving or storing.
Tips:
For a sweeter biscotti, you can add 1/2 cup of dried cranberries or chocolate chips to the dough.
Store the biscotti in an airtight container at room temperature for up to 3 weeks.