Eggs
How to Make a Delicious Frittata: A Simple Guide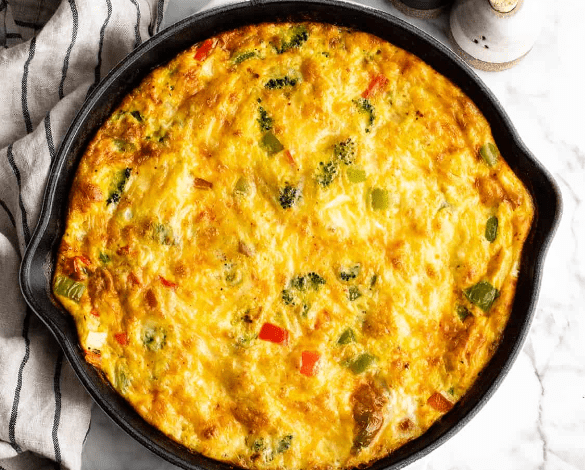 If you're looking for an easy, versatile, and delicious dish for breakfast, lunch, or dinner, then look no further than a frittata! This Italian dish is essentially an omelet made with beaten eggs, vegetables, cheese, and sometimes meats, all cooked together in a skillet. It's a great way to use up leftover ingredients and make a quick and satisfying meal.
Ingredients:
Here's what you'll need to make a basic frittata for 4 servings:
| Ingredients | Quantity |
| --- | --- |
| Eggs | 8 |
| Milk | 1/4 cup |
| Salt | 1/2 tsp |
| Black pepper | 1/4 tsp |
| Olive oil | 2 tbsp |
| Onion | 1/2 cup |
| Red bell pepper | 1/2 cup |
| Mushrooms | 1/2 cup |
| Spinach | 1 cup |
| Feta cheese | 1/2 cup |
| Parsley | For garnish |
Instructions:
Preheat the oven to 350°F.
In a large bowl, whisk together the eggs, milk, salt, and black pepper until well combined.
Heat the olive oil in an oven-safe skillet over medium-high heat. Add the onion and cook until softened about 5 minutes.
Add the red bell pepper and mushrooms, and cook for another 5 minutes until they are tender.
Add the spinach and cook until wilted about 2 minutes.
Pour the egg mixture into the skillet and gently stir to combine with the vegetables.
Crumble the feta cheese over the top of the egg mixture.
Transfer the skillet to the preheated oven and bake for 15-20 minutes, or until the eggs are set and the top is golden brown.
Remove from the oven and let the frittata cool for a few minutes before slicing.
Garnish with fresh parsley and serve hot.
There you have it, a delicious and easy frittata recipe that you can customize with your favorite ingredients. Enjoy it for breakfast, lunch, or dinner!