Eggs
Turkish Menemen Recipe: A Simple and Flavorful Egg Dish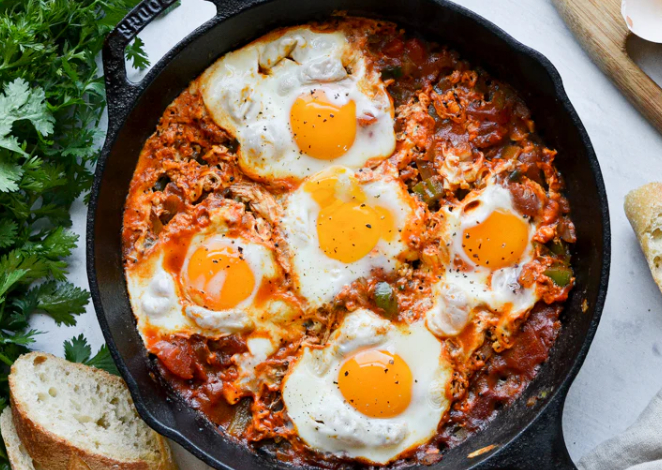 If you're looking for a delicious and easy breakfast dish, then Turkish menemen is a perfect choice. This traditional dish is made with simple ingredients, and packed with flavor. Menemen is a popular Turkish breakfast dish made by sautéing tomatoes, peppers, onions, and eggs. It's a hearty and satisfying meal that is perfect for any time of day.
Ingredients:
| Ingredients | Quantity |
| --- | --- |
| Eggs | 4 |
| Tomatoes | 3 |
| Green peppers | 2 |
| Onion | 1 |
| Garlic | 2 cloves |
| Salt | 1 tsp |
| Black pepper | 1/2 tsp |
| Red pepper flakes | 1/2 tsp |
| Olive oil | 2 tbsp |
| Parsley | For garnish |
Instructions:
Heat olive oil in a large skillet over medium heat. Add diced onions and sauté until softened and translucent, about 3-4 minutes.
Add minced garlic and sauté for another 1-2 minutes until fragrant.
Add diced bell peppers and sauté for 5-7 minutes until softened.
Add diced tomatoes, paprika, salt, and black pepper. Cook for 5-7 minutes, stirring occasionally, until the tomatoes have broken down and the mixture has thickened.
Crack the eggs into the skillet, one at a time, making sure to space them out evenly.
Cover the skillet and cook for 5-7 minutes, or until the eggs are cooked to your liking.
Sprinkle chopped parsley and chives over the top. Serve with bread.
This Turkish menemen recipe is a delicious and easy dish that can be enjoyed for breakfast, lunch, or dinner. It's packed with flavor and nutrients, and it's a great way to start your day. Whether you're a seasoned cook or just starting, this recipe is sure to become a favorite in your kitchen. Give it a try and see for yourself how delicious it is!