Cookies
Delicious and Festive Gingerbread Cookies Recipe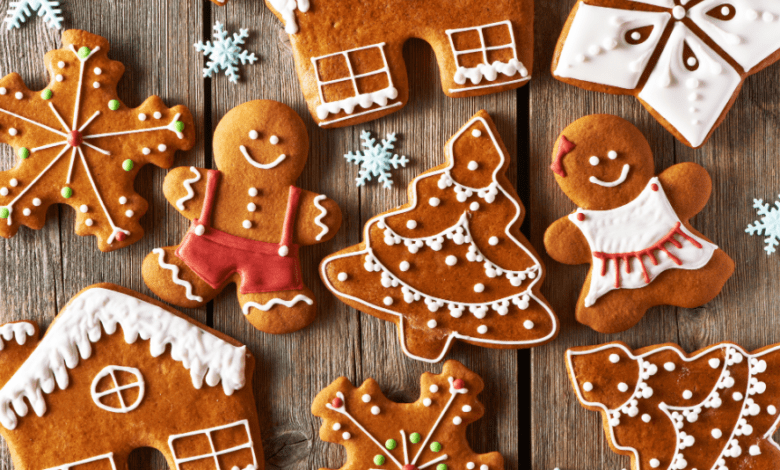 Gingerbread cookies are a staple during the holiday season. These spicy and sweet treats are perfect for sharing with loved ones or leaving out for Santa on Christmas Eve. This recipe is easy to follow and yields deliciously chewy cookies that are sure to be a hit with everyone.
Ingredients:
| Ingredients | Amount |
| --- | --- |
| All-purpose flour | 3 cups |
| Ground ginger | 1 tbsp |
| Ground cinnamon | 2 tsp |
| Ground cloves | 1/2 tsp |
| Baking soda | 1/2 tsp |
| Salt | 1/4 tsp |
| Unsalted butter | 3/4 cup |
| Brown sugar | 3/4 cup |
| Molasses | 2/3 cup |
| Large egg | 1 |
| Vanilla extract | 1 tsp |
Instructions:
In a medium-sized bowl, whisk together the flour, ginger, cinnamon, cloves, baking soda, and salt.
In a separate large bowl, beat the butter and brown sugar together until light and fluffy.
Mix in the molasses, egg, and vanilla extract until well combined.
Gradually stir in the dry ingredients until a thick dough forms.
Divide the dough in half and shape each half into a flat disc. Wrap in plastic wrap and refrigerate for at least 1 hour.
Preheat your oven to 350°F (175°C). Line a baking sheet with parchment paper.
Roll out the chilled dough on a lightly floured surface to a thickness of about 1/4 inch.
Use cookie cutters to cut out shapes, or use a sharp knife to cut the dough into squares or rectangles.
Place the cookies onto the prepared baking sheet, spacing them about 1 inch apart.
Bake for 8-10 minutes, or until the edges are lightly golden.
Allow the cookies to cool on the baking sheet for 5 minutes before transferring them to a wire rack to cool completely.
Decorate the cookies with royal icing or sprinkles, if desired.
Tips:
For a softer cookie, roll the dough out to a thickness of 1/2 inch and bake for 10-12 minutes.
To make gingerbread men or women, use a gingerbread cookie cutter and decorate it with royal icing and candy.
Store the cookies in an airtight container at room temperature for up to a week.