Pudding
Refreshing and Tangy Lemon Pudding Recipe for a Summertime Treat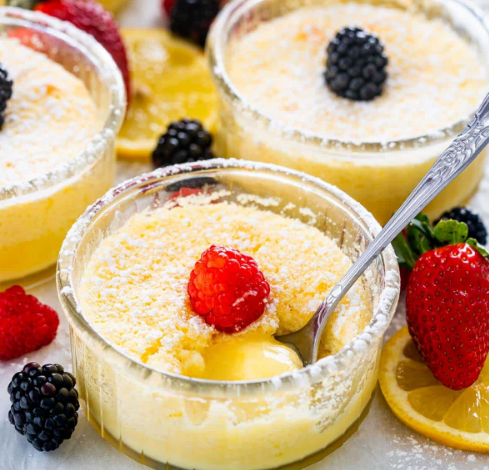 Lemon pudding is a delightful dessert that is perfect for summertime. This refreshing and tangy treat is easy to make and is sure to satisfy any sweet tooth. In this article, we will share a delicious lemon pudding recipe that is sure to become a new favorite in your household.
Ingredients:
| Ingredients | Quantity |
| --- | --- |
| Granulated sugar | 1 cup |
| Cornstarch | 1/4 cup |
| Salt | 1/4 tsp |
| Water | 2 cups |
| Egg yolks | 3 |
| Fresh lemon juice | 1/2 cup |
| Unsalted butter | 2 tbsp |
| Lemon zest | 1 tbsp |
Instructions:
In a medium saucepan, combine the sugar, cornstarch, and salt. Gradually stir in the water until the mixture is smooth.
Heat the mixture over medium heat, stirring constantly, until it comes to a boil. Reduce the heat to low and let it simmer for 2 minutes, stirring constantly.
In a separate bowl, whisk the egg yolks until they're well beaten. Gradually add 1 cup of the hot sugar mixture to the eggs, whisking constantly to temper the eggs.
Pour the egg mixture back into the saucepan with the remaining sugar mixture, stirring constantly.
Cook the mixture over medium heat, stirring constantly, until it thickens and comes to a boil. Remove the pan from the heat and stir in the lemon juice, butter, and lemon zest.
Pour the pudding into a serving bowl or individual dishes. Cover with plastic wrap and refrigerate for at least 2 hours, or until the pudding is set.
Serve the lemon pudding chilled, topped with whipped cream or fresh berries if desired.
Tips:
Use fresh lemon juice and zest for the best flavor.
Be sure to stir the pudding constantly to prevent it from burning or sticking to the bottom of the pan.
For a thicker pudding, use an extra tablespoon of cornstarch.
Add a few drops of yellow food coloring for a brighter color.