Chicken
Grilled Lemon-Pepper Chicken Recipe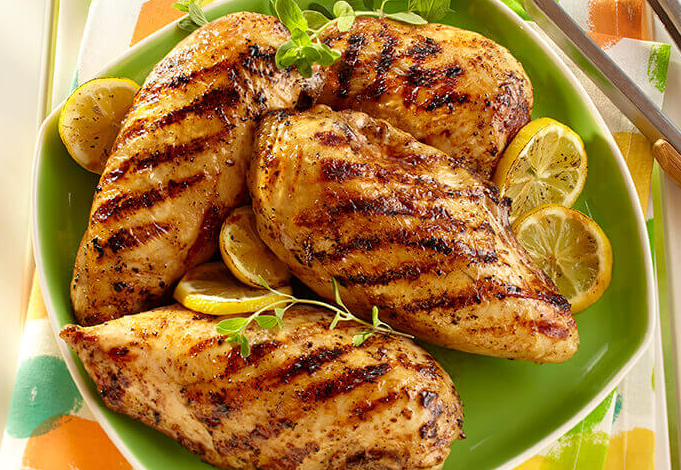 Juicy and Tender Grilled Chicken with a Lemon-Pepper Rub
This grilled chicken recipe is a summertime staple. The lemon-pepper rub adds a bright, citrusy flavor to the chicken, and grilling it gives it a perfectly crispy exterior and juicy interior. Plus, it's easy to make and only requires a few simple ingredients.
Ingredients:
| Ingredient | Quantity |
| --- | --- |
| Chicken Breasts | 4 |
| Olive Oil | 1/4 cup |
| Lemon Juice | 2 tablespoons |
| Dried Oregano | 1 tablespoon |
| Garlic Powder | 1 teaspoon |
| Salt | 1 teaspoon |
| Black Pepper | 1/2 teaspoon |
Instructions:
In a small bowl, whisk together the olive oil, lemon juice, oregano, garlic powder, salt, and pepper.
Place the chicken breasts in a large resealable plastic bag and pour the marinade over the top. Seal the bag and toss it to coat the chicken evenly.
Place the bag in the refrigerator and marinate the chicken for at least 1 hour or up to 24 hours.
Preheat the grill to medium-high heat.
Remove the chicken from the marinade and discard the remaining marinade.
Grill the chicken for 6-8 minutes on each side, or until the internal temperature reaches 165°F.
Serve the grilled chicken hot, garnished with fresh herbs or a squeeze of lemon juice if desired.
Tips:
For extra flavor, try adding your favorite seasonings to the marinade. Some ideas include paprika, cumin, and chili powder.
If you don't have a grill, you can still make this recipe. Simply preheat the oven to 400°F and bake the marinated chicken for 25-30 minutes, or until it's cooked through.
To make this recipe even healthier, try grilling the chicken with a small amount of olive oil cooking spray instead of using a marinade.
This grilled chicken recipe is sure to become a summertime favorite. It's easy to make, perfectly juicy, and packed with flavor. Give it a try and enjoy!