Meat
HAPPY FOOD: COUSCOUS SALAD WITH ORIENTAL TURKEY BREAST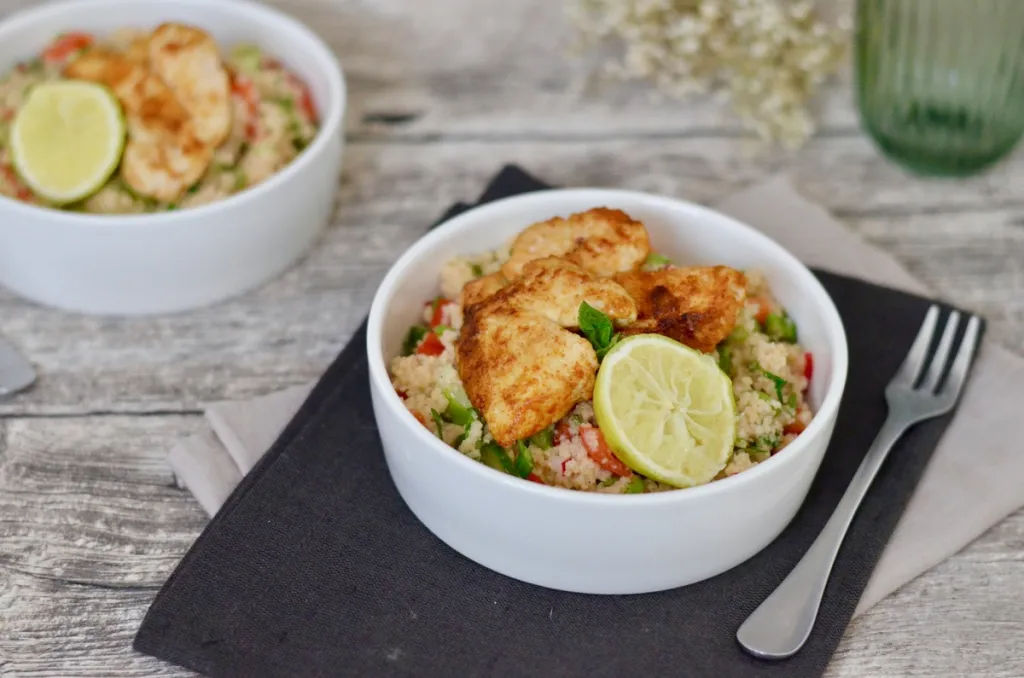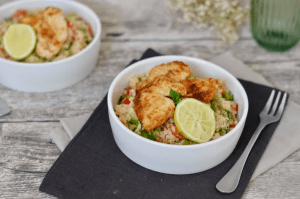 My dears, today I'm in touch from the rainy Tschiertschen. It's so wonderful here and we really enjoy the days despite the slightly worse weather. We go hiking a lot, do wellness and eat a lot and very well. The Romantik Hotel The Alpina Mountain Resort & Spa is beautiful and the mountains, these snowy mountains. I love her! Oh, it's so beautiful here and tomorrow it's supposed to be really sunny. I'll take you a little bit with me on Instagram, so be sure to stop by. Matching our happy days that we have here, there is now a new happy food on the blog. Because this delicious couscous salad with oriental turkey breast not only tastes good, it is also very healthy, nutritious and keeps you full for a long time. 
I absolutely love this salad and especially in summer it is served here very often. It goes perfectly with lunch or dinner and is unbeatably good with a well-chilled white wine and crispy white bread. Hach, a poem this dish, I say too. By the way, we are also eating super delicious right now, so I don't exactly miss the couscous salad ? Even 8 of my dishes made it onto the menu of the hotel restaurant, almost all of which were also available in the kitchen battle. It's a really big honor for me and I'm really happy to be able to cook in this wonderful place. But I'll tell you more about that when we're back and I've been able to collect all the impressions, it'll be exciting anyway. So and now have fun with the couscous salad and have a great weekend.
For 2 people:
2 skinless turkey breast fillets
5 tbsp. ras el hanout
100 g couscous
200 ml vegetable stock
1/2 lime
2 sprigs of mint
2 sprigs of parsley
2 leaves of radicchio
1 carrot
spring onion
1 tomato
1/4 cucumber
1 mild chili pepper
2 tbsp. wine vinegar
5 tbsp. olive oil
Salt pepper
Preparation:
Place the couscous in a bowl and mix well with 2 tablespoons of olive oil with a fork. Bring the vegetable stock to the boil, pour over the couscous, stir in and leave covered for about 10 minutes.
Meanwhile, wash, dry and finely chop the mint, parsley and radicchio leaves. Peel and dice the carrot. Wash and dry the tomato and cucumber, remove the seeds and finely dice. Clean spring onion and chili and cut into rings. Squeeze the lime, add the remaining oil, vinegar, salt and pepper to the couscous and mix well with a fork. Add the vegetables and fold in. Leave in the fridge for about 60 minutes.
Place the turkey breast on cling film and rub both sides with salt and the ras el hanout. Fold over the cling film and pound the fillets to a thickness of approx. 1.5 cm. Put the oil in a hot pan, place the meat in it and fry for about 4 minutes on each side until golden brown and cooked through.