Pudding
Creamy and Delicious Tapioca Pudding Recipe for Dessert Lovers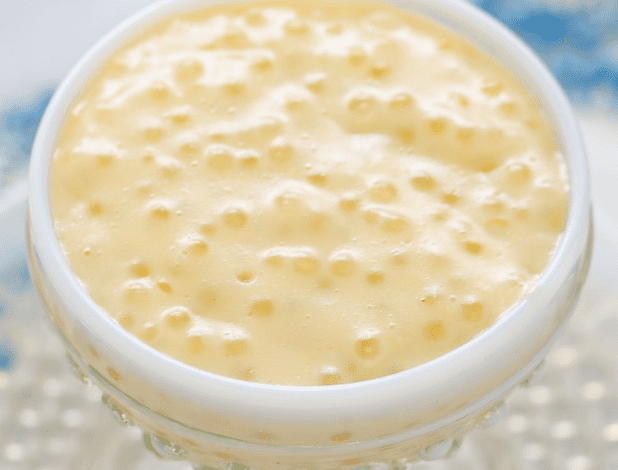 Tapioca pudding is a classic dessert that has been around for generations. This sweet and creamy treat is a favorite among dessert lovers and is perfect for any occasion. In this article, we will share a delicious tapioca pudding recipe that is sure to become a new favorite in your household.
Ingredients:
| Ingredients | Quantity |
| --- | --- |
| Small pearl tapioca | 1/2 cup |
| Whole milk | 2 cups |
| Heavy cream | 1/2 cup |
| Granulated sugar | 1/3 cup |
| Salt | 1/4 tsp |
| Egg | 1 |
| Vanilla extract | 1 tsp |
Instructions:
Soak the tapioca pearls in water for at least 30 minutes. Drain the water and set the tapioca aside.
In a medium saucepan, combine the milk, cream, sugar, and salt. Heat the mixture over medium heat until it begins to steam, stirring occasionally.
In a separate bowl, whisk the egg until it's well beaten. Gradually add 1/2 cup of the hot milk mixture to the egg, whisking constantly to temper the egg.
Pour the egg mixture back into the saucepan with the remaining milk mixture, stirring constantly. Add the tapioca pearls and continue to cook the mixture over medium heat, stirring occasionally.
Cook for about 15-20 minutes, or until the tapioca pearls become transparent and the pudding thickens. Be sure to stir frequently to prevent the tapioca from sticking to the bottom of the pan.
Remove the pan from the heat and stir in the vanilla extract. Let the pudding cool for a few minutes before serving.
Serve the tapioca pudding warm or chilled, topped with whipped cream or your favorite toppings.
Tips:
Be sure to soak the tapioca pearls before cooking to ensure they cook evenly.
Stir the pudding frequently while cooking to prevent the tapioca from sticking to the bottom of the pan.
For a creamier texture, you can use all heavy cream instead of whole milk.
Add a dash of cinnamon or nutmeg for a flavorful twist.