Lobster
Luscious Lobster Risotto Recipe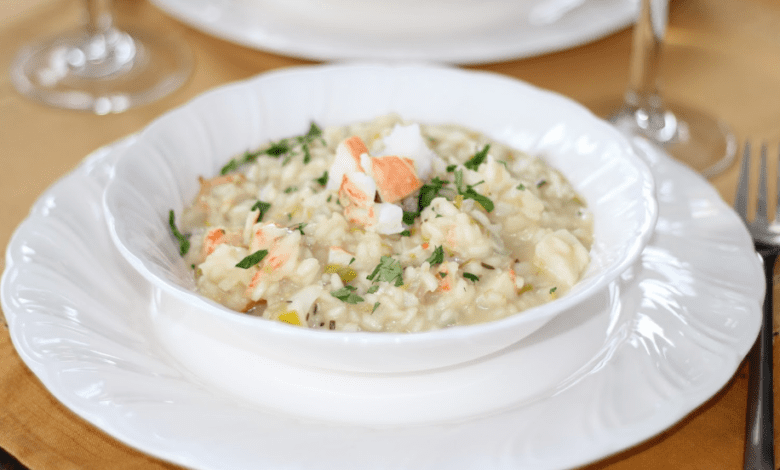 If you're looking for a luxurious and indulgent meal, look no further than this delicious Lobster Risotto recipe. Perfect for a special occasion or simply to treat yourself, this creamy and flavorful dish will leave you satisfied and craving more.
Ingredients:
| Ingredients | Quantity |
| --- | --- |
| Lobster meat | 1 lb |
| Arborio Rice | 1 cup |
| Onion | 1, chopped |
| Garlic | 2 cloves, minced |
| White wine | 1/2 cup |
| Chicken or seafood broth | 4 cups |
| Butter | 2 tbsp |
| Olive oil | 2 tbsp |
| Parmesan cheese | 1/2 cup, grated |
| Fresh parsley | 2 tbsp, chopped |
| Salt | 1 tsp |
| Black pepper | 1/2 tsp |
Instructions:
In a large saucepan, heat the butter over medium heat and cook the onions until soft and translucent.
Add the garlic and cook for another minute.
Add the arborio rice and stir to coat it in the butter. Cook for 2-3 minutes, or until the rice starts to turn opaque.
Add the white wine and stir continuously until it has been absorbed by the rice.
Begin adding the broth, a ladleful at a time, stirring continuously and waiting for each addition to be absorbed before adding more.
After about 20 minutes, or when the rice is cooked al dente, remove from heat and stir in the cooked lobster meat and grated parmesan cheese.
Season with salt and pepper to taste and serve with a sprinkle of fresh parsley for garnish.
This Lobster Risotto recipe is the epitome of comfort food, with its creamy and rich texture that's perfectly balanced by the freshness of the lobster and the sharpness of the parmesan cheese. Serve with a glass of white wine and enjoy a truly indulgent meal.