Ice Cream
How to Make Rich and Decadent Rocky Road Ice Cream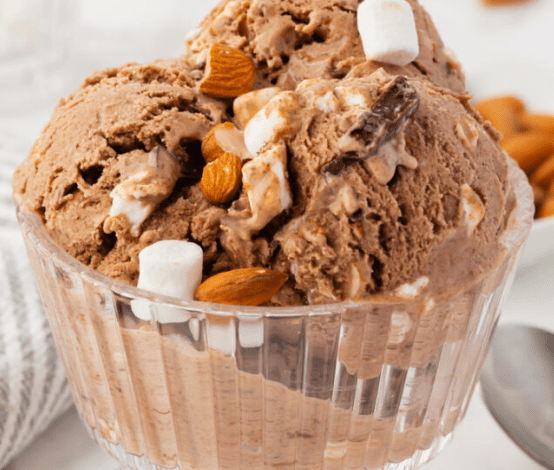 Rocky Road Ice Cream is a classic flavor that combines chocolate, nuts, and marshmallows to create a rich and decadent dessert. Making it from scratch is easier than you might think, and the results are always worth it. In this article, we will share a simple yet delicious recipe for Rocky Road Ice Cream that you can make at home. Ingredients:
| Ingredients | Quantity |
| --- | --- |
| Heavy Cream | 2 cups |
| Whole Milk | 1 cup |
| Sugar | 3/4 cup |
| Salt | 1/4 tsp |
| Egg Yolks | 5 |
| Vanilla Extract | 1 tsp |
| Cocoa Powder | 1/2 cup |
| Chopped Walnuts | 1 cup |
| Mini Marshmallows | 1 cup |
Instructions:
Heat the heavy cream, whole milk, sugar, salt, and cocoa powder in a saucepan over medium heat until the sugar has dissolved.
Let the mixture simmer for 30 minutes, stirring occasionally.
In a separate bowl, whisk together the egg yolks until they become pale yellow.
Slowly pour the hot cream mixture into the egg yolks, whisking constantly.
Pour the mixture back into the saucepan and cook over low heat, constantly stirring, until it thickens enough to coat the back of a spoon.
Remove the mixture from the heat and let it cool completely.
Stir in the chopped walnuts and mini marshmallows.
Pour the mixture into an ice cream maker and churn according to the manufacturer's instructions.
Transfer the ice cream to a freezer-safe container and freeze for at least 4 hours before serving.
That's it! Your delicious Rocky Road Ice Cream is ready to be served. Tips:
You can use any type of nut you prefer instead of walnuts.
For extra chocolate flavor, you can add chocolate chips or chunks to the mixture before churning.