Diet & Proteins
How to Make Shakshuka: A Delicious and Easy Breakfast Recipe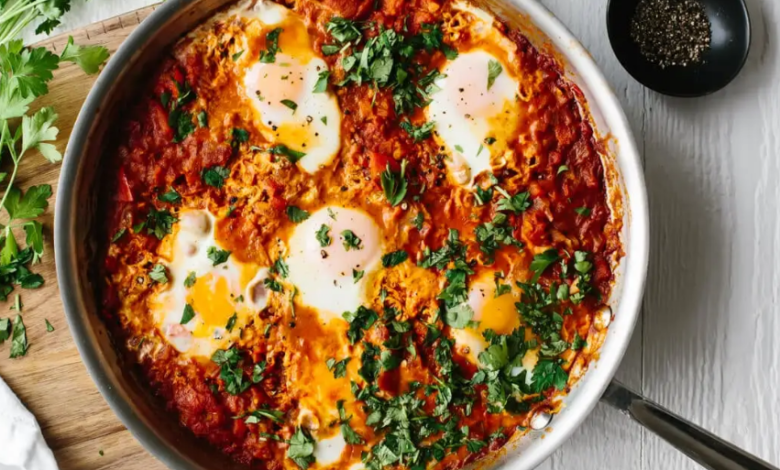 If you're looking for a delicious and easy-to-make breakfast recipe, look no further than shakshuka. This Middle Eastern dish is made with eggs cooked in a flavorful tomato sauce, spiced with cumin, paprika, and chili powder. In this article, we'll share a simple recipe for shakshuka that's sure to become a new favorite in your breakfast rotation. Ingredients:
| Quantity | Ingredients |
| --- | --- |
| 2 tablespoons | Olive oil |
| 1 | Onion, chopped |
| 1 | Red bell pepper, chopped |
| 3 cloves | Garlic, minced |
| 1 teaspoon | Cumin |
| 1 teaspoon | Paprika |
| 1/2 teaspoon | Chili powder |
| 1 can (14 oz) | Diced tomatoes |
| Salt and pepper | to taste |
| 4 | Eggs |
| Fresh parsley | for garnish |
Instructions:
Heat the olive oil in a large skillet over medium heat.
Add the chopped onion and red bell pepper, and cook for 5-7 minutes, or until softened.
Add the minced garlic, cumin, paprika, and chili powder, and cook for another 1-2 minutes, or until fragrant.
Stir in the diced tomatoes and season with salt and pepper to taste.
Let the tomato sauce simmer for 10-15 minutes, or until it has thickened slightly.
Use a spoon to make 4 indentations in the tomato sauce.
Crack an egg into each indentation.
Cover the skillet with a lid and cook for 5-7 minutes, or until the egg whites are set and the yolks are cooked to your liking.
Garnish with fresh parsley and serve with crusty bread.
This shakshuka recipe is a great way to start your day with a flavorful and nutritious breakfast. The combination of tomatoes, peppers, and spices provides a great source of vitamins and antioxidants, while the eggs provide protein and healthy fats. In addition to being a delicious breakfast dish, shakshuka is also versatile and can be enjoyed at any time of the day. You can add different vegetables, such as zucchini or eggplant, or adjust the spices to your liking.