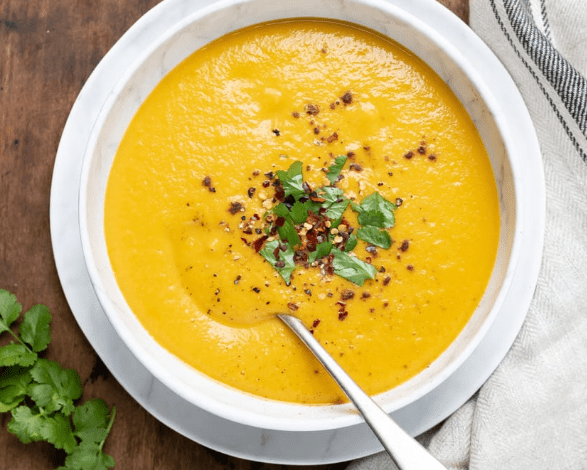 Lentil soup is a healthy and comforting dish that's perfect for any time of the year. Made with simple ingredients and packed with nutrients, it's a great way to get your daily dose of protein and fiber. Plus, it's easy to make and can be customized to suit your taste buds. In this article, we'll share a delicious lentil soup recipe that's sure to become a family favorite. Ingredients:
| Ingredients | Amount |
| --- | --- |
| Dried lentils | 1 cup |
| Olive oil | 2 tablespoons |
| Onion, diced | 1 |
| Carrots, diced | 2 |
| Celery, diced | 2 stalks |
| Garlic, minced | 3 cloves |
| Tomato paste | 2 tablespoons |
| Vegetable or chicken broth | 4 cups |
| Bay leaf | 1 |
| Dried thyme | 1/2 teaspoon |
| Salt | 1/2 teaspoon |
| Black pepper | 1/4 teaspoon |
| Fresh parsley, chopped | for garnish |
Rinse the lentils and remove any debris or stones. Drain and set aside.
In a large pot or Dutch oven, heat the olive oil over medium heat. Add the onion and garlic and sauté until the onion is soft and translucent.
Add the carrot and celery and sauté for another 5 minutes.
Add the cumin, coriander, turmeric, and cayenne pepper and stir to combine.
Add the lentils, vegetable broth, and diced tomatoes. Bring to a boil, then reduce the heat to low and simmer for 30-40 minutes, or until the lentils are tender.
Season with salt and black pepper to taste.
Stir in the chopped parsley and serve hot.
Tips:
Lentils come in different colors and varieties. Green and brown lentils hold their shape well and are ideal for soups, while red lentils break down easily and are better for stews and curries.
To make this soup more filling, you can add chopped potatoes, sweet potatoes, or butternut squash.
You can also use chicken or beef broth instead of vegetable broth for a richer flavor.