Diet & Proteins
Lentil Soup with Carrots and Celery: A Hearty and Healthy Meal for Any Season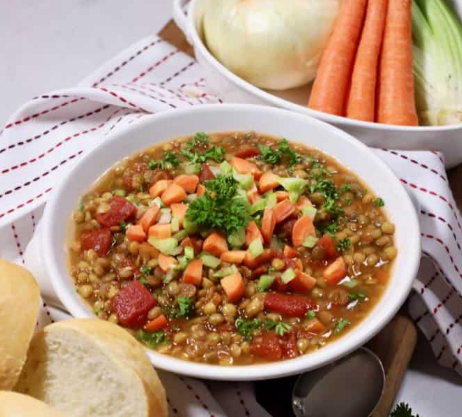 Looking for a delicious and nutritious soup to warm you up during the colder months? Try this Lentil Soup with Carrots and Celery recipe! It's a hearty and healthy meal that is perfect for any season. Ingredients:
| Ingredients | Amount |
| --- | --- |
| Dried green lentils | 1 cup |
| Vegetable broth | 4 cups |
| Onion, chopped | 1 |
| Carrots, chopped | 2 |
| Celery, chopped | 2 |
| Garlic cloves, minced | 2 |
| Cumin | 1 teaspoon |
| Smoked paprika | 1/2 teaspoon |
| Salt and pepper | To taste |
| Olive oil | 2 tablespoons |
Instructions:
In a large pot or Dutch oven, heat the olive oil over medium-high heat.
Add the chopped onion, carrots, and celery and sauté for 5-7 minutes, or until the vegetables are softened.
Add the minced garlic, cumin, smoked paprika, salt, and pepper and stir for 1-2 minutes, or until the garlic is fragrant.
Add the rinsed and drained lentils and vegetable broth to the pot and bring to a boil.
Reduce the heat to low and simmer for 30-40 minutes, or until the lentils are tender.
Once the lentils are cooked, use an immersion blender to puree the soup until smooth and creamy. Alternatively, you can transfer the soup to a blender in batches and puree until smooth.
Taste the soup and adjust the seasoning as needed.
Serve hot and enjoy!
This Lentil Soup with Carrots and Celery recipe is not only delicious but also packed with nutrients. Lentils are a good source of protein, fiber, iron, and other essential vitamins and minerals. Carrots and celery are rich in vitamins A and C, as well as fiber and antioxidants. The cumin and smoked paprika add flavor and also have health benefits, such as improving digestion and reducing inflammation.