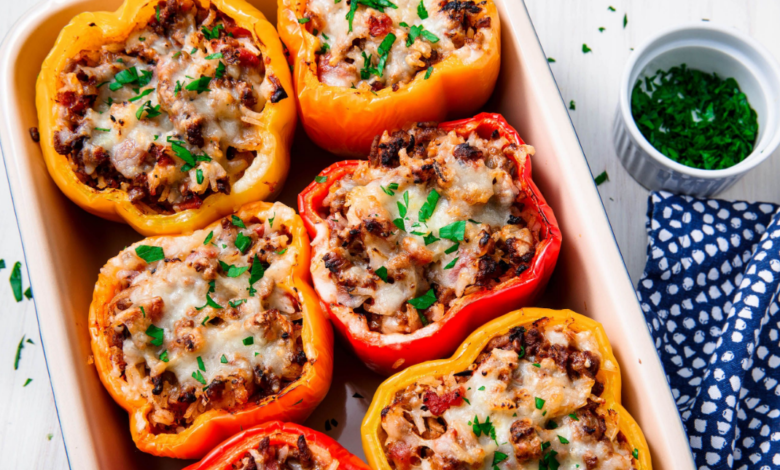 Stuffed bell peppers are a delicious and healthy way to enjoy vegetables. They can be filled with a variety of ingredients, and in this article, we will share a recipe for Mediterranean stuffed bell peppers that is sure to please your taste buds. Ingredients:
| Quantity | Ingredients |
| --- | --- |
| 4 | Bell Peppers |
| 1 cup | Quinoa |
| 2 cups | Water |
| 1 tablespoon | Olive Oil |
| 1 | Onion, chopped |
| 3 cloves | Garlic, minced |
| 1/2 teaspoon | Dried Oregano |
| 1/2 teaspoon | Dried Basil |
| 1/2 teaspoon | Dried Thyme |
| 1 can (14 oz) | Diced Tomatoes |
| 1/2 cup | Kalamata Olives, chopped |
| 1/2 cup | Feta Cheese, crumbled |
| Salt and Pepper | to taste |
| Fresh Parsley | for garnish |
Instructions:
Preheat your oven to 375°F.
Cut off the tops of the bell peppers and remove the seeds and membranes. Place them in a baking dish.
Rinse the quinoa and add it to a pot with the water. Bring to a boil, then reduce the heat and simmer for 15-20 minutes, or until the quinoa is cooked and the liquid is absorbed.
In a large skillet, heat the olive oil over medium heat. Add the onion and garlic and cook for 2-3 minutes, or until softened.
Add the oregano, basil, thyme, salt, and pepper, and cook for another minute.
Stir in the diced tomatoes, olives, and cooked quinoa, and cook for another 2-3 minutes, or until heated through.
Spoon the quinoa mixture into the bell peppers, filling them to the top.
Top each pepper with crumbled feta cheese.
Cover the baking dish with foil and bake for 30-35 minutes, or until the peppers are tender and the cheese is melted.
Garnish with fresh parsley and serve hot.
This Mediterranean stuffed bell peppers recipe is a great way to enjoy a variety of flavors and textures. The quinoa provides protein and fiber, while the vegetables and herbs add a burst of flavor. The olives and feta cheese add a salty tang, while the bell peppers provide a sweet and juicy crunch. In addition to being healthy and delicious, this recipe is also easy to customize to your tastes. You can use different types of bell peppers, such as red or yellow, or add other vegetables such as zucchini, eggplant, or mushrooms. You can also adjust the number of herbs and spices to your liking, or add other ingredients such as pine nuts, raisins, or sun-dried tomatoes for a different flavor.