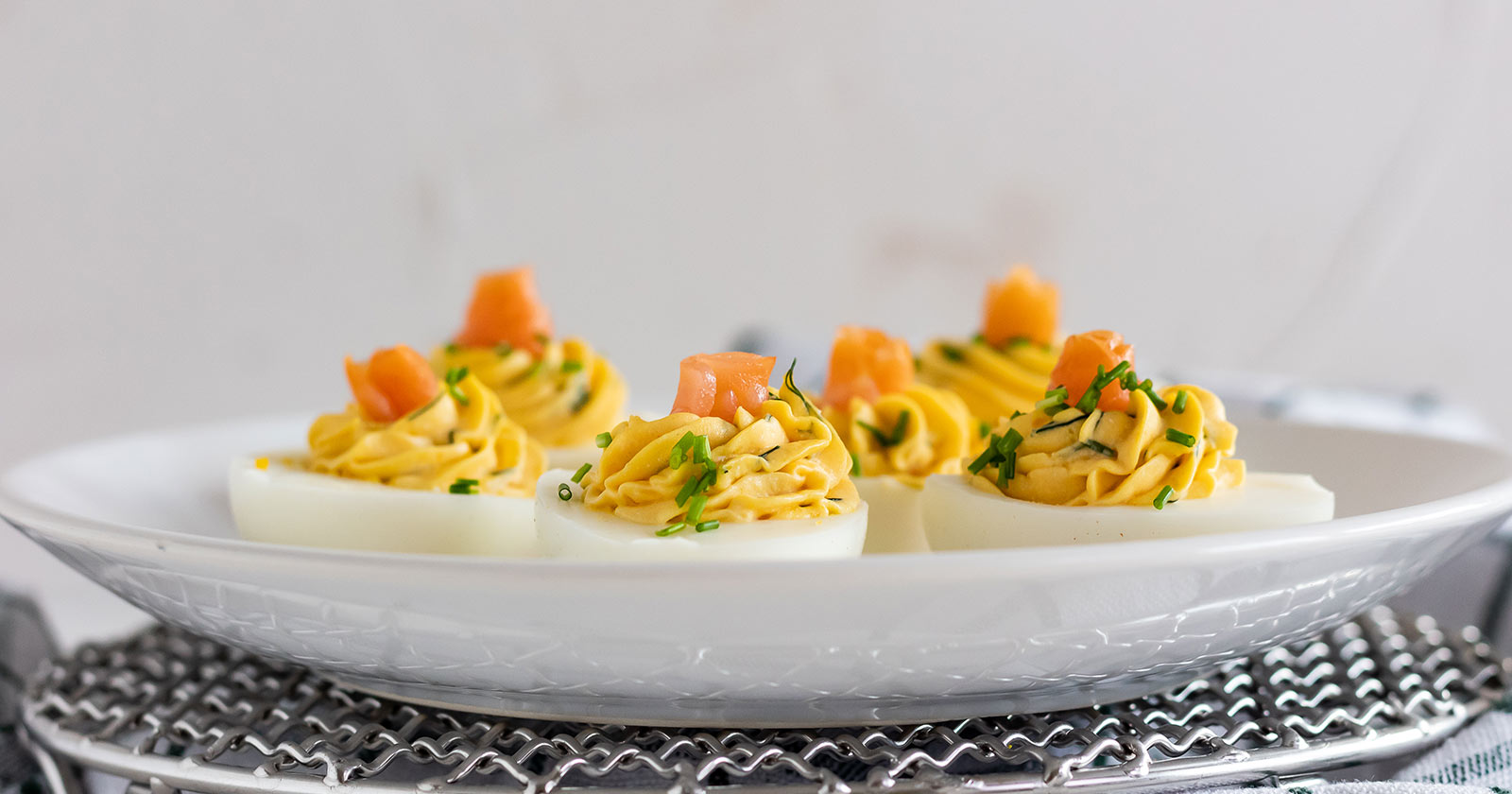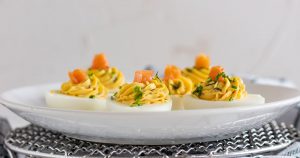 Whether it's Easter, Christmas or for no reason at all – eggs filled with salmon are always a highlight! Because I like to eat the little bites so much, I would like to introduce you to my favorite recipe today.
Stuffed eggs with salmon are perfect for all fish lovers. They're always a hit at parties or brunch. And not only for the guests, but also for the host – after all, the little treat is prepared in no time at all.
Stuffed egg halves with smoked salmon should not be missing from a stylish buffet.
By the way, this recipe is a great way to use up leftover Easter eggs. They are still eggs, but they taste like a lot of variety thanks to the mustard, cream cheese, herbs and salmon.
This recipe is
a great way to use up eggs

Suitable for low carb and keto

an eye-catcher at every buffet

prepared in no time
Did you know that filled eggs with salmon are also called Russian eggs? Neither do I 🙂
Which makes salmon stuffed eggs really tasty
Frozen salmon, a salmon fillet or smoked salmon? This point clearly goes to the smoked salmon. The reason for this is that it's just so quick. All you have to do is take it out of the packaging and cut it into small pieces.
The smoky aroma goes wonderfully with the egg spread. If you still have a piece of salmon fillet from the day before, you can turn it into a delicious fish cream. I'll give you detailed instructions a little further down.
Alternatively, you can of course use another smoked fish. However, salmon makes this recipe a visual eye-catcher because of its color. Trout, mackerel and co also taste wonderful, but the color seems rather boring.
If you choose a different fish, I recommend mixing the fish with the egg mixture. As a decoration you can use a wafer-thin piece of carrot instead of the salmon. Or you just go green – then dill, parsley or chives are ideal.
A fresh fish fillet for the stuffed eggs
You're not a fan of smoked salmon or you still have a fresh fish fillet to use up? Then of course you can also use it to prepare stuffed eggs.
Sear the salmon on both sides until it turns light pink and is well done. Tear it into small pieces with a fork. Add a little salt and lemon to the salmon, then mix it with the cream ingredients from the recipe.
In this way, I like to use fish fillets from the day before to make a spread that also tastes great in wraps.
You may have seen salmon cream in a tube in the supermarket. I only use it in emergencies and when I don't have anything else on hand. The taste of the paste from the tube is a bit boring. But you can refine it with spices.
By the way: The eggs are best peeled if you shock them after cooking and let them cool down.
ingredients
4 

eggs

1 

tsp 

horseradish

1 

tsp 

mustard

2 

tbsp. 

cream cheese

1 

tsp 

dill

salt and pepper

20 

g 

smoked salmon
Instructions
Hard boil the eggs. This takes about 10 minutes. Quench and peel.

Halve the eggs and scoop the yolk out of the white with a spoon.

Cut off part of the egg white halves at the bottom so they don't fall over and stand on the plate.

Mash the yolk with a fork. Cut up the rest of the egg whites and add them.

Now you stir horseradish, mustard, cream cheese, dill, salt and pepper to the egg yolk. You should now have a creamy mass that is not too runny.

Place the mixture in a piping bag and fill the egg halves with it. Cut the smoked salmon into small pieces and decorate the eggs with fresh herbs, pepper or caviar.
notes
Contains an egg
0.9 grams of carbohydrates

6 grams of protein

7 grams of fat
nutritional values
Calories:
142 
calories
Carbohydrate:
1g 
_
Protein:
13g 
_
Fat:
9g 
_
saturated fats:
3g 
_
trans fats:
1g 
_
Cholesterol:
331 
mg
Sodium:
215 
mg
Potassium:
146 
mg
Fiber:
1g 
_
Sugar:
1g 
_
Vitamin A:
536 
IU
Vitamin C:
1 
mg
Calcium:
53 
mg
Iron:
2mg 
_
How you can refine stuffed eggs with salmon
The recipe doesn't look classy enough or you're missing that certain something? No problem!
Schmid or crème fraiche (caution: calorie trap!)
Replace some of the cream cheese with butter
Sour cream
Worcester sauce
Parsley
chives
curry powder
Smoked paprika powder
Turmeric for a more intense yellow
mayonnaise
If you like it spicy: chili flakes, chili salt or chili oil
caviar
What you should know about durability
Yes, the eggs do well at buffets, so it would be great if they could be made 3-4 days in advance. But that's not such a good idea. You should prepare the filled eggs with salmon a maximum of 1 day in advance.
To be on the safe side, fish and eggs should not be stored for too long when they are mixed. Another problem is that the fish and the filling become dry. What you can do: Store the spread in a Tupperware box and fill the eggs fresh.
You have to make sure that you also put the halved egg white halves in a box with a lid, otherwise they will dry out and take on the typical refrigerator smell.
Eggs cannot be frozen. If there are any left over after 2-3 days, you can cut them up and put them on a potato salad. This makes it creamy and the fish gives it a tasty touch.
Our conclusion
Stuffed eggs with salmon upgrade every buffet. They are not only a visual eye-catcher, but also highly recommended in terms of taste. If you have too many eggs left over from Easter, you can use them very well with this recipe. Enjoy it and good luck!