Seafood
EASY & QUICK CUCUMBER SOUP WITH SALMON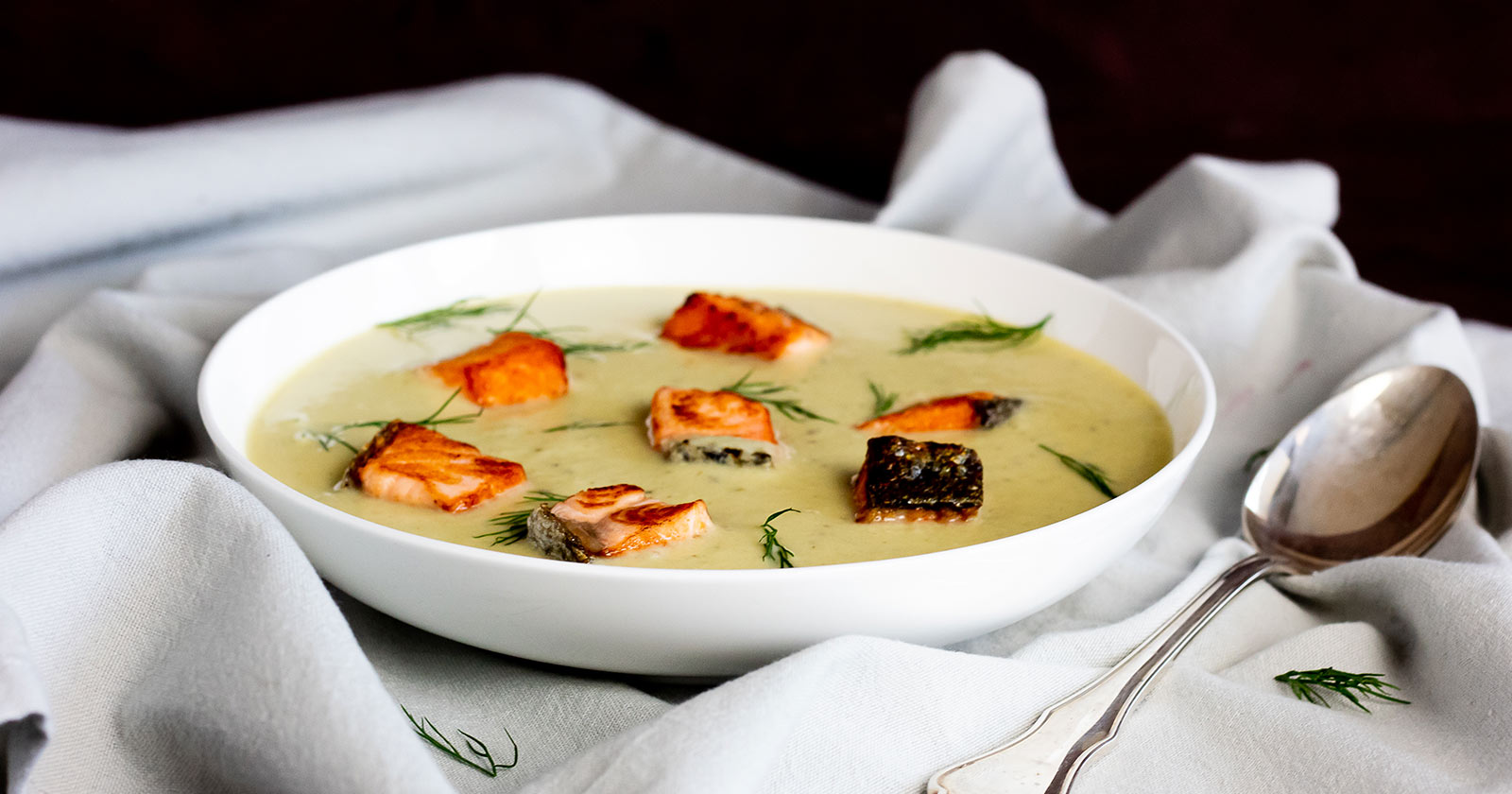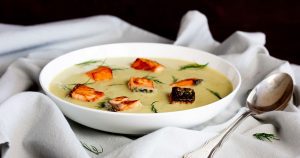 Today we have a very quick and warm cucumber soup with salmon. This soup recipe is low in calories and high in protein! This is how you prepare a delicious soup from fresh cucumbers and salmon fillet that tastes delicious all year round.
Things are really happening in the garden. I can hardly save myself from all the cucumbers. If you've had enough of cucumber salad with sour cream and you've already picked pickles , then it's time for a new recipe.
Today I want to show you how to make a filling soup from cucumbers.
And for all those who have had more than enough of the cucumber taste, this soup is particularly well suited. The seared salmon and finely chopped dill simply cover the pickle. 🙂
Tip: If you leave out the salmon, you can freeze the soup very well and fry fresh fish in winter. But for me, it's soup time even on hot days. However, it is ideal for cooler summer days.
This recipe is
Suitable for low carb and keto

gluten free,

low calorie,

long satiating,

packed with healthy fats,

a great way to use cucumbers.
What ingredients do I need for the cucumber soup with salmon?
Before we get straight to the recipe, I would like to say a few sentences about the fish soup with cucumbers. I'll tell you how to substitute ingredients if you don't have them at home. You will also learn everything you need to know about the nutritional values ​​of the ingredients.
cucumbers
What would a cucumber soup be without the main ingredient? You can use pretty much any variety – from field cucumbers to cucumbers. I prefer the field cucumber, which you can recognize by its smaller size and slightly prickly surface. It has a more intense taste and is not as watery as the cucumber.
If you use the classic cucumber from the supermarket, remove the core.
Tip : Fresh from the farmer's market, they taste much more intense than the vegetables from the supermarket. There are also guaranteed field cucumbers to buy here. The fresher the cucumbers, the more intense the soup will be.
By the way, in summer you can often put cucumbers on your menu. They consist mostly of water and only have 12 calories per 100 grams. Cucumbers are rich in vitamins C and E. They also contain the minerals calcium, zinc, iron, magnesium, potassium and phosphorus.
Fish
The salmon brings a really great flavor to the soup after roasting. Sear the salmon pieces on all sides. In the soup, they soak a bit more and spread the taste.
Go for a salmon fillet with skin. This is easier to fry and doesn't fall apart as quickly. A great alternative to salmon is salmon trout. But you can also use trout or any other fish. If looks are important to you, don't go with white fish like pangasius, plaice, or halibut.
You can also use smoked salmon if you like.
By the way: If you want to save calories, you should use less fish than I suggest in the recipe.
cream cheese
I use cream cheese for a creamy texture. Traditional cucumber soups are usually made with cream. But that means that the actual low-calorie soup is quite a calorie bomb. Because I don't want that with this cucumber soup with salmon, I use cream cheese instead of cream.
100g of cream has 302 calories. 100 grams of cream cheese 60 kcal. So you can save a lot 🙂
If you don't have or don't want to use cream cheese, you can also use natural yoghurt or sour cream. The sour cream has 120 calories per 100 grams. 100 grams of natural yoghurt (low-fat) have only 35 calories.
dill
For me, cucumbers and dill go together like summer and sun. These two foods complement each other so well that the herb should not be missing in the cucumber soup with salmon.
You cook most of the dill in the soup. But hold on a bit and sprinkle it freshly into the soup later. This gives the cucumber soup a particularly fresh note.
If you don't have fresh dill on hand, you can of course use frozen ones. In an emergency, dried dill also works, but it is not as aromatic.
vegetable broth
Cucumber, dill and salmon alone do not make a soup. The basis is a vegetable soup that I make with this DIY Instant Vegetable Paste. You can also cook a soup from fresh ingredients or grab a soup cube when you're stressed. But the taste between a ready-made soup powder and a homemade vegetable paste is huge.
Chicken soup or beef soup are less suitable as a base because they don't go well with the fish.
When you have the most important ingredients together, we can start with the cucumber soup with salmon ! yummy 🙂
Recipe: Quick Cucumber Soup with Salmon
If you have never made cucumber soup yourself, you will find detailed step-by-step instructions here. I will explain to you very precisely how you have to proceed and what is important.
If you want to know the nutritional values ​​or are interested in the calories per serving, you will find a short version of the recipe at the end of the post.
ingredients
400 grams of cucumber

1 onion

1 tbsp olive oil

250 ml vegetable broth

100 g salmon fillet

100 grams of cream cheese

1/2 lemon

1/4 bunch of dill

Salt and pepper to taste
Also: vegetable peeler, knife, board, cooking pot, pan
1. Prepare cucumbers
Wash the cucumber and peel it with a vegetable peeler. Cut them in half lengthways and remove the insides if there are too many seeds inside. Likewise, if you're using a cucumber, you should scoop out the cucumber, as this will water down the soup.
Cut the cucumber and onion into small pieces.
Tip: the smaller, the faster the soup is ready to be eaten.
2. Fry the cucumber
Fry the cucumber and onion in the saucepan with olive oil. Wait for the onion to become translucent. Pour in vegetable broth. Put the lid on the pot and turn the heat down to the lowest setting. Now the cucumber soup has to simmer gently for 10 minutes.
In the meantime, let's take care of the fish.
3. Prepare fish
You have two options: either you fry the fish whole and cut it up later, or you dice it before frying.
It is visually nicer to cut cubes in advance. Then the fish won't disintegrate. It makes no difference in taste. Whatever you decide, sear the fish for more flavor.
Finally, season with a dash of lemon juice and salt. Set the fish aside.
4. Puree the soup
Puree the soup in a food processor or with an immersion blender. You don't have to do this step, it tastes just as good if there are whole pieces in the soup.
Now the cream cheese goes into the soup pot. Stir until the cream cheese has dissolved.
5. Season and arrange
Wash the dill and chop it up.
Finally, add the remaining lemon juice, chopped dill, and salt and pepper to the soup. If you haven't cut the fish into small pieces yet, do so now.
Put the pieces of fish in the soup, sprinkle some fresh dill in the soup plate and your soup is ready!
Of course, it tastes best fresh. The cucumber soup with salmon can also be warmed up really well . Best without salmon. The fresh fish is always added to the soup at the very end.
And for those in a hurry, or interested in the exact nutritional values ​​per serving, here's a condensed recipe.