Dessert
Strawberry Tiramisu In A Glass – A Dessert Dream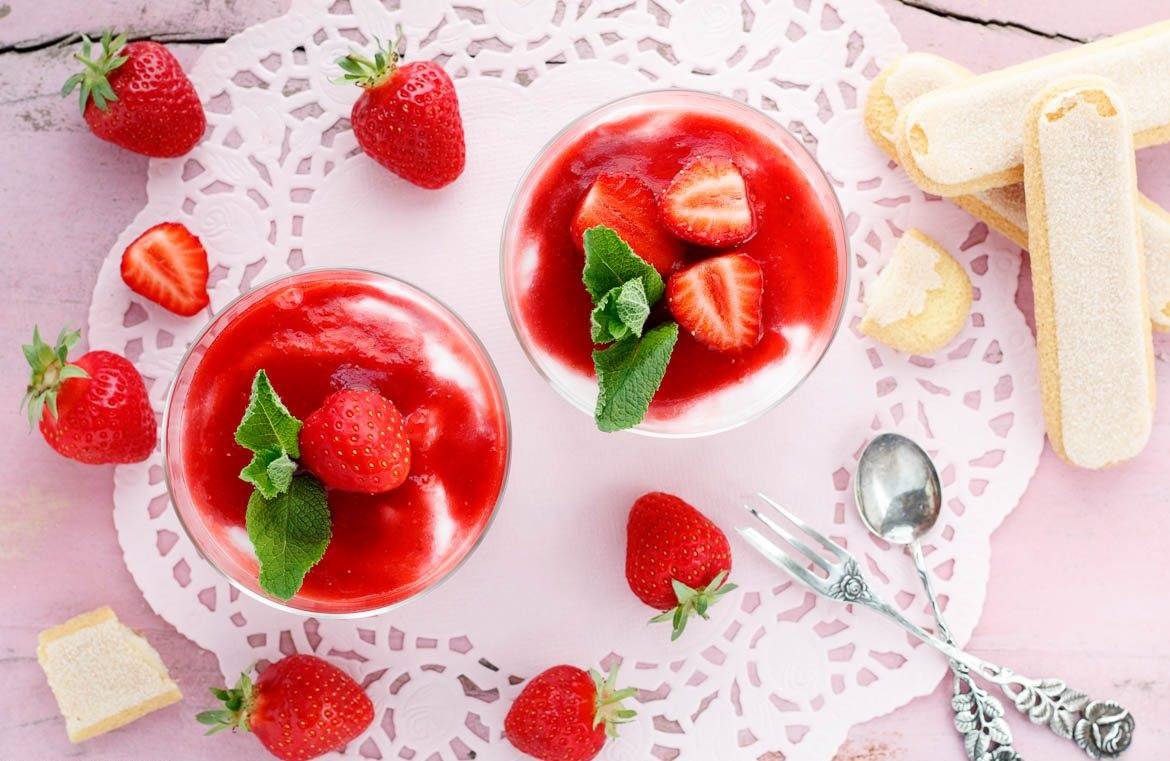 If you ask me which desserts in spring and summer are among my "Top-Happy-makers", then my strawberry Tiramisu in the glass is very far ahead. It regularly lands on the diet during the strawberry season because it is simply a splendid combination of two things that I absolutely can not get past: strawberries and tiramisu.
What I love about Tiramisu among others is the spoon biscuit that comes in. As a child, I have already eaten it away with delight and "kilo". Spoon biscuit melts so wonderfully in the mouth and the moment in which the soft consistency prevails is just "divine".
WITHOUT SPOON BISCUIT IT IS NOT TIRAMISU WITH THE STRAWBERRY
The spoon biscuit is also a reason why I generally can not get past Tiramisu. This is accompanied by this delicious creamy mass, which harmonizes so wonderfully with the spoon biscuit and is drizzled in the case of strawberry tiramisu with refreshing orange juice. The whole thing surrounded by sweet strawberry bits, there is really no stopping for me. That is why I serve this summery version in the glass for exactly this reason. Nicely portioned and shortened, so that no debauchery can take place. No, nonsense, I just think it looks very nice appetizing in the glass.
In addition to its pretty exterior my strawberry Tiramisu brings in the glass but also its wonderfully refreshing taste and also tastes not too sweet. In addition, it is prepared in a jiffy, that's not unimportant. However, it takes time in the fridge! It should cool by at least 1 hour, as it does not differ to other tiramisu variants. By the way, my Strawberry Tiramisu does not have a raw egg like the classic preparation, which works well in warm temperatures. Although I'm honestly not so squeamish, when the eggs are very, very fresh.
ALSO IN A SUPPORT OR MIXER HIT
Incidentally, you can of course also prepare or layer my strawberry dessert in a baking dish or dessert bowls. It does not necessarily have to be glasses. Of course, if you place in a casserole dish, you can leave the spoon biscuit completely and you do not have to break it. Then you can also consider whether you dip them in the orange juice very briefly instead of dripping the juice on it.
---
Strawberry Tiramisu In A Glass – A Dessert Dream
PREPARATION 15 minutes PREPARATION 15 minutes TIME TOTAL 30 minutes PORTIONS 6 servings
---
INGREDIENTS
THE STRAWBERRY TIRAMISU MUST COOL FOR AT LEAST 1 HOUR.
YOU CAN DISTRIBUTE THE QUANTITY TO 4 LARGER GLASSES OR 6 SMALLER GLASSES
500 g strawberries
250 g mascarpone
250 g of low-fat quark
100 g spoon biscuit – = about 2 spoon biscuits per glass
3 tbsp sugar
1 lime – freshly pressed
1 packet of vanilla sugar
100 ml orange juice – alternative with alcohol: strawberry limes or amaretto mixed with orange juice
Mint or lemon balm – for decoration
---
MANUAL
1.First, you clean the strawberries ,  puree 150g  with 1 tablespoon of sugar and make the puree cold .
2.Then you briefly stir in a bowl the  mascarpone , the  curds , 2 tablespoons of sugar, lime juice  and vanilla sugar .
3.250g of the  strawberries  you cut small and lift them carefully under the mascarpone cream .
4.Now you break 1  spoon biscuit into pieces (or 1 1/2, as you like) and put it as the first  layer in a glass of your choice . Afterwards you fill it with 1-2 teaspoons  orange juice .
IMPORTANT NOTICE: I will only show one glass here, so that it becomes clearer in the photo. Of course, I fill all glasses at the same time in each preparation step  .
 TIP: If the tiramisu is allowed to be with alcohol, you can mix the orange juice with 2-3 tbsp amaretto or use strawberry limes.
5.Then add a layer of mascarpone cream and a layer of strawberry puree to this first layer of Sponge Biscuit.  
6.Then sprinkle with 1 spoonful  (or 1 1/2, as you like) broken into pieces and  drizzle again with 1-2 teaspoons of orange juice.
7.Now comes the last layer of mascarpone cream and on top of that the last layer of  strawberry puree . Chill the strawberry tiramisu in the glass  for at least 1 hour.
8.To serve, decorate with the remaining strawberries and mint . 
I wish you a good appetite !
---
WHAT DO YOU MEAN?
Did you try the recipe once? How do you find it? I am always happy about praise, friendly criticism or your tips and experiences. Let us stay in the exchange via the comment function below. I would be happy.